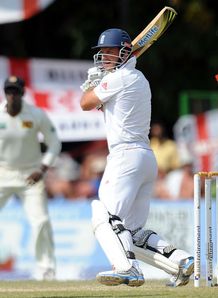 It's hundreds that batsmen like to deal in and the other two guys at the top of the order - Cook and Trott deal in big hundreds, and that is what has dried up for Andrew Strauss.
Bob Willis
Quotes of the week
LIVE ON SKY SPORTS
Sri Lanka v England
Second Test

5.25am, Thu, Sky Sports 1 HD
Watch on the move with
Sky Go
How to
remote record
Related links
News
Report
Video
Gallery
Article/Blog
Teams
Also see
England skipper Andrew Strauss has silenced his critics - for now at least, says Dominic Cork.
Under-pressure Strauss scored 61 as England reached stumps on day two of the second Test against Sri Lanka on 154-1, in response to the hosts' 275. Read our match report here.
Reflecting on Strauss' fifty, former England all-rounder Cork said: "Strauss has silenced them a little bit. People who questioned his position were perhaps wrong; when you have that dip in form you always question yourself but I think he's taken it on his shoulders really well.
"He's quite level-headed, he doesn't come out with big comments and it's a credit to him as a captain and as a player because when you are in that situation you can easily let everything else around you affect you, and I think he played as well as he's played."
He added: "You do feel sorry for someone like Strauss because you know that he is working hard and when you get a start, the biggest failing is then to get out.
"It's the same as when you're a bowler - you feel you are in rhythm, you're taking wickets and all of a sudden it stops and there's no actual reason why apart from maybe you change something slightly technically.
"Strauss tried to play a cut shot early on off the seamer and he could have dragged it on and we could have been sitting here saying 'is this the end?' Luck may have changed in his favour."
Tempo
Fellow Sky Sports pundit Bob Willis agreed it had been an excellent day for Strauss and England, who still trail by 121 runs, following their fragile first Test display.
"They've bounced back brilliantly after the humiliation in Galle and the captain, happily for him, has set a splendid example.
"He [Strauss] got his bowling changes right first thing this morning in the field and didn't let the Sri Lankan tail wag at all and although progress has been slow and, at times, the batting has been attritional, it's just what is necessary in this match situation.
"England have set their stall out now after this good start to bat once in the match and that's what they've got to do. They don't want to bat at this tempo throughout the innings because we know how quickly things can change. But there are more aggressive batsmen to come; the main thing at the moment is to keep those wickets in hand."
However, Willis warned that Strauss must add to his 19 Test centuries.
"It's hundreds that batsmen like to deal in and the other two guys at the top of the order - Cook and Trott deal in big hundreds, and that is what has dried up for Andrew Strauss.
"That's now 49 Test innings with only one hundred. He played much better today and I thought the way they adapted to the conditions early on was a revelation because they've tried the all-out block, they've tried the all-out slog; neither of those had worked.
"But they've clearly sat down as a batting unit with Flower and Gooch to decide which shots to eliminate from their repertoire."
Parity
Despite England's improved performance, Cork believes the tourists cannot afford to become complacent and let Sri Lanka seize the initiative.
"It's a difficult pitch to bowl on, it's also difficult to bat on," he said. "I think it's one of those wickets where it's like a chess game.
"You try to stop the opposition rotating the strike, which England did very well, and hopefully you put enough pressure on to take wickets.
"I'm not sure they dropped their heads - they are still in a very good situation - one-up in the series against the No 1 side in the world.
"You'd still go in and think 'ok, a few quick wickets tomorrow - get the likes of Pietersen, Bell and Prior in and you never know - we could end up on parity'."
Sky Bet Odds:
Click Here for Your Free Bet