On Saturday Leinster joined Leicester as the only side to successfully defend the Heineken Cup while joining Brive as the only team to go unbeaten through an entire Heineken campaign.
Victory took their unbeaten run to 15 Heineken matches as they stretched the tournament's unbeaten record by another game.
Three titles in the last four years (and a semi-final defeat in Toulouse) and 75 points in the last two finals; there has never been a Heineken Cup team to match this side.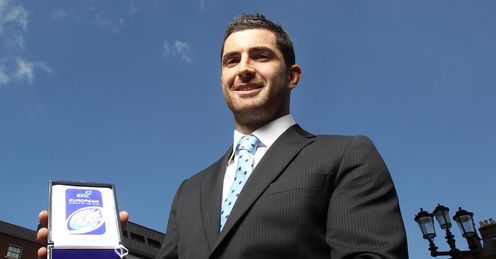 Toulouse have four cup victories but they are stretched over the entire course of the competition's history. The recent Leinster blitz is a significantly superior effort by a team, not club.
There is also plenty significant in the manner of the Irish province's victories. This season has seen them make massive strides as a defensive unit but defence, to Joe Schmidt, is only part of the artillery required to win trophies.
To score forty plus points and leave observers wishing for more is a mark of a great team as well as a greedy critic.
Stuart Barnes
Quotes of the week
Shaun Edwards famously pinned the message 'defences win titles' on the wall of the Wasps changing join. That was not the case for the Dublin based team. Yes, defences win titles but so too does attack.
Leinster's five-try rout was testimony to a team whose greatest advantage is their offensive game. Schmidt has made them the slickest passing team in Europe with the capacity to score from anywhere.
So good is their attack that even a five-try final left their most fervent admirers wistfully wishing for a bit more! The passing perfection we saw against Bath in the pool stages and Cardiff Blues in the quarter finals was not quite there.
That is not criticism of this team but the highest praise. To score 40-plus points and leave observers wishing for more is a mark of a great team as well as a greedy critic. They have set new standards and will again be the team to beat with men like Brian O' Driscoll looking as determined and hungry as ever for success.
The Irish system ensures they are well funded. The country's taxation system encourages overseas players like Brad Thorn to join and the Celtic League is a better launch pad for Heineken glory.
These are the foundations but Joe Schmidt, my man of the season, has used them to build something quite exceptional; the greatest team Europe has seen at non-international level. Whether any Six Nations side would have beaten them this season is an interesting question to ponder briefly.
Ulster couldn't live with them but that doesn't mean they were the wrong finalists. They escaped a pool that possessed quite possibly this season's French and English champions in Clermont Auvergne and Leicester and achieved the mighty scalp of Munster in the quarter final in Limerick.
They made too many errors in selection and strategy to push Leinster but they enjoyed a fine season; Ulster was 50-1 to win the competition before it kicked off, the champions were 5-1 second favourites.
The gap in the odds seemed about right come the final whistle although 5-1 against the defending champions. Those odds will be halved for next year's competition especially if Rob Kearney stays fit and well.
Unleashed
Whilst an argument can be made for Jonny Sexton as the season's most influential performer, the decision to make the full-back the ERC Player of the season was - if not unanimous - reasonably straightforward.
A five-man panel convened in Richmond over brunch on the morning of the final. Leaving the restaurant Rob Kearney had the most nominations with the heroic Stephen Ferris the man most likely to dethrone him in the eventuality of an upset.
Sexton was the third favourite with Ruan Pienaar still in contention. The Ulster scrum-half failed to produce the goods again (perhaps the burden of starting with a 20-year-old rookie at fly-half overwhelmed him) while Sexton ticked over well without producing the genius that made him last season's man of the match in the final.
Sexton was influential - as he has been throughout - but the full-back has been nigh faultless all season. Under Michael Cheka his counter-attacking influence was too often restrained but this Heineken season, under Schmidt's liberating hand, has seen him back to his 2009 Lions best.
He rules the airwaves as a catcher, he kicks it miles and accurately and has a deadly counter-attacking combination of pace, swerving power and the quick mind to see a gap. Leinster has also found ways to get him into the game as often as possible. In a team that has played with such attacking gusto the award for this buccaneering full-back is appropriate.
He was signed and sealed as my pick after the semi-final. He backed up a series of superb pool performances with the most important seven superb individual minutes of the season. When Leinster needed some magic in the battle in Bordeaux he produced the break that led to the Cian Healy try after half time; a punt of seventy metres from no sort of angle at all and from that line out a drop goal from the Gods. It was the intervention that gave Leinster just about enough clear space to hang on against the Clermont hordes.
These were the critical minutes of the entire tournament and with another accomplished final performance he had to be and is the Heineken man. Just to give the Leinster double a feeling of a circle completed, Sean O' Brien - last year's player of the season - forged his way to man of the match award in the final. It has been quite some spell for the Heineken's greatest ever team.
Devastating
The best team in England will be decided this Saturday at Twickenham. Leicester scored even more points against Harlequins (at the Stoop) than Leinster managed against Ulster but the odds on a 28-point winning margin are going to be long indeed.
The Tigers are on one of the most devastating runs in the history of Premiership rugby with a potent blend of power and pace and no little guile. Harlequins struggled to hold the depth of their squad and struggled to hold their scrum just over three weeks ago. A repeat will see Leicester pulling away at the end.
However, Harlequins have shown a precocious ability to learn their lessons. The manner in which they turned defeat in London against Toulouse to victory in France was impressive and whilst they were tentative in many aspects of play against Northampton the scrum was ominously (from Leicester's perspective) improved. Joe Marler and James Johnston are probably the most improved players in England with hooker Joe Gray not far behind.
They have an inspired skipper and if Danny Care can sharpen their attack around the fringes they have a chance of reversing the recent loss. At fly-half Nick Evans needs to find the sort of performance he delivered week after week at the start of the season and kick his goals.
No less important for the favourites will be the controlling influence of their fly half. Toby Flood is racing against injury to get fit; if he fails the most compelling aspect of the entire final will be George Ford's capacity to control a game as gloriously as he did the semi final.
Poor Paddy Jackson was not ready for a packed house at Twickenham. Will young Ford handle the pressure? You bet he will.
Stuart answers your emails...
Got a question for Stuart? Email him at skysportsclub@bskyb.com or use the feedback form below...
Hi Stuart, After his Premiership semi-final heroics and ahead of a likely leading role in the final, is it the right call for George Ford to stay at home for 'conditioning' this summer? Or should he be going to South Africa with England if Toby Flood is ruled out? Andy, Bristol
STUART REPLIES: Andy, Ford was magnificent in the semi-final. If he plays in the final there are going to be cries suggesting he should have been on the plane to South Africa. Understandable too but he has not played much top level rugby until the semi and from that perspective it is an understandable call; I am a bit worried about a full pre season's conditioning. Yes a bit of bulk helps but it's his speed of brain, wits and boot that will be his great asset.
Hi Stuart, Following his leading role in Leinster's triumph, where would you place Brian O'Driscoll on the list of rugby greats? For me he has to be in the top five of the professional era at least. Brendan, Richmond
STUART REPLIES: Brendan, Europe's finest professional by a country mile. He's up there with the very best of them all.
Stuart, which do you think will be the key match ups in the Premiership final at the weekend? And which areas will be most decisive in determining who will be this year's champions? Jon, Norwich
STUART REPLIES:Jon, Harlequins' ability to hold Leicester's bench, the scrum and the half back battle....these all appear pretty fundamental although Harlequins mental strength is a key for the underdogs. If they don't believe - deep inside - they can turn recent events around they have no chance.
Stuart, following the thrilling all-Irish Heineken Cup final, do you have any suggestions as to why Ireland are struggling to replicate their Provincial performances on the international stage? Rory, Dublin
STUART REPLIES:Rory, it's something I have been writing and talking about for months. Something to do with strong regional identities making life harder for national coaches than weaker regions whose players find it easier to step up a level and merge into a style imposed by the national coach. Ireland's Heineken strength is its very Achilles Heel for Declan Kidney; right now he should accept Leinster's ascendency and base the team around the champions; Reddan over Murray, that sort of thinking.
Stuart, Leinster appear head and shoulders above the rest in Europe but which team/teams do you think are best placed to challenge them in the next few seasons? Phillip, Leicester.
STUART REPLIES: Phillip, Clermont, your lot and Toulouse if they sharpen their act... Harlequins, Munster and Ulster look the other likelies with Wales still struggling as regions remain dominated by the aura of the national team.
Comments (5)
John Bennett says...
Hi Stuart, please explain why Leinster have recently been considered the best Heineken team ever when they have won, 1 less than Toulouse? I understand Leinster have won their 3 cups recently but my opinion suggests that Toulose's acheivements could be considered even higher because of their acheivements span a longer period. e.g. if one has a great team, one can dominate over the period when those players are peaking. If ones club can again dominate at a later date its likely that another set of players and coaches have again triumphed inside the same organisation?
Posted 19:15 22nd May 2012
Brian Mcallister says...
I don't agree about Provincial success being an Achilles heal at National level. Leinster play with pace, positivity and purpose, so whay can't Kidney channel that in to the Ireland team? The problem is that Kidney picks on familiarity rather than form and is much too conservative in his approach on and off the pitch. He speaks boldly about the tour of NZ, then qualifies it by saying that it isn't a time to experiment too much (it never is with Declan!). We have some world class players in great form and some very promising youngsters, but we need a coach who can inspire them, not reel of the usual platitudes. It really is time for a change in attitude or a change in coach.
Posted 14:39 22nd May 2012
John Milner says...
It's lucky these provinces get to play against individual clubs I suppose. Imagine if they played against London, West Country, or Midlands on an equal playing field.
Posted 14:38 22nd May 2012
John Murphy says...
Stuart, do you think the salary cap is damaging English rugby in the Heineken Cup? Secondly, don't you think that the English teams would be better suited in breeding players locally with a sense of loyalty to their local club? I'm pretty sure Leinster, Ulster and Munster players earn less than their English counterparts...
Posted 16:25 21st May 2012
Kevin Brennan says...
Hi Stuart, always great listening to you, always kind to the Irish teams, (methinks you wish you could have played for Munster at one stage?)...Anyway, do you think that Rugby Union can ever push Soccer close to being kids first choice in sport?
Posted 15:49 21st May 2012