Harlequins enjoyed the greatest day in their club's history on Saturday as they turned around a 10-point defeat against Leicester at home a month to the day earlier to claim a thrilling 30-23 victory.
A huge amount of credit should be paid not just to the management, whose tactical acumen has been a feature all season, but to those off-field workers who laid the foundations for the day.
Much maligned for the 'bloodgate' incident, Dean Richards has been scorned by much of a hypocritical rugby world, but in Saturday's triumph so much of the team ethos and steady thinking he put in place came to the fore.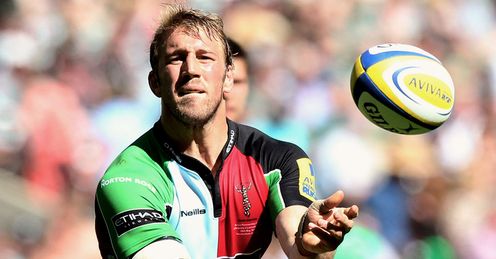 What an irony - and an awful one it would be - if Richards returns to the Premiership instead of the championship where Newcastle, relegated on the pitch should be. I say 'irony' because Harlequins learned plenty about themselves in their one-season spell travelling the highways and byways of the lower league.
Newcastle - long term - would not have suffered but quite possibly benefitted from a spell away and the game would not be brought into mockery beyond the confines of the sport for being so blatantly interested in business interests before rugby ones. Ah well, it can't all be good news.
Dean Richards has been scorned by much of a hypocritical rugby world, but in Saturday's triumph so much of the team ethos and steady thinking he put in place at Quins came to the fore.
Stuart Barnes
Quotes of the week
Back to Harlequins and the builders. Hats in the air as well to Mark Evans; his unhurried vision ensured the club didn't spend too much and chase glory too early.
It has been a beautifully paced movement up the ranks. Exeter has a way to go but they are following the same smart agenda.
Sharpness
And then to the men of the moment; Conor O'Shea has given the team a belief and a tactical sharpness that they employed to great effect. Colin Osborne and Mark Mapletoft played full roles, while perhaps a special mention for John Kingston, one of the Premierships survivors.
He seemed to struggle at times as Director of Rugby at money and ambition-laden Richmond in the late days of the last century, but his technical skills as a forwards coach reaped full rewards as Harlequins completed the transition from fast flowing attacking team to complete unit capable of playing slow as well as quick.
They are not quite at the level of power play required to conquer Europe but they learn precociously and, along with Leicester, look capable of improving the English efforts in Europe next season. Kingston's finest hour was, in many ways, the semi-final win against Northampton where Harlequins froze and only won through the power of their set piece.
He has played a fundamental role in bringing Joe Marler to a place where the young loose head should rightfully be selected for the first Test against South Africa. The loose head should play, Chris Robshaw, the captain (barring injury) will. He was stupendous on Saturday. He stood out in a performance of outstanding efforts. His distribution skills at first receiver (call it fly-half if you want to be old fashioned) were eye boggling.
Unlocked
We saw something similar in the defeat against Leicester a month ago but Leicester were better that day and Harlequins not as good. What was the same on both days was Harlequins scoring 30 points or more against Leicester. The Tigers - in a bid to move their game forward - have left the gate unlocked and 30 points in a final is just too many.
Leicester have paid a big short-term price but the policy will make them a more dangerous team at a higher level when they get defence and attack together. They have plenty to work on in pre-season but are charging in the right direction.
The England captain's distribution skills played a crucial role in victory. Teams tend to tighten in finals and a team that plays the forwards in a hard-running game one out from the scrum-half are slowed to destruction against Tigers.
Robshaw's ability to speed the ball into places where Leicester's grinding defence was not waiting for them allowed them an extra second to keep the ball alive and keep the Leicester defence either back peddling or guessing.
He was able to pull passes back, slip a flat take and give ball under enormous pressure or, if the occasion demanded, carry himself and cross the gain line. It was all very different to events 24 hours later where England's handling skills collapsed despite an absence of serious pressure.
Mockery
Long term there was much to excite. Jonathan Joseph, Alex Goode and Christian Wade combined for the final try; it summarised their sharp contribution. Whether Stuart Lancaster will start one, two or all three in South Africa is a debate that will be had. The chance of at least two of them being involved is unlikely but all three are set for big things.
Yet if England's midfield continues to malfunction then it really doesn't matter who plays out wide. Owen Farrell is the darling of the English press but his continued inability to read a game and find an accurate pass makes a mockery of Lancaster's conviction that a good passing game at 10 and 12 is central to his long-term vision.
The young man has guts and a great boot under pressure but his game knowledge and ability to time a pass is a long way from decent. To select Farrell is to try and win by defending and taking kicks at goal. That's okay, but let's not say one thing and do another.
Farrell and Barritt do not fit in the same team; not in any attacking sense whatsoever. Manu Tuilagi is in terrible form and Toby Flood is a question mark in terms of match fitness and rustiness and will Charlie Hodgson be trusted by the manager in South Africa?
There are massive midfield problems for England and no easy solution. What I would state is that Farrell, Barritt and Tuilagi is a trio that could leave England in trouble. Between Lancaster's selection and Mike Catt's coaching, England's management has much to do. We'll find out in the next month if they have the same qualities we saw all year from the Harlequins back room.
Fairy-tale finish
Elsewhere, the Ospreys again blocked a Leinster domestic/European double with victory in Dublin. Shane Williams, who else, scored a late, winning try to break Irish hearts and give himself a fairy-tale finish.
Wales have moved onto to bigger, if not better, on the wings and head to Australia with a few injuries themselves. Sadly for the sport, Kurtley Beale is out for this series, while James Horwill, the influential leader and lock, hobbled off in a dreary derby between the Brumbies and Reds. Injuries like these are bad news for neutrals but a boost for Wales.
That game was as far removed from the Premiership final as possible. Ambition gave way to 80 minutes of sealing off and kicking downfield. The Southern Hemisphere has always enjoyed mocking the dreary nature of European rugby. If we could only get France to open their minds and inject some pace Europe could, for just about the first time, cast a sceptical eye on Super Rugby.
It has not been anywhere near the usual standards to date. Has the negative cycle entered its game as Europe comes out of their long and ugly trend of slow rugby, or are we witnessing a post-World Cup hangover? Either way Europe has to travel south with some belief; June promises to intrigue...
Stuart answers your emails...
Got a question for Stuart? Email him at skysportsclub@bskyb.com or use the feedback form below...
RESULTS BUSINESS
Hi Stuart, Just wondering what your thoughts are on the Premiership closed shop? What is the point of having promotion and relegation if the teams that can go up are prevented from doing so by constantly moving goalposts? Let's face it, the Premiership is full of dull predictable rugby most of the time, we wouldn't want to change this by adding a bit of attacking spice to the mix from the Welsh now, would we? Really feel for both Cornish Pirates and London Welsh and especially the players. Regards, Chris Stone
STUART REPLIES: Chris, my view hasn't changed EVER on this one. The sport should be driven by results ON the pitch and not facilities and corporate considerations off it. To keep a team down until they have the prerequisite standards in place is unacceptable even in football, the most money driven of sports in this country. Give London Welsh or the Pirates a given time to get facilities up to scratch and then if they don't meet them fair enough; that's sport before business, but still more than a nod in the direction of corporate reality. The other way round smacks of the protectionist spirit that has always haunted the men who were fortunate enough to be in the right time at the right place when England went pro. I don't care how well or what style we see (well, I do but it's not the point) the Championship winners should be promoted and Newcastle relegated. That is the right sort of results-driven consequence.
EXCELLENT OSPREYS
Hi Stuart, I'm very interested to hear how you feel about Leinster in view of the Rabo Pro 12 final match? Of course they have been superb in Europe but the Ospreys have beaten them three times this season twice in Dublin!! Does that make us Champions of Europe?! I am also interested to hear your thoughts on O'Driscoll and D'Arcy's performances as well as the remarkable legend Shane Williams. Andrew Meredith
STUART REPLIES: Andrew, of course you are not champions of Europe. It's a different tournament; maybe this lack of attention to detail is what's holding the Ospreys back in the bigger tournament. Leinster will have had a hangover and your boys do know how to beat them. It was a lot to expect another great effort from the greatest professional rugby player Europe has produced but it was no surprise to see the mercurial marvel that is Shane Williams round off his career with a trophy winning try.....what a player he has been.
REGIONAL RULES
Stuart, Re Leinster. It's lucky these provinces get to play against individual clubs I suppose. Imagine if they played against London, West Country, or Midlands on an equal playing field? Would things then be different? John Milner
STUART REPLIES:Let's pro rata the number of players in England compared to Ireland before we get all little England about this, shall we? I played the last time we tried Divisional rugby and everyone hated it. It's a dead duck. Leicester and Harlequins, Northampton and Bath, all these teams and the others are actually regional teams under the name of club. Things will be different when we stop looking for excuses and start seeking excellence. I think Harlequins and Leicester made a decent start on Saturday.
INVESTMENT IN YOUTH
Stuart, Don't you think that the English teams would be better suited in breeding players locally with a sense of loyalty to their local club? I'm pretty sure Leinster, Ulster and Munster players earn less than their English counterparts... John Murphy.
STUART REPLIES: John, teams like Leicester have a fabulous youth development system as do Wasps. As for a comparison of earnings I suspect the combination of IRFU salaries for the top Irish players and a tax system that encourages professional sportsmen to ply their trade in Ireland might give a lie to the claim that English club players are paid more. Are you writing this with a straight face when you mention Ulster and their impressive South African contingent, are you really?