After a fine first half of the season, the second major of the year is upon us and the Congressional club by the outskirts of Washington has had a facelift for the US Open.
The USGA have once again recruited renowned architect Rees Jones to oversee the capital's course renovation and the one we will see this week is very different to the one South African Ernie Els won on in 1997.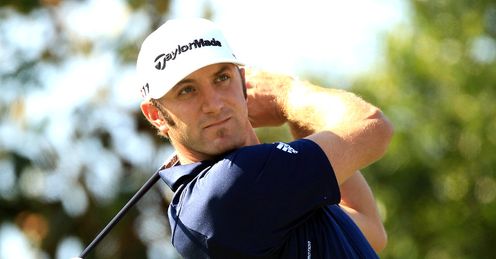 Situated in Maryland's Bethesda area, Congressional has been extended to 6,500 yards plus. It's tree-lined with various water features and 102 bunkers and with the USGA' aversion to having courses finishing with a par three, the former 17th is the new course's final offering.
That will make for spectacular viewing as the approach shot is riddled with danger. Anyone who makes a four to win there thoroughly deserves to take the crown.
I hope these moments are not lost forever as they have lit up the game in the last 15 years and given so much joy to many. My wish is that the enforced lay-off allows him to recharge his batteries for the second coming. Like Woods, we can only wait and see.
Ewen Murray
Quotes of the week
This venue has been popular down the years and has hosted two US Opens and a PGA Championship. Famous members include two former presidents, Dwight EIsenhower and Gerald Ford. It's exclusive with a joining fee of $150,000 and boasts an eight-year waiting list!
Other events played at Congressional include the crudely named, Booze Allen classic, it hosted the Kemper Open from 1980-86 along with the AT&T National and was the scene of a senior US Open major victory for former Open champion, Tom Weiskopf.
It began its life in 1924, during an era that so many of the great American courses were built and its grand clubhouse befits a course in this historic part of the United States.
In 1964, the US Open was won by Ken Venturi who survived heat stroke during the final two rounds to defeat the people's favourite, Arnold Palmer. Our more recent memories were of our own Colin Montgomerie who played astonishing golf over the first two-and-a-half days only to lose out to Ernie by a single shot.
Had Monty won that week, and to be fair, he should have given his start, who knows what he would have gone on to achieve in the four elite tournaments of our sport? The US Open was made for our eight-time European number one, but his CV says three seconds and a third.
It is a Monty-type player who will have a decent chance of winning the 111th playing of America's national championship. The powers that be are notorious in their set up of the 18 holes. Rough, narrow fairways and the large greens will be running at over 12 on the stimpmeter.
With the heat along with the humidity, we will no doubt see a syringing of the greens at various times throughout the rounds. In 1964, Venturi was two-under par in winning, Els was four-under 14 years ago.
Conquer
So who is favourite to conquer the tough layout and deal with the 100-degree temperatures along with 85 per cent humidity?
My picks in last week's column were Sweden's Peter Hanson at 125/1 and Dustin Johnson at 33/1 and I believe they will feature. Hanson, for the reasons I gave last week and Johnson for the fact he will be able to use three woods and long irons off the tee without being at any disadvantage.
His length, should he harness it. will be a great asset to him and after his meltdown in the final round at Pebble Beach last year, he has something to prove to himself.
Another to look at will be the Players Champion, KJ Choi. The Korean won the 2007 AT&T National around here and with his win at Sawgrass he is perhaps ready to emulate YE Yang in becoming the second Asian to win a major. There is no doubt he has the game and the patience to succeed.
Sergio Garcia won the Booze Allen at Congressional so he has happy memories here, yet I feel his confidence is still on the fragile side. His 11 at the third hole in the St Jude Classic last Thursday will not have helped. As a ball striker, he has few rivals, but this course is not one where 16 greens in regulation will be found, so a sharp, short game be required.
Of our own players, Lee Westwood looks the best bet. His short game is 50 per cent better than it was two years ago and his ability to find a high percentage of fairways with the driver will benefit him. His career, like Colin's, deserves a major but he knows it has to be earned.
Paul Casey is a player I have huge admiration for, yet he like the aforementioned two, has failed to deliver so far. At times his golf can be exemplary and his winning of the World Match Play at Wentworth remains some of the finest golf I've seen. Paul has had chances; none more so in this same championship at Oakmont when Cabrera won.
Leading, he took 43 for the first nine in the final round and that one slipped by. He is an inspirational player and with better concentration over the four days, he can contend.
The defending champion, Graeme McDowell is struggling to find his best form but with his strong mentality he can turn that around quickly and Rory McIlroy will want to get back on the horse after his fall amid the Georgia pines.
Martin Kaymer's form has dipped after a great finish to last season and a good start to this one. Some say changing his swing to suit Augusta was a mistake and they are correct. The myth of needing to draw the ball to win there is exactly that. His cool destruction of the field at Whistling Straits last year shows he has all of the tools to add to his PGA Championship title.
Our world number one, Luke Donald has never gone into a major in better shape. His work ethic is admirable and his short game reliable. He is not a tinkerer as far as swing is concerned and he is blessed with a calm mind. All of these attributes add up to a top-class professional and I would expect him to be in the mix come Sunday. Luke may well be ready to take his career to the next step.
Omission
The one disappointment is the omission of Tiger Woods. The last two years have surely been hell for arguably the greatest player in the game. First the off-course revelations and now the serious concern of the recurrence of his knee injury. I don't know your thoughts, but I think we have have missed Tiger and the game has too.
These wonderful moments seemingly only he could produce, the fist pumps and the infectious smile. The twirl of the club after another 350-yard tee shot is dispatched down the fairway along with the amazing body contortions as he played one magnificent recovery shot after another when the tee shot was errant, and putts holed from places many thought was not possible.
I hope these moments are not lost forever as they have lit up the game in the last 15 years and given so much joy to many. My wish is that the enforced lay-off allows him to recharge his batteries for the second coming. Like Woods, we can only wait and see.
So it's off to the airport, Washington-bound and there is no question this US Open lives up to its title. It's the most wide open major in recent years, in fact so open it's hard to pick the favourite. I'd be interested to hear the way you see it and why you make your selections.
David Livingstone will welcome you all on Thursday afternoon with 18 hours of live coverage on the first two days alone. Then we will move into a weekend that is right up there on the global sporting calendar.
I only hope it produces a winner on Sunday as a play-off on Monday is a poor way to conclude a truly wonderful championship.
Comments (8)
Liam Thompson says...
My Picks this week 1. Geoff Ogilvy 2. Ye Yang 3. Bo Van Pelt 4. Robert Karlsson 5. Todd Hamilton 6. Marc Leishman 7. Davis Love 8. Angel Cabera
Posted 00:41 16th June 2011
Paul Murphy says...
Ewen i really look forward to the sky coverage and also your excellent knowledgeable veiws,after doing a bit of homework i have noticed lefty (phil mickelson)has finished 2nd on 5 times and in a recent interview looks really fit so at 16/1 its phil ya boots!!!
Posted 19:15 15th June 2011
John Hill says...
Hi Ewen, good article. I think Woods is at a major (no pun) crossroads in his career. I'm sure he will be back later in the year, but may assess his options in the game at the end of the season. Don't think he would want to continue if he cant fire on all cylinders. My picks for the US Open are Goosen, Westwood and Mickleson. Outside chance for McIlroy and Garcia if they don't go daft at the weekend.
Posted 01:19 15th June 2011
Stephen Logue says...
forget westwood , donald etc phil mickelson can win this.
Posted 12:46 14th June 2011
Martin O'connor says...
As much as I love the Open Championship, I have to say that the US Open has the best TV viewing. A major without Woods is disappointing but many of the world's best are ready to shine. I think Westwood will feature heavily this week and also think the Goose could play a part after his 3rd place last week. Pick of the Americans is difficult but I go for Mickleson (form is temporary but class is permanent)!
Posted 11:33 14th June 2011
Brian O'sullivan says...
Hi Ewan, My concern with backing guys like Westwood and Donald to win the US Open is that they are both experienced pros at this stage and they have yet to show that they have the intestinal fortitude to finish out a major. Don't get me wrong it would be great if a Euro player could do it again this year but I just think that Westwood has shown on more than one occassion that he gets nervy and his putting isnt good enough when it matters. Maybe some of the new Euro players are more likely to do it this year. My outside bet is Brandt Snedeker! Brian, Dublin
Posted 09:07 14th June 2011
Ewen Murray says...
well spotted Jim, 7500 yards it is. Enjoy the US Open, Ewen.
Posted 14:22 13th June 2011
Jim Mckerchar says...
Typo on "Congressional has been extended to 6,500 yards" make that 7,500 yards ! 1-2-3 Mahan,Donald,McIlroy. Look foward to Thursday and a great week-end.
Posted 12:58 13th June 2011