Talk about Bjorn again! Having reached 40 earlier this year, the likeable Dane, Thomas Bjorn has found the form of his life. With back-to-back wins in Scotland and Switzerland, Thomas has entered another stage of his excellent career and by the looks of it, his best maybe yet to come.
In recent weeks, we have talked about the relationship between player and caddie, highlighted by the move of Steve Williams from Tiger Woods to Australian, Adam Scott. Thomas has joined forces with Gareth Lord who was for many years the bagman of Robert Karlsson. They were together in 2008 when Robert claimed the top place in what was then, the European Order of Merit.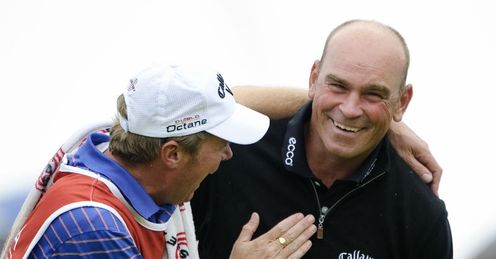 Gareth is a fine player himself and given some time, he could still play off scratch. He has a dry sense of humour and an acute awareness on the course. Thomas, who won't mind me saying, is a hard taskmaster and over the course of four days will visit just about every emotion there is. But between them, they have found a winning formula in the Glens and the Alps.
Thomas Bjorn is settled, as is his family, and with that, his dedication and desire to play top professional has returned. I believe the win at Royal St.Georges of his close friend Darren Clarke has inspired him and there is no doubt his latest victories have been closed out in style. Over the years he has had a few mentions in this column and by the looks of it, he will feature again regularly in the future.
Ewen Murray
Quotes of the week
Thomas has had a long career, one that began on the Challenge Tour of 1995. During that season, he won four times and set a record for prize money won, a total of £52,000. His elevation onto the main tour was capped the following year with his first of 13 wins at Loch Lomond.
During his spell at the top, there have been many ups and downs. His Ryder Cup debut came at Valderrama in '97 when four down after four holes, he finished with half a point in the singles against Justin Leonard, he was also in the winning side at the Belfry five years later.
During the last few years, you could be excused for thinking his career was winding down - captain of the European side in the Vivendi Trophy, vice captain of various Ryder Cup sides, etc. But in there was still the odd flash of brilliance like The Open of 2003, and the even nearer miss in the USPGA of '05 when he finished runner-up to Phil Mickelson.
For those of you who thought Thomas had enjoyed his finest days - and I'll admit I was doubtful he could reach these heights again - he has shown great strength and resolve along with the type of character required to climb the ladder after a fall.
He and his charming wife Pernilla, along with their three children, upped sticks in West London bound for Gothenburg a couple of years ago. For the children, a different culture and language. Schools would have to be found amid the turnaround along with all of the other changes and sacrifices that need to be made when such a transformation takes place. That of course takes time and his time, normally used for practise at Queenwood, was dedicated to the change of lifestyle for his family.
Two years on, Thomas is in a more peaceful place. He is settled, as is his family, and with that, his dedication and desire to play top professional has returned. I believe the win at Royal St.Georges of his close friend Darren Clarke has inspired him and there is no doubt his latest victories have been closed out in style. Over the years he has had a few mentions in this column and by the looks of it, he will feature again regularly in the future.
Confidence
The performance of Bjorn should be of great inspiration to Nick Dougherty who ended a run of 21 missed cuts in Switzerland. I have known Nick for over 10 years and have felt for him as he endured this miserable run. But, throughout this tough period, his personality has never wavered. He has remained upbeat and any player who has gone through the troubled times similar to Nick will know just how difficult that is.
I watched him hit some balls and had a few holes with him about 18 months ago and one of my regrets has been that I was not able to dig him out of the hole he was in. Technically, I didn't think there was a problem as he is a gifted golfer, but for the first time in his young life, he was finding the game difficult.
His ball striking on the range was exemplary, his control of flight and distance was better than good, but he found it hard to replicate that in tournament play. The more cuts that are missed, the deeper the hole becomes and with that, confidence is a rare commodity. All of us who play this game to whatever level will understand that without confidence, even the best technique is not enough to reach the heights you set yourself.
A first round 63 last week is evidence that Nick is not that far away. Scores of 72,72,73 followed and he does not need to be told that on a course like Crans sur Sierre that is below what he expects of himself. But it's a start, a foot on the ladder once again and there is still time for him to gain enough points which will spare him a visit to the qualifying school in November. His next event is this week in Holland and at the beginning of October, he returns to St Andrews where he enjoyed one of his finest moments winning the Alfred Dunhill Links Championship.
He is a fighter and he will come through these troubled times, when he does, he will be a much better player for it. At just 30 years of age, there is some light at the end of the tunnel.
Achievements
The Walker Cup gets underway this weekend at the magnificent Links of Royal Aberdeen. It's the highlight of the amateur game and a fine contest against a strong American side will be enjoyed by many spectators and enthusiasts. Not however, by a wonderful young talent who's name is David Law, from... Aberdeen.
David, who plays at the Hazelhead Golf Club by the Granite City, last week became the first amateur since fellow member Sandy Pirie, 40 years ago, to win the Northern Open which is part of Scotland's professional Tartan Tour.
In 2009, David won the Scottish Boys Championship... at Royal Aberdeen, and later that year won the Scottish Men's title at Royal Troon, a feat he repeated this year. His final rounds of 62 and 68 at Meldrum House gave him the second-lowest winning total since the Northern Open started over half a century ago.
At just 20 years of age, the same as Tom Lewis who thrilled us all by leading the Open at Royal St Georges, he is one for the future, but where? With the achievements of David, why should he stay amateur if he is ridiculously over looked by selectors, who have chosen players that are a long way behind him in the rankings?
Apart from his fine play throughout the year, his experience of the course would have given him and his team mates an advantage for sure, which I suspect would be welcome given the strength of the USA side.
In the spring, a young girl called Lucy Williams from Woburn arrived at West Sussex Golf Club to play in the English Women's Championship. She progressed to the quarter-finals before checking out of her hotel to save money should she be defeated in either the quarters or the semi-final. She advanced to the final before finding another bed for the evening. The following day produced one of the most exciting finals in the history of the event.
One down and two to play, Lucy reeled off an eagle and a birdie to take the match into sudden death, where another birdie gave her the title. In the ladies amateur game, the home internationals is a target for all who aspire to achieving their best, yet Lucy did not make the English side.
I have no idea who the selectors are and I'm sure they have a good reason for the teams they have put together and good luck to all of those who have been successful, but I don't think I'm alone in thinking it's tough on David and Lucy. It also diminishes the importance of being Scottish and English champions.
Enthusiasm
The latter part of the month in Europe is dedicated to team golf and our cameras will be across the Vivendi Trophy in France before turning our attention to the ladies game for the bi-annual Solheim Cup where this year the venue is the delightful Killeen Castle in the Emerald Isle.
The ladies have had a tough time sponsorship wise in both Europe and America but I suspect that won't dampen the enthusiasm of those who have earned the right to represent their countries. Get ready Ireland, it should be quite a week.
The passing of Seve earlier this year saddened everyone connected with golf, and my wish would be that the top players who are eligible find a place in their schedules to play in France. Although many are too young to understand the impact Severiano Ballesteros Sota had on European golf, they should be aware of his history and today they are enjoying a tour he did so much to create. This event should be a celebration of his golfing brilliance, his charisma, his engaging smile and his memory.
We are at the halfway stage of the Fed-Ex Cup play-off series and after events in New Jersey and Boston, the race is on for the title and the ten million dollars that go with it. I'm still unconvinced they have the format right as almost everything depends on form over these four events and performances throughout the whole season mean little. For instance, Dustin Johnson had not won on the PGA Tour this year, five players had won twice, yet Dustin's win in New Jersey propels him to the top of the Fed-Ex rankings.
The winner in Boston, Webb Simpson, now heads the list having won twice in the last three weeks, while runner up, Chez Reavie, who doesn't hold a full card on the PGA Tour, moves to ninth which guarantees his participation in the Tour Championship in three weeks' time. The Race to Dubai, the European Tour's equivalent, can have a late challenger, but the title is mainly dependent on consistent performances over the course of the season.
Last weekend in Massachusetts however was exciting. Seeing major winners Ernie Els and Geoff Ogilvy scrapping to get into the top 70 who make it to Chicago in 10 days' time is not what they are used to and with both players making 8 footers to advance, they still have a chance of the jackpot.
Alongside Peter Oosterhuis, I'll be across the last two events at Cog Hill in Illinois and the final event at East Lake in Atlanta. Once the winner sails off into the sunset with golf's richest prize, we will turn our attention to the Race to Dubai in December. There is a lot of golf to play before then with many questions to be answered across the fairways of the world...