England's decision to proceed with three captains is born of necessity but that doesn't mean it isn't a good thing.
Splitting leadership responsibilities may be a sign of uncertainty to some, but as Andrew Strauss himself suggested, it is in fact the best use of England's resources given the volume of cricket on the modern-day agenda.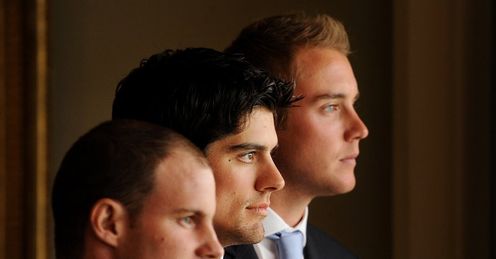 There is no reason to over-complicate this matter; indeed, other teams may eventually copy England's approach as a precursor to employing separate coaches for the Test, one-day and Twenty20 teams.
The fact is that Strauss no longer wants to play 50-over cricket so Alastair Cook, who captained England flawlessly in Bangladesh in March 2010, steps up into the role.
Cook is not, as a strike-rate of 71 suggests, an expansive player so there will naturally be more question marks about his appointment should England struggle in the 50-over format.
But Cook is unlikely to force his way into the Twenty20 team so Stuart Broad - who most definitely is worth his place in the side - takes on the task of leading England in what, outside of a World Twenty20 Championship year, amounts to between four and six games a year.
Lukewarm
He may well prove me wrong, but I'm lukewarm about Cook's position in the new set-up.
Strauss is settled in his role as Test match captain and has a very successful record behind him while Broad was described by Michael Vaughan as the most intelligent cricketer that he's worked with and he has a dynamism that will serve England well on the field of play.
While no-one who saw Cook captain in Bangladesh can question his ability, he has had only a limited impact at the top of the order in his 26 one-day internationals.
He is not, as a strike-rate of 71 suggests, an expansive player so there will naturally be more question marks about his appointment should England struggle in the 50-over format.
He comes in now as a straight replacement for Strauss, who managed to bump his strike-rate up to 81 before calling it a day.
Cook must follow the example of Strauss, who expanded his game in the last 18 months of his one-day career and flourished as a result to the point where he was one of England's most effective batsmen at the World Cup. His 158 against India in Bangalore was epic.
Control
Team director Andy Flower would have preferred it if Strauss had stayed on a little bit longer in the role but once Strauss had made up his mind to go, he was not for turning.
I've no doubt that Strauss thought long and hard about relinquishing control of the one-day side but it seems he made up his mind before England's quarter-final World Cup exit.
There was always the chance that he might have changed his mind after a month off but he believes his decision is the right one and by making it now, he has given Cook the maximum time possible to stamp his authority on the team before the next World Cup.
If Strauss, exhausted after leading England in a long Test match series, believes he no longer has the energy necessary to lead a successful one-day campaign, then Cook's freshness should be a genuine benefit.
Vigour
Similarly, Broad will bring a new vigour to England's Twenty20 team.
It's true that he has overstepped the mark at times in the past but I believe that you have to give players a certain amount of leeway in top-class sport.
He will want to set the right example as captain and that should help him keep his passion and energy on the right side of what is a very fine line.
The pace of Twenty20 cricket requires a captain with a cool head, someone who can think critically and analytically when the pressure is on, and in that respect Broad has an excellent character reference from Vaughan.
I suspect Ian Bell and Graeme Swann were also in the running but for now England are only prepared to say that they interviewed a number of candidates rather than name them.
I'm sure, though, that they thought long and hard before deciding on the new generation of England leaders behind Strauss, and with Flower providing the continuity between all three captains there is no reason why this can't be the start of a thriving partnership.
Comments (2)
Mohit Sharma says...
I personally feel that Cook is not fit for ODI captaincy, plus Andrew Strauss should remain captain until the end of summer. Its was Andy who played iconic inning against India in WC, where all his fellow players were showing the signs of fatigue. I blame England's WC debacle on their schedule, Playing for 5 months, then long flight back home, just three days rest and then again depart for most important tournament. I personally feel that Andy should give himself one more season. Talking about Stuart Broad, well, he will be the England's captain for all three format in future
Posted 10:09 6th May 2011
B Batsman says...
I dont see any need to be anxious about Cook's appointment. Bear in mind that he was on the verge of being dropped from the initial Ashes Squad owing to poor form. Considering how he turned that around and finished that tour was, I think, miraculous. There is no reason to disbelieve that his form in the ODI format will improve soon...
Posted 21:34 5th May 2011