After what has seemed like eternity, the decision to create an all-British Olympics team has finally been made.
Frankly, I don't know what all the fuss has been about. I've been involved with Wash & Go's "GB Football Dream Team" survey and it seems the nation craves a Team GB at London 2012 .
According to the survey, 72% of the British public are in favour of a unified team. This can only be a positive thing; positive for the game, positive for the British public and most importantly, positive for the players.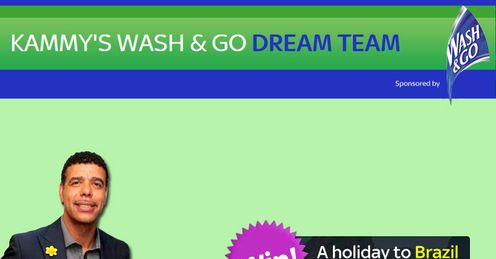 Let's not forget that success on the international stage is something that none of these potential players have tasted. England's shortcomings in major tournaments continues to haunt us and in the case of Wales, Scotland and Northern Ireland, success is measured in qualification for a major tournament.
That's something that none of them have done since Scotland played in World Cup 98!!
Squad
So, if we were to pick an ultimate GB Dream Team, who would be in the squad itself? That's a topic of discussion that I'm sure will continue right up to until the first united ball is kicked.
The tireless Becks is a role model to all around him and his presence in the squad would inspire all those involved.
Chris Kamara
Quotes of the week
Kammy's GB Dream Team
Match Kammy's GB dream team for the chance to win a trip to Brazil.
ENTER NOW
In theory, all British players should be eligible to play in major tournaments, however I'm sure that a starting line-up wouldn't consist of the strongest 11 available.
Even though a young, precocious Lionel Messi was part of the Argentina team in Beijing 2008, there was no major tournament that summer to preoccupy the diminutive Argentine.
However, England are hoping to be at Euro 2012 next summer, so we wouldn't necessarily expect to see Wayne Rooney, Jack Wilshere et al take to the field.
It has been reported that a long list of players will be drawn up and those included will be asked to confirm their interest and availability. I'm sure there will be a few Premier League managers who have something to say about this and risking upsetting the gaffer is not high on the agenda of many top players.
So for that reason you would need to look beyond the England regulars and more in the direction of the up-and-coming stars who are knocking on the door.
For my GB Football Dream Team, I am going to throw into the mix players from the nations who won't qualify for the Euros, which looks increasingly like it will be all but England. What will be of particular interest is who those wild card players could be?
As one of my squad wild cards, I would throw Kevin Davies' name into the hat. Unfairly labelled as a battering ram, his awareness of people around him and his overall game is so good that his solitary cap is scant reward for his services to the English game. This could be big Kev's last chance to show his ability on a big stage.
Wild card number two, my Premier League Player of the Season, Charlie Adam. The Scot made a big impression this year, with a number of match-winning performances. He narrowly failed in his quest to haul Blackpool to survival but that hasn't stopped him being one of the hottest transfer properties this summer.
I don't think Charlie would be out of place amongst those gunning for Champions League success. He will experience similar fates to Gareth Bale and Aaron Ramsey, fantastic talents who won't taste too much international tournament football throughout their careers. This surely makes him a possibility to make the cut in the Wash & Go GB Football Dream Team.
Mature
Next up, a guy who seems to mature like one of his manager's fine wines, Ryan Giggs! I thought his time was up a few seasons ago but since then he's claimed PFA Player of the Year along with Sports Personality of the Year.
Last year was arguably one of his best and although the Welsh Wizard retired from the international arena a few years ago, this would be a great way to bow out.
Last but not least, who can forget 'Golden Balls'? The tireless Becks is a role model to all around him and his presence in the squad would inspire all those involved.
I still think he deserves to be there on merit as well. If anyone happened to catch his goal for LA Galaxy recently, you will see that he's still got it. And for that matter, would a Player Manager role be out of the question?
But will any of these players feature in my GB Dream Team starting line-up? That is for you to decide.
To be in with a chance to win a holiday of a lifetime to Rio de Janeiro, Brazil, plus some serious football kudos, go to www.skysports.com/washandgodreamteam and match my 11 players in the GB Football Dream Team.
Post to your View!
Be the first to post a comment on this story