The gap between the top of the Championship and the bottom of the Premier League is not as big as it used to be.
Six or seven years ago it was more or less guaranteed that the teams that went up would go straight back down, but it's not like that any more. Fans of QPR, Norwich and Swansea can be full of hope for the season ahead.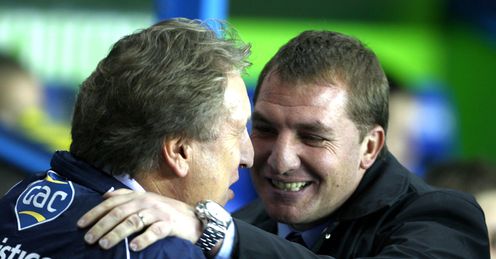 Last year we saw two of the promoted teams - Newcastle and West Brom - survive without making wholesale changes and the other, Blackpool, were very unfortunate to go straight back down. You'd have to say they threw it away because they were in strong positions in several games, but their gung-ho formation cost them big style.
The managers of the promoted teams will have looked at that and learned the lessons. I'm sure they'll all have a go, play with no fear and see what happens.
I had the chance to speak to both Neil Warnock and Brendan Rodgers on Goals on Sunday and neither of them are daunted by the challenge. This is a test they are relishing and you can see from the smiles on their faces that this is something they desperately want.
It might work out that one of them has a disaster, but we won't really know until they kick off. They've all got a chance.
Kammy on QPR
Everybody expected QPR to spend loads of money once they were promoted, but Neil Warnock has been asked to scrimp and save - just like he had to at all his other clubs. If he'd been presented with a warchest then he would have spent it accordingly, but instead he's accumulated a number of free transfers and will now try to get the best out of those players.
There's no doubt that, under such circumstances, Keiron Dyer and Jay Bothroyd are pretty good signings. They've also spent a little bit of money on DJ Campbell, who was the second highest English scorer in last season's Premier League, behind Darren Bent. I'm sure he surpassed his own expectations last season, but now he knows he can do it at this level and you never know what he could achieve at the club he supported as a youngster.
Then there's Adel Taarabt, who Neil Warnock says might turn out to be one of the biggest success stories in the Premier League. He has been linked with Paris St Germain and Neil says it wouldn't be a desperate situation if he leaves, but if he stays then let's hope he can adapt and perform as well as he did in the Championship.
The manager has had promotions throughout his career and still doesn't accept his relegation with Sheffield United the last time he was in the Premier League. Neil blames circumstances elsewhere, but I'm not so sure; I think you end up where you deserve to at the end of the day. He's learned a bit more since then and he will hope his new club can have a good time at this level.
As an outsider, I just hope that if they are in a good position in January then the board will give them some money to spend. Their loyal fans have been given too many false promises over the years.
Kammy on Norwich City
The thing that has taken Norwich to where they are today is spirit and togetherness. Paul Lambert is very mindful of that and does not want to risk losing it. He didn't make too many changes when they went up from League One to the Championship - he added two or three new faces to what they had - and it paid dividends with another promotion.
He has adopted a similar approach in the Premier League. He's brought in the likes of Steve Morison from Millwall and Anthony Pilkington from Huddersfield and time will tell if they will be a success. There's a lot of managers who probably wouldn't have looked at those players after a promotion, but Paul has always known what's best for his team. That's been a key factor in both of their promotions.
Players like Wes Hoolahan and Grant Holt have been very important to them and I don't see why they can't step up to the Premier League. Some of Blackpool's players were playing in League One a couple of seasons ago, but they played out of their skins in the top flight last year. I'm sure Norwich's rising stars can do the same.
Like last season's promoted sides, they will probably lose more than they win but it's important that they get some decent home form. If they can do that then they will have a very good chance.
Kammy on Swansea
I went up Mount Kilimanjaro with Brendan Rodgers for charity this summer and we had a lot of time on our hands to talk about football. We had a lot of long chats and I can see exactly where Swansea are coming from this year. There's an acceptance that they won't be able to spend big and the manager is very much a realist about their chances.
Brendan has coached at the top level with Chelsea and knows some of the players he has brought up from the Championship, the likes of Scott Sinclair and Danny Graham, can perform on the highest stage. He knows the players he's got available to him and he's comfortable with the position that he - and the club - find themselves in. If it doesn't work out then he won't turn around and complain that they should have spent more money.
Swansea are in a different situation to QPR. The board doesn't have much money, so Brendan just has to do his best within his budget. People are looking at the rich men at QPR and wondering why they're not spending, but it's a different atmosphere at the Liberty Stadium.
I can tell you for certain that they will play open and expansive football, just like they did last year. Yes, there will be times when they are going to have to take a more cautious approach - it goes without saying that they need to be sensible when they go away to Manchester United or Chelsea - but if they are to survive then they need to win football matches.
The way to do that, as we saw from the teams that came up last year, is to play attractive football and attack.
Comments (6)
James G (Newcastle United fan) says...
I disagree with Kammy, I think the gulf in class is still there. Newcastle went down and came back up with what was essentially a Midtable PL side. We had a terrible year full of changes at the top which is the only reason Hull stayed up for two years. No-one comes up and is safe for long, Stoke and Fulham have managed it but there main aims are still just to stay up. Wolves, Wigan and Blackburn will be down the bottom with the 3 promoted teams, 3 from those 6 for me. Then Newcastle, Sunderland, West Brom, Everton, Fulham, Villa, Stoke, Bolton in the midtable, Spurs and Arsenal in 5/6, l'pool in 4th and i can't seperate the top 3 of City, United and Chelsea.
Posted 15:08 10th August 2011
Stevie Arnold (Swansea City fan) says...
If any premier league fan bothered to watch the championship last season they would have seen tht the gulf in class between the premier league and championship is miniscule. Teams like my home club Swansea,QPR and Norwich play the sort of football that the premier league demands teams who didnt get promoted such as Reading,Leicester city,Notts forest would also have made the grade. it makes me laugh to hear some premier league fans baulk at the newly promoted teams chances of promotion when u only have to look at teams like Wigan,Blackburn,Wolves and Newcastle none of these teams set the premier league alight last season so i agree with u kammy when u say we stand a chance of staying up. Football is played over a season not 90 minutes and on the day is anyones game u only need to look at hulls and blackpools forays in recents seasons and who would have thought that Birmingham and West Ham would have sucumbed to relegation last season. So lets bring on the new season and the first welsh club in the premier league along with our newly promoted brothers will show u that there is always a battle to be fought no matter how big the opponent is.
Posted 14:44 10th August 2011
Andrew Cockburn (Sunderland fan) says...
It would be good to see the newly-promoted trio of Norwich, QPR & Swansea all survive and flourish in the PL. But while the class-gap between Premier League and Championship has decreased in recent seasons, life at the highest level can still be hard, particularly for promoted sides. And this has perhaps been exemplified recently by Blackpool, Burnley and Hull all returning to The Championship, after only brief spells amongst the "big fish". That being the case, I tend to fear a little for of last season's promoted trio, though on the other hand, football can be a funny old game.......
Posted 08:46 9th August 2011
Al Ireg (Norwich City fan) says...
Kammy you legend! Good to hear something other than the usual doom and gloom for the new boys. There are still teams out there that are more than the sum of their parts.
Posted 03:55 9th August 2011
James Hobden (Manchester United fan) says...
completely agree. i think that there are a number of teams that could go down. the 3 promoted teams with wolves and wigan. they shouldn't but even concievably fulham and sunderland could get relegated. blackburn shoud be fine but kean's inexerperience shone through last season. the promoted teams have got a good chance of survival, unfortunately i can only see the promoted teams getting relegated. whats more there are 6 teams that will be vying for the title and the top 4 spots and the final teams should be hoping to get the final europa league spot (assuming that the 2 cups are won by the top teams). so i think that this could be a very interesting season and just like last season, i do really feel that all 20 clubs will have something to play 4 whether be it to stay in the league, european football or the title
Posted 21:32 8th August 2011
Andrew Cockburn (Sunderland fan) says...
I tend to agree that the gap between the Premier League and The Championship is not as big as it used to be, however, there still appears to be a bit of a gulf in class. And this has perhaps been proved in recent seasons, when Hull returned to The Championship after just two seasons, while Lancashire rivals Blackpool and Burnley lasted just one season apiece. A pity, for all three clubs brought a breath of fresh air to the PL, but at the end of the day, its all about points accumulated, and as we all know, life at the top can be hard, particularly for newly-promoted clubs. As for this seasons "new arrivals", namely Norwich, QPR and Swansea, I feel that The Canaries, boosted by the impetus of two successive promotions, will perhaps fare the best out of the trio. Swansea have previously had a two-season stint in the top flight, during the days of Curtis, James, Latchford, back in early 1980s, when they took the old First Division by storm in 1981/82. Indeed, I can vaguely recall them beating the likes of Arsenal, Leeds, Liverpool, and yes, Manchester United! QPR are back amonst the "elite" after a 15-year absence, and while it would be good to see them and The Swans do well, I can't help but feel that at least one of them might make a quick return "downstairs". But on the other hand, football can be a funny old game.......
Posted 17:21 8th August 2011