With the El Clasico's coming thick and fast, so to have your questions.
While we are all waiting for Barcelona and Real Madrid to resume battle in the Champions League semi-final next week, our Guillem Balague has taken some time out of his busy schedule to answer your questions.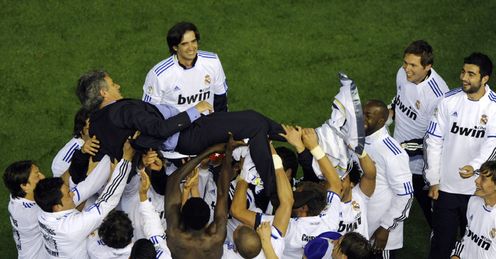 Last weekend's league encounter ended in a 1-1 draw but Real drew first blood with victory in the Copa del Rey on Wednesday night.
Jose Mourinho has taken some stick for his tactics, but Guillem warns us not to expect too many changes in the first leg at the Bernabeu on Tuesday.
He also explains Barca's link with the St George's cross and wonders whether either of the big two will land David de Gea...
Making his mark
Hi Guillem, everyone is being overly -ritical of Jose's tactics in the recent Clasico but maybe he's already written the league title off this season and the last game was his way of trying to nulify the Barcelona threat and try a different tactic for the Champions League games? I think most Real fans would take the Champions League final of the La Liga this season. Barca have an ageing team in Puyol and Inesta so maybe, just maybe Jose's young guns can concentrate on the league next season? Craig Wilkinson
GUILLEM SAYS: It's true that some people have criticised Mourinho's tactics: but as far as Mourinho is concerned, the important thing for him is that the people who pay his wages, his players and the fans are celebrating winning a trophy. A lot was made of Alfrfedo di Stefano's comments, but his role as honorary president doesn't mean he speaks for the current regime at the club - and the actual president is backing Mourinho.
The club and the players are starting to sing from his hymn sheet, and that is significant. Jose Mourinho is starting to get the level of control over transfers he wanted - he's already made two for next season - and is now able to do things his way.
Guillem Balague
Quotes of the week
LIVE ON SKY SPORTS
Valencia v Real Madrid
7.30pm, Sat, Sky Sports 1
Barcelona v Osasuna
9.00pm, Sat Sky Sports 1
(both delayed coverage)
Atletico Madrid v Levante
6.00pm, Sun, Sky Sports 1
Sevilla v Villarreal<BR>8.00pm, Sun, Sky Sports 1
The club and the players are starting to sing from his hymn sheet, and that is significant. Mourinho is starting to get the level of control over transfers he wanted -he's already made two for next season - and is now able to do things his way, without having to go through Valdano and Pardeza. The players are starting to sound like Mourinho players, echoing their manager's statements and criticisms of those they feel stand against them.
I suppose that you are half right Craig, when you say that Mourinho was trying to nullify Barcelona. He was. And his tactic of applying pressure on them off the pitch worked as well. He avoided a repeat of the 5-0 humiliation earlier in the season in La Liga, and in the cup he carved out a win. But it would be wrong to expect him to try things all that differently in the Champions League: he's found a way of frustrating and beating Barcelona, so why should he change it?
He won't be expecting Guardiola to do things differently after all. That doesn't mean the Champions League games are a foregone conclusion or that we know exactly what's coming. The subtle tactical changes and personnel changes ARE going to be fascinating - even if we won't see a massive shift in the two sides approaches. I felt all along that Madrid would probably win the Copa del Rey but that Barcelona would bounce back stronger in the Champions - and that is still on. Barcelona will have learned a few lessons on Wednesday and defeat should shock them into remembering some of the things that they appeared to have forgotten: things like their movement in the final third, their pressing and pace of passing and the fact that Messi was too deep. Guardiola will work at fixing that, but there is the concern that they were also too tired to put it into practice.
You've asked about next season Craig: can Madrid concentrate on the league? Well, yes, they will. As I said, this is more and more becoming Mourinho's team; so they will be stronger. The difference between the two sides over the last couple of seasons had been down to the head to head results between them; but now that Mourinho has a blueprint for frustrating Barcelona, the gap is closing. And you are right, as Mourinho has said, Barcelona will need to replace numerous players over the next few years.
Cross examination
Can you explain the history behind barcelona having the cross of saint george on their badge? Gary Rockett
GUILLEM SAYS: That's quite an easy one to answer Gary: it's because St George - or St Jordi as we know him in Catalan - is the patron Saint of Catalonia. Consequently, the cross has always appeared on the FC Barcelona crest, ever since the club had it's own unique emblem designed in 1910. Before then, the club used the crest of the City of Barcelona, which also featured the St George Cross as well as the Catalan flag (the red and yellow vertical stripes you still see on the badge today). St George is the patron saint of several other places in Spain outside of Catalonia and he's also celebrated in countless other countries. I can recommend visiting Barcelona on St Georges day, by the way. It's a very big holiday, celebrated more than in England to be honest - and there is a tradition where men give women a red rose and in return, the guys are given a book. It's a big Catalan thing, hence the reason the symbol of St George appears on the Barcelona flags and emblems.
Keeping them waiting?
Will David De Gea want to join Manchester United? If he is as good as everyone is saying and at the age he is at, won't he be able to become Barcelona or Real Madrid's future keeper? Could he hold on at Atletico Madrid until of the Spanish giants come calling? Jamie Smart
GUILLEM SAYS: You managed to sneak two questions in there Jamie! The answer to the first one - will he want to join United - is: who knows? That's not dodging the question, because even De Gea himself doesn't know the answer to that one! He's completely undecided. He is very much at home in Madrid, at the club he's supported and grown up with - and his rapid rise into the spotlight means he is unsure whether he is ready to leave home. He's in his comfort zone, very much within the family fold and happy in Madrid with his friends around him. Imagine growing up in Manchester and dreaming of playing for Man City, the team your family and friends all support. Suddenly, within two years you jump from the academy to first choice keeper. It all happens very quickly and your living the dream, when suddenly, before you've had chance to take it all in, you get asked to leave your family, your mates, your country and move to Real Madrid. A big and terrifying decision.
Now to the second question: would he wait for Barcelona or Real Madrid? Well, we hear a lot of players in Spain saying that when a big club comes calling, 'it's a train that comes along only once.' What that means is that you cannot assume that you'll never get an opportunity, a player never knows what's around the corner. I do know that de Gea is being advised by his associates that the opportunity to sign for United may be too good to miss. United have told Atletico and the player that they would be prepared to meet the La Liga side's valuation in the region of €20 - €25 million (dependent upon taxes). They want him now - and it would be daft to turn a concrete opportunity down on the basis that you hope another will come along in a few years time.
But that doesn't mean he'll accept: because, it's easy to see how staying in Madrid represents the easiest option for de Gea, who is also being offered a new deal and a pay rise from €400, 000 to €1.1 million a year by Atletico. Van der Sar has told me there's no chance of him staying at United in any capacity, so de Gea would suddenly find himself bearing a huge responsibility on his own. That's a big decision for someone still learning his trade.
Got a question for Guillem? Then send it in here or use the feedback form below, and then look out for his answer next week.
Comments (41)
Patrick Machale (Barcelona fan) says...
hello Guillem, i am just wondering why barcelona dont look to buy world class defenders the likes of Vidic etc instead of paying massive money for midfielders and strikers. Do they feel as a team that they can defend i know they are the most attacking and entertaining team in the world but does anyone in the club not realise that they cant defend. I know its there philosophy to attack but surely against a well organised and physical team who are not better footballers but are well organised and strong at set pieces barcelona can be beaten. Barca Fan
Posted 00:11 26th April 2011
Mike Jones (Chelsea fan) says...
I htink Jose has done an excellent job since he came to Madrid. I can only expect him to make his squad even stronger in the summer. Therefore I'm not surprised to hear that Real Madrid are interested in snapping up Samir Nasri of Arsenal at the end of the season. Close friends of mind at the Emirates tell me Nasri can't wait to pack his bags.
Posted 06:44 25th April 2011
Jack Bagley (Tottenham Hotspur fan) says...
Hi Guillem, Im a huge Tottenham fan and it is certain that we need a top class striker in the next window. I know that we tried to sign the likes of Llorente,Rossi,Negredo and Aguero so I was just wondering will we go back in the market for one of them to lead our line next season? Personally I think that Llorente would be the best option and I have also heard how Man Utd and possibly Real Madrid are interested in him. So who may Spurs be looking at come the summer transfer window? Jack Bagley, Gravesend,
Posted 00:26 25th April 2011
Daniel Ikemba (Real Madrid fan) says...
@ Sid Sidwell the Barcelona fan. How many yellow cards did Dani Alves get on Wednesday, and how many Yellow cards was he supposed to get. Honest answer please.
Posted 22:45 24th April 2011
Matt Loyley (Nottingham Forest fan) says...
People are all talking about the next gk for man utd, de gea WILL be a world class gk but man utd, real and barcas of this world to soon in my opinion. Best suited option both coming out of the bundesliga being rene adler of leverkusen and neuer of schalke!! What u think guillem and general public?
Posted 19:55 24th April 2011
Festim Hajrizi (Real Madrid fan) says...
Real madrid is the best team in the world I belive that they win just continju.........forrever with you.,.... festi
Posted 16:37 24th April 2011
Anthony Parish (Real Madrid fan) says...
jose, has done it again! hes awinner get used to it!
Posted 10:48 24th April 2011
Andrew Andrew (Manchester United fan) says...
About your answer to do with st george cross, you dont think that two english men were founding members of barcelona that the st george cross appears as part of their crest?
Posted 10:31 24th April 2011
Chris M (Celtic fan) says...
Hola Guillem, great blog once again. Is there any news Guillem that Barca will go for Cesc early summer and look for a quick answer and if no, will look at Juan Mata to help provide some more depth up top??. Also, Emilio Izaguirre at my club Celtic has been sensational this season and his been linked with Man Utd for next season, are any clubs in Spain been looking at him??
Posted 21:39 23rd April 2011
Ross Maclean (Barcelona fan) says...
Mourinho will always play football that way as it's the only way he knows how to win, like Walter Smith does in Europe for Rangers up here. Teams that win trophies are usually remembered for how they won it as well. Real were a better team last year, but if they're happy to trade a decent coach who played good football for a boring defensive minded tactician/moaner who only won a Spanish Cup (then broke it) then that is a sad that Real Madrid have to stoop so low. I remember their fans timidly shouting "Viva Espana" even though that team had 8 Ctalans in it. Where would Espana have been without them?
Posted 21:00 23rd April 2011
Steven Phillips (Shrewsbury Town fan) says...
Hi Guillem. I was wondering if you knew the situation with Valencia's finances this season. Much was made of how bad it had become last season, resulting in their top players being sold. Will they need to do the same this year? Apart from maybe Mata and Banega they don't have players who will command significant transfer revenue. I do feel however that Unai Emery has done a fantastic job with the players hes brought in and although they may not be as attractive to watch as last year, they are much more solid and remind me more of the championship winning days. Will he get a contract or do the management still not have faith in him?
Posted 17:28 23rd April 2011
Sam Duffin (Real Madrid fan) says...
Hi Guillem, do you think Real Madrid will actually sign Daniele De Rossi this summer because they are linked with him every year?
Posted 14:29 23rd April 2011
Chris White (Arsenal) (Arsenal fan) says...
Hola Guillem!! I live in Madrid and due to my girlfriend and her families afiliation I am a part time "Real fan" For me If Mourinho wins the champions league with Real it will be a magnificent achievement!! I was at the spurs match and was amazed at how passionate , yet negative the fans were even leading 4-0 against 10 men!! The press are ruthless here..much more so than In England..where Fergie can do practically what he wants..Mourinho has been fighting a battle to convince many people of his methods..yet I feel after the Copa del Rey he has galvanised the team..and I don
Posted 12:09 23rd April 2011
Daniel Beamand (Manchester United fan) says...
Hi Guillem, on Revista De La Liga this week you and Mark were arguing the case that the only way to play Barcelona is to play anti-football against them which i agree with you but how long do you think they can keep up this domination of Europe? a lot of their first team are very young Messi, Pedro, Pique and others so surely these types of players could keep up this type of football and domination till they retire which is a very scary thought, whats your view?
Posted 21:12 22nd April 2011
Adam Smith (Tottenham Hotspur fan) says...
Hi Guillem, interesting blog as usual. You mentioned that the opportunity to join United is too good to miss. I assume the same could be said of Chelsea and maybe Arsenal. But I was wondering, what the general view of Tottenham and Manchester City is in Spain atm, would players at clubs like Sevilla, Valencia and Atheltico Madrid consider moving to these a step up, down or sideways? I am also interested in reading in more depth a summary of La Liga and how players are performing and was wondering if anything could be recommened. Thanks.
Posted 17:14 22nd April 2011
Darren Mccann (Barcelona fan) says...
Hi Guillem. does Mourinho just hates us. i was dreading him coming to real this year and hes starting to have his effect on madrid. barcelona have their style of play and always, always, always use it, but could we be a bit more direct and give up the 70% to about 50/50. try the tottenham approach and just go for the game like mad men. No doubt barca control most games but recently we have been so poor in attack and if we just go for a more messy approach with messi, villa, pedro and let xavi and iniesta throw balls into any gap for run instead of keeping the ball until they see the perfect pass.
Posted 16:45 22nd April 2011
John Durham (Newcastle United fan) says...
Hello gullem as i am sure you read in the papers this week my left back Jose Enrique is apparently all set for a summer move to liverpool. now i was just wondering if you could clear that up for me also i have heard of him being linked to manchester utd tottenham and barcelona what i wanted to know is would he fit in at barcelona and do you think he is good enough for them?
Posted 09:13 22nd April 2011
Olajide Ezekiel (Manchester United fan) says...
David gea is a good keeper,but I think he is not the best candidate to replace van der sar. David gea is not as good as the way the hype him,he has not been impressive recently.he need to stay in madrid for 2 or 3 year before thinking of moving abroad.the best keeper to replace vander sar is the schalke keeper.he is very good.he has been impresive this season. I think man utd need to sell players like barbatov, anderson,owen, and buy good players. Barbatov have never been a very good player, his lucky goals against blackburn is the reason why he is the top scorer now.giggs has been doing fine at his age but man utd is yet to have a replacement for him.giggs is 37 but yet fergie still prefer to use him when players like nani,park is around.scholes need to retire and hagraves need to be release.smalling and harnedez have really suprise me,they have been impressive. Fergie need to buy a central midfielder that is very creative,a midfielder that understand the game of football not players like carrick.man utd seems to be number 1 in premiership now.but I must confess the current squad lack creativity and flair.I remember the squad in 1999 and 2000 was my best squad, the squad was invisible.andycole could give you 20 goals, dwight york could also score a lot of goals and both sherigham and ole gunner solkjaer were scoring goals.roy keane was my favourite defensive midfielder.this current squad are not good compare to 1999 and 2000.bebe,obertan need to be loan or.sold.
Posted 09:05 22nd April 2011
Martin Francis (Chelsea fan) says...
Hi Guillem, Jose Mourinho will always be in Chelsea supporters hearts and we all wish him well in whatever club he is a manager with. Ole Jose :)
Posted 08:13 22nd April 2011
Kane Daily (Manchester United fan) says...
Hi Guillem. I have a few questions regarding KAKA. Is there any chances of him staying at Madrid beyond the summer? I also would ask if theres been any hints on whether Mourinho likes him enough as a player to consider dropping any of his current starting 11 in order for KAKA to work his way back in to the first team? If not, would there be any possibility of Real even deciding on cashing in on him this summer whilst his value doesnt decline due to age?
Posted 06:45 22nd April 2011