Sky Sports' Spanish football expert Guillem Balague looks at this week's live La Liga games.
If you've got a question for Guillem, send it to skysportsclub@bskyb.com.

Valencia v Granada
Malaga v Getafe
Sporting v Barcelona
Espanyol v Real Madrid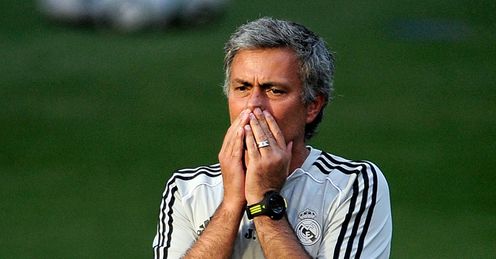 Valencia v Granada
7pm, Sat, Sky Sports HD4
Granada, after a very poor start, have got hold of some points because they've actually started working much harder at keeping the ball. It seems like they're starting to get used to being in the top division and they may make things very difficult for Valencia because they defend very deep.
Pepe Mel is certainly a great personality and one of the big surprises of Spanish football. The success has arrived late in his managerial career but he has the right ideas and he's very direct in the way he talks.
Guillem Balague
Quotes of the week
LIVE ON SKY SPORTS
Valencia v Granada
7.00pm, Sat, Sky Sports HD4
Malaga v Getafe
9.00pm, Sat, Sky Sports HD4
Sporting v Barcelona
7.00pm, Sun, Sky Sports HD1
Espanyol v Real Madrid
9.00pm, Sun, Sky Sports HD1


Against Chelsea, I think Chelsea were the better side but Diego Alves had a brilliant game in goal. It's funny how the fans still doubt the rotations of Unai Emery as if he hasn't done that for the last three years at the club.
Malaga v Getafe
9pm, Sat, Sky Sports HD4
Malaga are defensively the best team in the league this season. Obviously it comes from the back and Martin Demichelis is reaching his top level again. Another veteran, Jeremy Toulalan, is a fantastic player too. However, when they have the ball they go through the centre too much and have to use the full-backs more often.
Getafe did really well against Betis and it was really interesting to see Pedro Leon playing again at this level. Diego Castro on the opposite side is their other key player.
Sporting v Barcelona
7pm, Sun, Sky Sports HD1
Sporting are going to have a really tough time. They always start poorly and then seem to find themselves and seem to come out of it. This time could be different though, as they haven't signed so well - I think they're going to be round the bottom of the table at the end. The problem is that against Barcelona they will have their weaknesses exposed.
Espanyol v Real Madrid
9pm, Sun, Sky Sports HD1
Pochettino is working for his 100th victory but Espanyol will have a tough time against Real Madrid with a Kaka who seems to have recovered a bit of faith in himself. Mourinho has given him time to play and although he hasn't got 90 minutes in him yet, he played a very good 60 minutes against Ajax and scored.
Espanyol, on the other hand, are suffering from the absence of Osvaldo and the star striker was not replaced, even though Pandiani arrived. Their problem is they make too many mistakes at the back and it's very difficult to turn it around once you concede a goal.
Guillem answers your questions...
Got a question for Guillem? Then send it in here or use the feedback form below, and then look out for his answer next week.
MOUR STABILITY?
Hi Guillem, I have been following your write ups for a while now and they are a great insight into La Liga. I had a question regarding the internal disputes at Real Madrid. Is the situation really that bad or is it being hyped a lot by the tabloids. This team seemed really united at the end of last season and now suddenly there seems to be a collapse in the dressing room. This has been a perennial problem at Madrid, with the coach finally being sacked mid-season. Do you thing matters are being handled any differently this year? I hear Perez visited the dressing room during the half time at racing to calm down the players nerves. Do you think Perez is going to stick with Mourinho even if Real are, let's say 5 points, behind Barca around Christmas?Siddharth Kishore
GUILLEM SAYS: Watch Revista and you'll get all those answers every week for the rest of the season! We'll be keeping a close eye on what's happening in Madrid. What's happening is, from the top of the club, they are very much with Jose Mourinho. Even the chairman has started to sound like Mourinho when he talks, which is a surprise to me.
However, within the squad there is a bit of a question mark regarding why they don't train offensive situations. Why is it all left to intuition and individual talent? Sometimes they have to open up very tight defences and they are missing solutions. Also, like in any changing room there are different groups - the Spanish group, the Portuguese group, etc. At the moment, it seems Mourinho has it under control. After a couple of bad results, people exaggerate the differences. All in all, Mourinho is a bit more serious and tense than last season - more likely than not as a consequence of having lost the Super Cup and knowing there is no margin for error.
THE OTHER MADRID...
Guillem do you believe in the Atletico project? Diego, Falcao, Arda - great buys and they look far more effective instead of the usual "all over the place defending and attacking" that Atletico had been playing in my view for the last few years. Darren McCann
GUILLEM SAYS: It is different. Certainly there is a new 'vibe' at the club. The fact that Diego Forlan and Sergio Aguero aren't there means they'll have to play in a different way - from the back. There is now a bigger number of players who can give them a lift.
They took the wrong approach to the Barcelona game. There was no pressure, aggression and belief and I think the tactics were wrong. It will be interesting to see them against another big club and see how they behave.
BET ON BETIS?
Hi Guillem, was wondering what your thoughts are on Real Betis this season. They've made a great start to life back in La Liga, whereabouts do you see them finishing and can they win the Seville derby? Many thanks.Ben Smith
GUILLEM SAYS: Pepe Mel is certainly a great personality and one of the big surprises of Spanish football. The success has arrived late in his managerial career but he has the right ideas and he's very direct in the way he talks. He's of the Pep Guardiola 'good football' school and he's applying it with players from the lower ranks at a club with not much money.
Betis have certainly got a good start and play football and they'll be in mid-table, if not on the verge of European football.
Do you agree with Guillem's views? Have your say and send in your questions using the comments box below...
Comments (6)
Yasin Bwogi (Manchester United fan) says...
Hey Guillem, in previous generations the Spanish national team underperformed and one of the excuses was the internal rivalries in the Spain and the divide of the Basques, Catalonians, Castillians and others, does this divide still exist or was it overstated in the first place? Also do Basque players historically play for Barcelona or Real Madrid? At the moment Xabi Alonso is the only player I think of who plays for one of the big two and is Basque.
Posted 19:54 1st October 2011
Obioma Angel (Real Madrid fan) says...
why must (johan cruff) talk about mouriho always and if mourinho reply him every body will say mou dont ve manners?must (johan cruff) talk about mouriho always and if mourinho reply him every body will say mou dont ve manners?
Posted 05:57 1st October 2011
Shane Farrington (Manchester United fan) says...
Hi Guillem, I was wondering what requirements the Valencia board have handed Unai Emery to be achieved by the end of the season? In the last campaign they finished third and made the knock-out stages of the Champions League (albeit disappointingly losing out to Schalke), but the board dithered before keeping him on. Is he expected to build on what he did with the team last season, particularly in Europe in order to keep his position in charge? Thanks in advance, Shane Farrington.
Posted 12:08 30th September 2011
Darren Mccann (Barcelona fan) says...
Hi Guillem, my question is will fontas stay at barcelona? they have had troubles at the back and instead of giving him a start and the confidence they decide to play masc and busq who have done well especially masc who i think has been one of our stand out players so far along with cesc and messi. but will fontas ever get a real chance this season?
Posted 07:29 30th September 2011
Ashley Williams (Arsenal fan) says...
Hi Guillem, I was just wondering what your thoughts are on Carlos Tevez and if we could see him in La Liga? Maybe Real or Malaga?
Posted 22:14 29th September 2011
Carlos Hidalgo (Real Betis fan) says...
Hi Guillem, it looks a very interesting weekend at la ligas top fly. I am predicting some upsets at the best clubs as I think that the bar has been raised by the other teams, and I'm surprised that Pepe Mel commited himself by saying that Real Betis will arrive lider to the Santiago Bernabeu. I'll keep an eye on Athletic Bilbao as their Manager Bielsa does not look like will have the nuggat bars (turron) for Xmas. I'll look forward for the coverage, keep up the good work. One more thing, could it be possible to interview Roberto Martinez, looks like is reaching the situation of last season and this one just started, does he have ideas on how to turn it around. Best regards. Carlos
Posted 13:19 29th September 2011