Even allowing for the huge slices of luck they enjoyed against Armenia, Republic of Ireland were still owed some good fortune after Thierry Henry's infamous handball cost them a possible place at last year's World Cup.
They now have a cracking chance of qualifying for Euro 2012 after drawing Estonia - probably the weakest side still surviving - in the play-offs and I for one don't begrudge them their good break.
They will have to play a heck of a lot better than they did against Armenia to overcome Estonia (who, don't forget beat Northern Ireland home and away) and should take nothing for granted, but if they could have hand-picked their opponents then Tarmo Rüütli's side would have been top of the list.
Decent
Under Giovanni Trapattoni, the Republic have become a hard side to beat because they put their bodies on the line - just look at the performance against Russia, when Richard Dunne in particular was magnificent.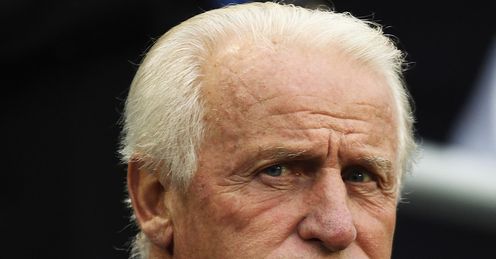 However difficulties seem to arise when Trapattoni asks them to go out and break teams down, which sometimes surprises me given the attacking options within the squad.
Still, when you look at the number of similar-sized nations who would give their right arm to be where the Republic are right now, I think you have to say that Trapattoni is doing a decent job. I know that he is criticised in some quarters of Ireland for being too negative (and not being Irish!) but the proof is in the pudding.
I felt the fact that Worthington was being criticised by fellow managers - one based in England and one in Scotland, who both basically said they'd like his job - was absolutely outrageous.
Jeff Stelling
Quotes of the week
Sky Sports Fantasy Football
Play Fantasy Football against Jeff Stelling each win for the chance to win great prizes.
Pick your team
.
Play Super 6
Think you know your football? Predict the scores for six matches for the chance to win £100,000. It's free to play and you could land the jackpot.
Play now
If come next summer the Republic are competing in Poland and the Ukraine, then everyone will congratulate him on a job well done and rightly so.
Cracker
Of the other play-off games, Bosnia-Herzegovina's clash against Portugal should be a cracker.
Curiously enough, I've been in Portugal this week and have seen both teams play. Bosnia looked excellent as they drew 1-1 with France but Portugal looked like a team that simply cannot defend as they went down to Denmark.
Any side that concedes three at home to Iceland has its fair share of problems and bar Cristiano Ronaldo's late goal, Portugal were very disappointing; in the absence of Ricardo Carvalho they are poor at the back as well as ordinary in midfield; Meireles is ok but he's no superstar.
Portugal, for me, are a bit of a one-man team at the moment and when Ronaldo doesn't do it, there's nobody else to step up.
Limited
At least they - unlike Scotland, Wales and Northern Ireland - still have a chance of playing in the Euros.
I know there are those, John Collins for one, who believe that Scotland are improving but I'm not so sure about that, if I'm honest.
Craig Levein, rather like Trapattoni, has a very limited pool of players at his disposal and Scottish football is in some disarray as we can see by the European performances of Celtic and Rangers.
In some ways it is an impossible job and Levein has done as well as can be expected.
I still feel that his biggest mistake was going to the Czech Republic and playing without a forward; at the end of the day that and their home result against the same side was what cost them any chance of qualification. It wasn't the defeat in Spain that did it - the damage had been done before then.
Levein is a rookie manager and there is no point in chopping and changing; Scotland need to stick with him and look towards the next campaign and just hope that one or two talented young players come through.
Yes they have some talented guys in the squad - Charlie Adam and Steven Naismith to name but two - but I'm not convinced that they have improved during the campaign.
They are desperate for someone to build on what Kenny Miller has done and Craig Mackail-Smith might be the man. But is he an international forward? Only time will tell.
Outrageous
Time has run out for Nigel Worthington, who was right to fall on his sword given Northern Ireland's recent results.
In his defence, I'm not so sure there are many people out there who could have done a better job with the resources that are available.
Worse than that, I felt the fact that he was being criticised by fellow managers - one based in England and one in Scotland, who both basically said they'd like his job - was absolutely outrageous.
Whoever takes the job next has got one heck of a task on their hands and I don't envy them. All of the papers seem to think that man is going to be Iain Dowie - a great motivator, who is passionate in everything he does. I'm totally biased but I think he would be a very decent choice indeed.
Intent
Gary Speed is not short of those qualities either and they have clearly rubbed off on Wales, who ended the qualifying campaign in brilliant fashion.
We saw glimpses of it against England at Wembley, where they got the ball down and they passed it which was fantastic to see.
I know there are people who will say that the passing was done in areas of the field that didn't harm England and maybe to a degree that's right, but at the very least they showed intent which bodes well for the World Cup qualifying campaign.
But make no bones about it; in Gareth Bale they have a world-class player, which is rare in a nation of their size. He is fully fit and performing like his life depends on it, which is a fantastic bonus for Speed.
If Wales can keep developing the way they are playing, with the rapier thrusts of Bale and Craig Bellamy to the fore, hopefully they will progress as a team.
Vulnerable
England's problems are of a different nature.
For half an hour against Montenegro they looked like world-beaters but they fell away alarmingly and there's no doubt that we remain terribly vulnerable at the back, particularly as we don't have a regular central defensive pairing and Fabio Capello appears to like playing people out of position at right back.
I don't want to see Phil Jones play at full-back anymore - he should be in the centre; it's time to give Micah Richards an extended run in that position.
On the plus side, the development of Ashley Young is absolutely fantastic and there appears to be a lot of young talent coming through - the Jones' and Wellbeck's of this world.
Apology
As I write, UEFA have yet to decide how long to suspend Wayne Rooney for but in my view he deserves no more than a one-game ban.
I haven't read his letter of apology but it can't say much more than 'I kicked the bloke. Sorry', because there wasn't much more to the incident than that!
It was an instinctive reaction on his part; it wasn't a malicious act and it didn't harm anyone apart from the England team.
I can't see any way that UEFA can justify suspending Rooney for three games but if they do then there has to be genuine doubt about whether it is even worth taking him to Euro 2012; I'd be interested to know your thoughts on that one...
Join Jeff and the gang for Soccer Saturday this weekend at 12pm on Sky Sports News HD, channel 405.
Comments (5)
Anthony Campbell (Manchester United fan) says...
rooneys kick was violent conduct which is a THREE match ban in this country so why is anyone shocked that he has got a three match ban it doesnt matter if he broke the guys leg or not or if it wasn't a malicious act or frustration it wasnt good enough from a so called professional footballer
Posted 09:59 17th October 2011
Paul Giles (Liverpool fan) says...
I completely agree with you that the comments towards Nigel Worthington were outrageous. I did hear Lawrie Sanchez's comments but not those from the manager based in Scotland. Neither should be considered for the job.
Posted 13:52 15th October 2011
Niall Browne (Arsenal fan) says...
what does the fact that estonia beat N ireland home and away make? theres a fairly big jump in class between the north and the republic these days. thats like saying "manutd got leeds in the FA cup but lets not forget that Leeds have just beaten Doncaster in the championship" Leeds wont worry United and Estonia Isnt worrying us
Posted 12:30 15th October 2011
Ethan Morris (Manchester United fan) says...
some really good points here Jeff :) as a welshman it's the first time that i've watched a welsh footballing side and not been ashamed. we passed the ball about nicely against england as you said and had earnshaw been on the pitch a bit longer before his chance, we could have earned a point that we really did deserve. rooney being banned for 3 games in my opinion is ridiculous. he made a silly mistake which he has apologised for and he made no fuss when he was actually sent off, something that we have seen him do before. i still think that he has to go to the euro's because without rooney england are a team of good players without the spark that can make them flourish. i really think that england might struggle in the group stages without rooney, he really is the talisman of an otherwise ordinary team. Welbeck, Cleverley and Ashley Young should all be included in the squad for the tournemant as a youthfull team could be the key to a successfull campaign! just look at the welsh rugby team!!
Posted 14:57 14th October 2011
James Hobden (Manchester United fan) says...
in response to point about rooney i thought it wasn't even worth a yellow, certainly a foul but no more to - just a reaction through frustration so a ban of more than 1 game would be an absolute disgrace. even if he is banned for 3 games must sy it would be worth taking him but it's still a long time to go. i think worthington and levein couldn't have done anymore than they already have done. if we're going to be brutally honest, both nations have decent players but just don't have the strength in depth. take scotland for example they've been playing mackail-smith, who just a yr. ago, was playing for a lower league 1 club. scotland and NI rally just don't have the strength in depth to realistically challenge the euros and WC but yes i do think that scotland in particular have progressed.
Posted 16:53 13th October 2011