Scrapping promotion and relegation would be the death of football.
I hope it doesn't happen in my lifetime - and I don't believe it will - but I wouldn't want English football to let its guard slip.
I've been banging on about this on Soccer Saturday for five years and judging by the comments of LMA chief executive Richard Bevan not without good reason!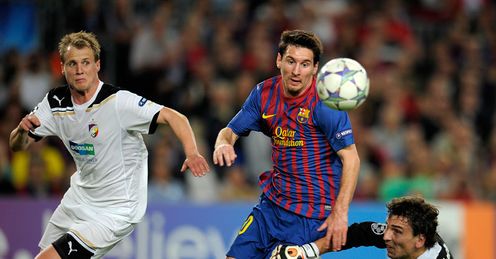 In these days when football is such big business it's only natural to expect owners to try and ring-fence their investments and we shouldn't be narrow-minded and think this only applies to foreign owners because there are British ones who would unquestionably support such a move.
But to do so would be to ignore the best interests of the game and supporters. It is putting self-interest first and would be calamitous for our game.
Ruud Gullit is without doubt one of the greatest players of all time but even he had his head in his hands at times in our studio, unable to believe Lionel Messi's level of ability.
Jeff Stelling
Quotes of the week
Sky Sports Fantasy Football
Play Fantasy Football against Jeff Stelling each win for the chance to win great prizes.
Pick your team
.
Play Super 6
Think you know your football? Predict the scores for six matches for the chance to win £100,000. It's free to play and you could land the jackpot.
Play now
How many fans would still go and watch a match if it didn't matter whether their team won or lost? As unlikely as that scenario may seem I am still concerned that it could happen one day.
While it's reassuring to hear real football people like Harry Redknapp and Sir Alex Ferguson support my view, there will always be those who love the rewards that football can bring rather than the game itself.
That for me is the real worry, particularly if a sizeable number of owners group together, sidestep the FA's power of veto and set up a new competition.
Plot
Equally, I detest the notion that in time we will see teams play some league matches overseas.
People in favour of a 39th Premier League game point to the strength of support for English football abroad but what about the fans over here?
To me it is purely another financial ruse to swell the coffers; for goodness sake, supporters are detached enough from Premier League games as it is at the moment.
Apart from anything else, playing a game thousands of miles away is another match they won't be able to get to. I find it hard enough to watch Hartlepool games as it is!
In some respects it would also be to the detriment of the game in developing countries because it will tempt fans away from watching their local clubs in their local leagues.
All in all I think it's a hideous, money-making plot and I struggle to see why any football fan would support it in any way, shape or form. It's just a nonsense.
So many football teams now, whether they be in the Premier League or otherwise, complain about the amount of games they play and how much travelling they do already - so I struggle to see how anyone other than the owners benefit. Rant over.
Relief
On reflection, it has been a good week for English clubs in Champions League without any of them being overly impressive.
Manchester City's first victory in the competition was a huge, huge moment for the club but it was another game that indicated just how far away they are from being real contenders for the trophy.
They are going to have to learn and learn mighty quickly what is required at this level because Villarreal are a very ordinary side indeed and they were missing Nilmar, one of their best players.
It was fascinating to see players like David Silva and Nasri - outstanding Premier League players - struggle to stamp their authority on a mediocre Spanish side.
The footballing layman must wonder what the difference is between playing week in, week out in the Premier League and playing in the Champions League because clearly there is one; Vincent Kompany said as much afterwards and admitted that City are struggling to come to terms with it.
I heard Jason Cundy say to a caller on You're on Sky Sports the other day that City are looking good in the Premier League and appear to be on track to qualify for the next stage of the Champions League - but I'm not so sure about the latter.
There's no guarantee they will win at Villarreal and there is certainly no guarantee that they are going to get anything in the hostile environment that they will find in Napoli, so they still have a long way to go.
You could tell as much from Roberto Mancini's display of relief following Sergio Aguero's late winner. Without that goal it would have been enormously difficult for City to reach the next stage and goodness knows what the implications of that would have been.
It was also an important goal in terms of swelling confidence ahead of Sunday's Manchester derby; if City had flopped again in the Champions League, then they would have gone to Old Trafford very much on a down.
I'm sure Mancini will be only too well aware that his side has conceded the first goal in each of their Champions League games so far - it's as though they can't get out of the blocks - and he'll have to set that straight.
For their part, United have looked flat for a few weeks now; they were poor against Basel, fortunate against Norwich and not great at Anfield so winning Sunday's derby is anything but a foregone conclusion as far as they are concerned following that display against Otelul Galati.
Wayne Rooney seems very much back in the groove but United's defensive vulnerabilities make me think there should be goals in the game.
Ability
Anyway, back to the Champions League because it's worth reflecting on an amazing night at the Nou Camp.
Ruud Gullit is without doubt one of the greatest players of all time but even he had his head in his hands at times in our studio, unable to believe Lionel Messi's level of ability.
A couple of times Ruud said 'this is the greatest move I have ever seen in football'; this is a man who has played against Maradona but here he was in awe of Messi's play.
The incredible thing about Messi is that we all know how good he is yet just when we think he has produced something that he'll never top, he does just that.
His part in the Andres Iniesta's opener was just incredible. It took Ruud's breath away - he was virtually speechless - and that in itself was something to behold!
You have to wonder if there is anything he can't do and the answer has to be a resounding 'No'!
Devalues
Finally a word on our London contingent; I was pleased to see Aaron Ramsey score the winner for Arsenal, who have taken another small step in the right direction.
It was a tough night for the Gunners but at Stamford Bridge Chelsea played the equivalent of Belgium's 'Dog and Duck' XI.
Chelsea were absolutely brilliant at times in the first half - their one-touch passing was exquisite on occasions - but unfortunately Genk's presence on the pitch indicated everything that is wrong with the Champions League group stages because they simply aren't good enough.
It is like going to a boxing match and knowing the outcome beforehand; you know which of the fighters is going to get knocked to the canvas, it's just a question of which round it happens in. That's not real sport.
For me the presence of Genk - and they are not alone by the way - devalues the Champions League and is a classic case of expanding a competition to generate more revenue.
If you want to look further ahead, check out the number of teams who will qualify for the 2016 European Championships. For goodness sake, the qualifying competition will be a joke - it is going to be harder to get knocked out, than get to France because there simply isn't the depth of quality there.
Somehow we've got to get back to the idea that 'less is more' or risk alienating greater number of fans.
Hopefully the administrators and money men will start listening before people stop watching.
There have been plenty of sports who have suffered like that over the years - snooker for one. Look at the state the sport is in now. Twenty-odd years ago, when we were watching some of the great finals of our time, no-one could have imagined that it would go the way it has.
There's a warning there somewhere.
Comments (15)
Nick Nelson (Liverpool fan) says...
Dispite Jeff being diminutive and a Hartlepool fan to boot, I have to say he talks a lot of sense. I think most people had assumed the threat of English football possibly being broken up or the formation of 'super' leagues had quietly gone away but the truth is that the FA, FIFA, UEFA and many owners are still more interested in the immediate marketeable value of the football "product" than securing any viable long-term future for the sport. Fans of the 'big' teams are still expected to pay through the nose only to see their team put out a 2nd string against percieved weaker opponents, and whilst it may mean everyone in the squad gets a run out it rather flies in the face of the spirit of the game and often leaves fans distinctly underwhelmed in the process. Football used to be the common denominator which brought us together at weekends, but some within the sport now seem determined to marginalise many of the grass roots fans who have followed their teams since birth, and turn it into an overpriced theatrical sideshow for would-be elitists who wouldn't have known half the teams in the league even existed before the advent of Google!
Posted 13:20 22nd October 2011
Tom Griffin (Leeds United fan) says...
Got to disagree with the Genk Comment. First you say about the premier league that " Scrapping promotion and relegation would be the death of football " Then say Genk devalues the champions league. You cant say that. If you think about it you are contradicting yourself here. Genk are the Belgian Champions who have earned their right to play in this competition by defeating maccabi haifa in qualifying round. Your comment on genk and teams like them would assume you want an elitest league where only the richest clubs in europe would play year in year out and forget the lesser clubs. If you think about it the same reasons why relegation and promotion must stay is exactly the same as why teams like genk get the chance to play champions league football.
Posted 10:24 22nd October 2011
David Gardiner (Hartlepool United fan) says...
Jeff, Totally agree with you and its all down to the greedy money man in football. No relegation would be the death of what English football stands for and turn the EPL into the same souless corperate run franchise league that is the NFL here in America. You should see the Super Bowl there is so much corperate stuff goin on that the two teams are virtually shoved into the background. I can see 2 up 2 down around the corner for the EPL. As for UEFA how many more games do they expect from the players and just were do they think fans get the time and money to be at these games. Champions league starts with 32 teams a joke, should be reduced to 16. Europa lge a farce lets get it back to a straight 2 leg knockout UEFA CUP. Pools fan in Florida.
Posted 14:12 21st October 2011
Jared Chammach (Chelsea fan) says...
As a Chelsea fan I can safely say we've come up against some very poor teams during our time, Genk weren't one of them. They were all over the place, particularly in the first half however it's a bit disrespectful to call them "the equivalent of Belgium's 'Dog and Duck' XI", I doubt any club would do too well with a defence consisting of 3 midfielders and only one recognised defender at the back, the last remaining defender who picked up an injury and had to go off himself. When you are coming up against a club who have such a good record in this competition the last thing you need is a defensive injury crisis but sadly that's what Genk had. They don't have the resources to have a squad of 25, full of internationals and the only way they will ever be able to progress as a football club is by taking part in the Champions League when they do win their domestic league, so you're basically saying relay the playing fields and whoever isn't in a strong enough position to compete with the likes of Chelsea, Manchester United, Inter Milan, AC Milan, Barcelona and Real Madrid etc. doesn't deserve the chance to profit from European football in experience and in financial gains? Luckily this is one of the few ideas UEFA have had that makes sense for FOOTBALL, not the elite but for everyone. The Belgian CHAMPIONS deserved to be playing in the CHAMPIONS League more than we did in fairness.
Posted 13:24 21st October 2011
David Smith (Tottenham Hotspur fan) says...
Today i say this with a heavy heart but i agrre with the suspension of relegation but for a different reason too some of the owners.This is why i want the same system has Rugby League a three or two year licence with attendance ground and finances all part of the two years or three year licences. Winning the championship would be another box too tick and we would not have the fiasco of Blackpool having too play there first six games away from home because there ground was not suitable. The other worrying factor is drug taking too get into and stay in the money laden premiership is rife and causing some clubs too buy players too get into fourth only to find smaller teams using eneregy drugs to gain points too stay up. This is ruining some clubs and there depts are mounting by the seasonmanagers and back-room staff are desperate too avoid the sack or relegation. This in my mind is fuelling drugs on a massive scale and you can see in Internationals how the games go slower because of the tempo and Fifa better testing . Even the great Barcelona are shrouded in rumours of drugs and if you look at some of there players in Internationals it makes you wonder why Argentina are not Champions of the World
Posted 13:20 21st October 2011
Andrew Robinson (Newcastle United fan) says...
Quite right Jeff... Every sport in Australia has NO RELEGATION - just like America.....gets boring after a while...no punishment for finishing bottom - just start again the following year.
Posted 12:35 21st October 2011
Dan Storey (Newcastle United fan) says...
Completely agree about Messi Jeff, the boy's incredible!
Posted 11:11 21st October 2011
Tom Kely (Aston Villa fan) says...
By getting rid of teams like Genk from the Champions League you would be alienating far more fans from the sport than by including them, the whole of Belgium for instance!! The only way to improve the overall standard and competitiveness of football is by inclusion and spreading the fortunes that the champions league brings. We have already dug ourselves into the dreadfully boring situation of knowing who will qualify for the champions league each year in England (although Man City's billions has changed that slightly) so by further limiting the size of the competition you would be doing to every other country. Why would a kid growing up in Belgium want to play football or learn to play at a high standard if no Belgium teams ever play at the top level and if the local teams have no money to compete and offer the facilities and standard of football for them to improve? By what you are suggesting you might as well start a break away european league with the likes of Man U, Barca, Chelsea etc leaving their national leagues. I would assuem this european league would have to have no relegation or promotion.....! The same goes for the Euro's, currently Ireland have an excellent chance of qualifying for Poland /Ukraine. If the size of the competition was reduced they would have no hope in hell of ever qualifying. Why would anybody in Ireland bother watching the games if they could never qualify? The same goes for the rest of the Celtic nations. As it is looking at the strength of the knockout qualifiers the Euro's are look like they are going to be one of the strongest tournaments seen for a long time. If you want proof that inclusion does improve the overall quality go and speak to your fellow journalist Tim Vickery about what the format of the South American World Cup qualification system has done for the standard of South American Football.
Posted 09:28 21st October 2011
Tony Eraclis (Tottenham Hotspur fan) says...
On your view about City in the Champs league Jeff my man - i agree they do have a long way to go. One thing that worries me is that when Mancini was at Inter they dominated Serie A, but never got anywhere in the Champs League. Mourinho comes in and with pretty much the same team takes it in his first season if i am not mistaken. Maybe Mancini and the Champs League just dont go well together. Maybe im wrong but its the first thing that come into my head.
Posted 01:12 21st October 2011
Cameron Love (Celtic fan) says...
I totally disagree with you Jeff on your comments regarding Genk's participation in the Champions League and also your views on how you see the qualification for Euro 2016 as a "joke". I understand that the level of football on offer from smaller nations is severely lacking in quality but their fan bases absolutely outclass any top Premier League team in terms of commitment and passion for the game. You contradict yourself by stating that by removing Promotion/Relegation from the Premier League would not be in the best interests of the game and supporters, yet you would deprive these same supporters from other nations from playing the best teams in Europe or the World for that matter. Smaller teams and smaller nations are here to stay no matter how much you would love to watch your fabled Champions League through rose tinted spectacles!
Posted 19:33 20th October 2011
Paul Sohier (Chelsea fan) says...
i agree with Jeff on most points in his article, particulaly concerning promotion and relegation, this should never change, however i do disagree with him regarding Genk, apart from the 3 points and + 5 goals we got from them last night, it should be remembered that they are the only reinging domestic champions in that group and if we go by the old European cup rules are the only team in that group entitled to be in there. keep up the good work on saturdays Jeff
Posted 18:20 20th October 2011
Neil Ferguson (Chelsea fan) says...
The corollary of no promotion/relegation within the Premiership is that Champions League qualification similarly becomes a closed shop. Great if you're a club that happens to be locked inside but not so nice if you're locked out looking in. I hope it never happens. Much of the real excitement comes towards the end of the season when games are "must win/must not lose" . Sometimes it can be agony but I wouldn't want it any other way.
Posted 16:15 20th October 2011
John Murphy (Swansea City fan) says...
Great read, I could not agree more!
Posted 15:50 20th October 2011
Peter Gilbertson (Southampton fan) says...
Out of all the Premiership contingent, Arsenal probably had the toughest game, and yet you write 2 lines about it, if any team lost 6 world class players Fab, Nasri, Wilshire, Varmealan, Clichey & Sagna paticularly Man U there would probably be an extraordinary meeting to allow them to buy players' outside the transfer window. You write they have taken a step in the right direction, quite unbelievable.
Posted 15:41 20th October 2011
Pmd Mc daid (Liverpool fan) says...
hi jeff when you say you find it hard to watch hartlepool ..... do you mean hard to watch or hard to get to the match? lol
Posted 15:02 20th October 2011