Earning respect in football is one thing, to be revered quite another.
Sir Alex Ferguson unquestionably belongs in the second category in the eyes of this week's Champions League panel.
Gary Neville, Steve McLaren and Glenn Hoddle have observed Sir Alex from different perspectives, as player, assistant and opposing manager respectively but on Wednesday they were united in their admiration of the Scot.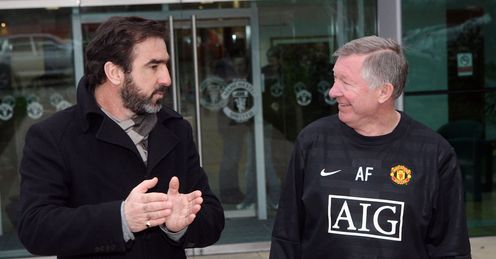 It is staggering to see how much Sir Alex has achieved in his 25 years at United since that 2-0 defeat at Oxford in his first game in charge.
He has since made some fantastic decisions in the transfer market - signing Roy Keane, Gary Pallister, Paul Ince, Eric Cantona, Cristiano Ronaldo and Wayne Rooney to name but a few - and his record of selling players at the right time is equally phenomenal.
Would they still be top of their Champions League group, would they still be pushing for a 20th league title? I have to say it's questionable.
Jeff Stelling
Quotes of the week
But it is his unerring ability to play the best young players at the right time that has been the key to United's prolonged success.
That applies as much to the likes of Danny Welbeck, Phil Jones and Chris Smalling as it does to the 'class of '92', which boasted such luminaries as David Beckham, Paul Scholes and Neville.
Sir Alex's man-management is legendary and it was interesting to hear Gary say that Fergie will know his team for a game three or four matches in advance.
That meant that there were times in the latter days of Gary's career when he would know that he wouldn't be playing for three weeks; he reckons Ryan Giggs is in a very similar position right now.
Stamp
Fergie may be approaching his 70th birthday, but he remains every bit a forward-thinking manager.
Gary recalled how the manager was a driving force behind the club's move to Carrington in 2000 because he wanted his players to have ultra-modern facilities and the best medical and sports science support available to ensure United remained at the forefront.
So where would United be now had he retired when he said he was going to in 2001/02? Would they still be top of their Champions League group, would they still be pushing for a 20th league title? I have to say it's questionable.
There are certainly no guarantees that United would be the defending champions they are.
Fergie has always maintained that he will carry on so long as he is in good health but United fans must be worried about what will happen when he does call it a day. It will be a nigh on impossible task to follow him.
Everything and everyone at Old Trafford has Sir Alex's stamp on it, whether it be the tea room or car park, the attendants and stewards or the dressing room and players. It is a proper club that is run professionally at every level.
After Sir Matt Busby retired in 1968-69, United kept the job internal and gave it to Wilf McGuinness (who was just in his early thirties at the time) but he was sacked after just 18 months at the helm.
If you ask United fans today who they would want to take over, you'll get tens of different names and no overall consensus.
Some people will mention Jose Mourinho, but that would be an inappropriate appointment for many United fans - partly because of the style of football he has encouraged over the years.
I've met Sir Alex a fair few times socially and while I wouldn't say I know him, I can say he's wonderfully entertaining raconteur who has strong opinions and some great, great stories and never fails to make people laugh.
Gary assures me he gets his point across a different way in the United dressing room, and that his man-management and motivational skills are second to none.
Fergie has already turned the hurt of that 6-1 defeat to Manchester City into three clean sheets and appears as in control as ever. It seems there really is no substitute for experience.
Gap
I've just one Champions League footnote this week.
I know the pro-Genk lobby will be on my back following their 1-1 draw with Chelsea but after four match days I'm prepared to stand by my guns and say there has to be a better way to make the group stages more competitive.
Yes, Genk (a club I have absolutely nothing against) were the best side in Belgium last season and deserve their place under the rules as they stand.
But Milan and Barcelona have already qualified for this season's knockout stages, while Dinamo Zagreb and Otelul Galatia still have 'nil points' to their name in their respective groups. The gap in quality is too large.
Either qualifying standards have to be tougher or maybe the group stages should only be opened up to sides who have good Europa League records from the year before.
The Champions League is a fantastic competition and I don't want the overall standard to be diluted any further. I want it to be even better.
Comments (16)
Dave Smith (Nottingham Forest fan) says...
Why not open the tournament up only to those teams who have won their respective domestic leagues, and go straight into a knockout stage, to remove all the pointless mismatches and make sure every game means something? And name it something like 'The European Cup'?
Posted 10:37 7th November 2011
Andrew Barker (Manchester United fan) says...
Interesting comments regarding the Champions League and I must agree that something needs to be done! I think that UEFA should revert back to the old European Cup and have a "knockout" format from the beginining!? I find the group stages very boring as there is rarely any suprises and it is really easy for the big teams to qualify to the next stage. By having a knockout format would make viewing much more entertaining and would give the lessor teams a greater chance of progressing. Unfortunately I think money has a lot to do with the current format so I cannot see much changing?
Posted 12:38 5th November 2011
Aj Parker (Manchester United fan) says...
Congrats to Fergie for a wonderful 25 years and long may it last. Simply the best.
Posted 13:58 4th November 2011
Bobby Zamora (Fulham) (Fulham fan) says...
As much as I love you Jeff, I can't agree with your comments on the Champions League. The top leagues already get more spaces allocated to them and rightly so. But if you make the qualifying for 'lesser' teams and countries more difficult it will just become a competition for English, Spanish, Italian and German teams, with a few others thrown in. Genk were rewarded for being the best team in Belgium with a place in the competition against some of the best teams and players in the world. If they weren't, how would they ever improve and attract bigger players, thus making them more suitable and competitive in the Champions League. They drew at home to Chelsea, which would be a good result for most teams, and I remember Rubin Kazan beating Barcelona a few years ago so its not as if they always lose either!
Posted 13:31 4th November 2011
Tony Bradley (Manchester United fan) says...
A manager with an exceptional record for which he has been very well paid
Posted 13:30 4th November 2011
Some Bloke (Chelsea) (Chelsea fan) says...
Maybe if the Champions League consisted of just 'champions' - you know, those teams that have actually won something domestically
Posted 13:21 4th November 2011
Esau Mugabi (Manchester United fan) says...
Actual i believe its very hard to find a coach who can serve 25 years. Fegie must be talented man i think he is the book of genesis. He is like our President Museveni of Uganda they come in the same year that is june1986 if he is in Uganda he have been a Hillo .
Posted 12:48 4th November 2011
Donald Osborne (Rangers fan) says...
yes gent may devalue the competition or make qualifying easier for the bigger teams like, (real madrid, chelsea etc) but unlike the two teams mentioned at least they are champions of there own league playing in the CHAMPIONS league.
Posted 12:43 4th November 2011
Des Balmer (Manchester United fan) says...
Fergie's life is just one long list of hard work, perseverance and success and when someone works so hard, keeps going and believing in ones self then the joy and success will have bits of luck. He is virtually irreplaceable but no doubt he is putting the infrastructure in place to make it easier. Utd will keep his and their dynasty if they continue to promote within be it coaches, academy players because it's a family and he is the father.
Posted 12:07 4th November 2011
Nicholas Rose (Manchester United fan) says...
wow . 25 years whare duse the time go ! alix is my fevrite manger for all time . and billant singings in his time my fevrite singing is Hernandez , Whyan Rooney ,Ronldo and maney more
Posted 11:34 4th November 2011
Darren Scrimshaw (Manchester United fan) says...
Congratulations, Sir Alex. 25 years and still going strong. Thanks for all the wonderful things you've bought to UTD over those years, and I don't mean just trophies. Great manager and a true UTD legend. Hopefully you can stay and round it off to a big 30.
Posted 11:11 4th November 2011
Crispen Daysh (Manchester United fan) says...
gratz fergie!! thank you for all the good times and many more to come.
Posted 10:24 4th November 2011
Dion Morgan (Liverpool fan) says...
what a man!!!! we are very fortunate to have witness such a great mind.WHAT A MAN.We would find it very difficult to ever find another great man in football ever.he just to great may god bless him with long life
Posted 10:04 4th November 2011
Jonny Cope (Manchester United fan) says...
brilliant article, sir alex clearly a living legend in his own right, will it ever be repeated i dont think it can. congrats to sir alex and its a great time being a manchester united fan.
Posted 09:14 4th November 2011
Joseph Littlewood (Manchester United fan) says...
Still a red even after moving to the states. Congrats to the boss for 25 unforgettable years. watch all the games still
Posted 02:30 4th November 2011
Alex Coffey (Manchester United fan) says...
I agree with the champions league. The top teams can field half teams for some of their games, which counters the arguement for Europes elite. Would it be an idea to seed leagues (Spain England Italy etc.) To make qualifying from the groups a challenge? would make an amazing competition if they did!
Posted 01:47 4th November 2011