Ellis Short wrote in last Saturday's programme notes that there was no need to panic about Sunderland's form.
One very unfortunate defeat to Wigan later, the chairman appears to have done just that and sacked Steve Bruce.
After 25 minutes of that game, Paul Merson said Sunderland should have been 5-0 up. They battered at the door but didn't get what they deserved.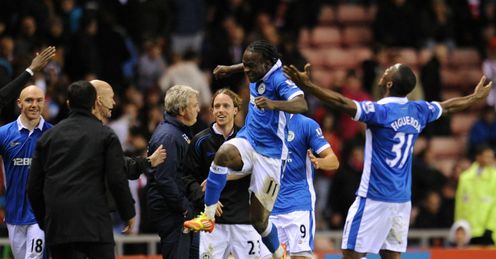 Now, I know that two wins in 13 league games is nowhere near good enough - and the frustration has been building for quite some time - but Short's change of heart seems quick - even by chairmen's standards!
Frustrations
I'm been quite surprised at how many people have come out in the last 24 hours and said Steve was too old-school or tactically naïve.
I guarantee that by the time December is over at least one other Premier League manager will be relieved of his job.
Jeff Stelling
Quotes of the week
Sky Sports Fantasy Football
Play Fantasy Football against Jeff Stelling each win for the chance to win great prizes.
Pick your team
.
Play Super 6
Think you know your football? Predict the scores for six matches for the chance to win £100,000. It's free to play and you could land the jackpot.
Play now
Sunderland were impressive at Bolton in October and very unlucky to lose at Manchester United last month; ok, home draws against Aston Villa and Fulham weren't quite what the fans wanted but they weren't disastrous results either.
Surely a man of Steve's integrity deserved at least the chance to put things right in the upcoming games against Wolves and Blackburn?
This time last year Sunderland beat West Ham with a goal from Jordan Henderson.
That side included Darren Bent (sold), Asamoah Gyan (loaned out), Danny Welbeck (back at Manchester United), Henderson (sold), Nedum Onuoha (back at Manchester City), Anton Ferdinand (sold). Craig Gordon was in goal - he's yet to play this season due to injury.
Decent
Any side would feel the loss of a striker of Bent's quality, especially given Gyan and Welbeck have disappeared and Fraizer Campbell's injury problems, and struggle to deal with so much upheaval in the space of a year.
Steve has spent big bringing in new players and, while some haven't worked out, his critics seem a little harsh.
Connor Wickham was always going to be one for the future - he showed enough promise before he was injured - and Stephane Sessegnon has been a good signing. Keiren Westwood is decent in goal.
The players who have let him down are the ones that most Premier League fans would have thought great signings; for example, Craig Gardener has scored once in five league starts. Nicklas Bendtner continues to divide opinion.
I'm sure most football fans would have said that Gardener and David Vaughan were good purchases but it hasn't turned out that way - so far.
Blood-letting
Plenty of people's names are being bandied around as potential successors to Bruce, including Mark Hughes, but I say be careful what you wish for.
Mark is a friend of mine and his name is right in the frame but last season he guided Fulham to just two wins in their first 13 league games. Sound familiar?
I'm not saying Mark wouldn't do a great job for Sunderland; he probably would. I just wonder how much of a difference there is between Hughesy and Steve.
Steve's sacking - 109 days into the season - might just be the start of the blood-letting. I'm certain that other Premier League chairmen will take note of Short's decision and perhaps those with similar thoughts will decide now is the time to follow suit.
I guarantee that by the time December is over at least one other Premier League manager will be relieved of his job.
Grappling
One of my little bugbears resurfaced this week when Mario Balotelli was sent off against Liverpool.
Balotelli picked up his first booking for tugging Glen Johnson's shirt, much as Bolton's Ricardo Gardener fell foul of the officials against Swansea.
That's all well and good but why is it that referees are so willing to give yellow cards for a tug back in any area of the pitch outside of the penalty area but not in the box, where they turn a blind eye to every grappling match that goes on?
Surely the same rules have to apply all over the field? I'm not saying that pulling on the shirt is such a cardinal sin that it merits a booking but if it does, then it's about time that referees had the bottle to start handing out bookings and penalties for the same sort of thing in the area.
Join Jeff and the gang for Soccer Saturday this weekend at 12pm on Sky Sports News HD, channel 405.
Comments (10)
Peter Benson (Sunderland fan) says...
Jeff im a big fan of yours but on this occasion I disagree with you. Bruce had his chance to change things but choose to stick with same tactics, playing players out of position and didn't rotate his squad effectively. I think if we stuck with Bruce we would have been relegated. Now O'Neill has plenty of time to write any wrongs and undoubtedly he will get more out of the players and might bring abit more quality in upfront. You have alot more patience than us makems and you have too supporting Hartlepool.
Posted 22:32 6th December 2011
Graham Trotter (Sunderland fan) says...
Jeff you're wrong !!!!!!!!!!!!!!!!!!!!!!!!!!!! Bruce had enough time that he wasted Bendtner and Gardner are flops so far so don't speak utter rubbish and when Martin O'Neill comes in he will show how much of a better manager than what Steve Bruce is
Posted 19:07 2nd December 2011
Tom Armstrong (Sunderland fan) says...
no jeff time was right for steve to go hes been putting square pegs in round holes for long enough hes had five transfer windows to buy a left back the two long runs without a win 2009-2010 &2010-2011 all the good he did was heavily out wyed by the bad good look to him no hard feelings but bring on martin oneil a real football manager
Posted 12:13 2nd December 2011
John Palomi (Sunderland fan) says...
Couldn't agree with you more, Jeff. Bruce has completely rebuilt the team, got them playing well despite the big changes he had to make, and just before the team starts bringing in the results their performances have deserved, he's shown the door. I have to say that I find the decision not only pathetic, but a sad endictment on the game in general. The ridiculous amounts of money in the modern game which cause this lack of patience and requirement for instant success highlights just how money has ruined football.
Posted 10:37 2nd December 2011
Dave Orchard (Chelsea fan) says...
i agree jeff, a couple more games then who knows. steve overall is a good manager & would like to see him assist avb at chelsea.
Posted 04:01 2nd December 2011
Michael Tuckwell (Sunderland fan) says...
Sorry to disagree but Jeff Bruce didn't deserve another second. His tactics and squad selection were so out they made our best team in decades look like a pub side. His constant choice to play people out of position or just not play at all. Take nearly every game this season 4-5-1 or 4-4-1-1 no attacking threat at one point he was playing Sess a midfielder as a lone striker despite the fact we had Wickham England best young striker and Ji and no surprise we were beat by every poor team and fans can only take so much but it comes to a point when you can beat bottom of the table at home and the manager still comes out and says were on the right track. The fans only expected top ten and with the steady progress after 5 years it's not much but Bruce clearly wasn't up to it. Also Bendtner and Gardener haven't been up to scratch because Craig hasn't been played and Bendtner has been stuck playing as a lone striker who evers next will get the monies worth out of these guys trust me.
Posted 17:17 1st December 2011
Tony Pezzolesi (West Ham United fan) says...
Jeff, Bruce had spend 10's of millions of pounds on players. He had been there for 2 and a half years. More than enough time to have his "own" team. Yet he still only had a win percentage of around 28%. I am a West Ham who had to endure the ineptitude of Avram Grant and I am sure his win percentage was similar and he was clueless. Enough was enough. The Mackems are proper supporters and deserve better
Posted 16:45 1st December 2011
Liam Dodds (Sunderland fan) says...
Bruce was a good enough manager yes, and i agree he should have been given more time, however these last 20 games in charge of Sunderland have been no where near good enough for anyones standard. We have lacked goals all season and this is because of the 4-5-1 formation that has constantly been chosen by Bruce. We played 4-5-1 to start with against Aston Villa and we went a goal down. then we changed to 4-4-2 where we scored. At half time we came out and suprise suprise we hade gone back to 4-5-1 where we conceded yet another goal. Luckily we scored again after again going into 4-4-2. We need to score more goals! We seem to score them using 4-4-2 but Bruce doesn't play this formation for some strange reason? In my opinion, Mark Hughes would be a fantastic manager at Sunderland and would give us more direction and an attacking approach (from a strikers point of view). not that O'Neil wouldn't be a good manager, i just prefer the attacking approach from a football fans view.
Posted 14:47 1st December 2011
Marko Van basten (Sunderland fan) says...
Jeff, you have failed to point out that this poor run of form has extended on from last season. Sunderland have only won 3 home games in the whole of 2011, we're now in December. Yes that's right, 3 games! We beat Blackburn on New Years day, Wigan and Stoke (that's one home win this season). Not to mention we crashed out of the FA cup in the 3rd round against Notts County AND we were beaten in the first round of the League Cup by Brighton. The results simply were not there. The man was failing as a manager, his team selections, and failure to learn from mistakes ultimately led to his downfall.
Posted 14:01 1st December 2011
Alan Pieroni (Sunderland fan) says...
No Jeff !! Enough is enough, Ellis Short's decision is based upon our poor form throughout 2011 - not just this season. A handful of home wins has left the fans distraught, they pay their money and are entitled to their opinion - although their point could have been made a little more tactfully at the weekend !! Steve Bruce has given the impression that he neither knows his best starting line-up or what tactical formation to use. His changes have often been left far too late in a game to allow the substitutes to have any impact. Losing mercenaries Bent & Gyan has not helped our cause - is there not a case for man management to kick in - could efforts have been made to keep them ? Certainly we have suffered more than most with injuries - however SB certainly wasn't slow to use this as an excuse. Along with many others, I feel that now is the right time for a change - let's hope that Ellis Short and Niall Quinn make an early appointment that will allow the new manager time to appraise our existing squad and consider our scouts recommendations for alternatives in the January transfer window. As Michael Gray rightly commented, we shouldn't be looking at our current position and thinking relegation - with as many points to play for there is still scope for a good season and a favourable position in May !!
Posted 13:55 1st December 2011