Chelsea are looking for a new permanent manager - and the obvious choice is right under their nose.
John Terry was the reason the Blues were galvanised and unified against Napoli on Wednesday night and he could be the man to end the footballing form of Russian roulette that is the job of Chelsea boss.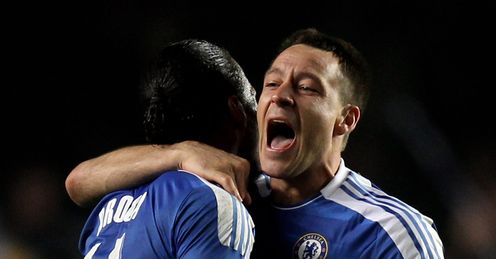 A lot of people were having fun on Twitter after the Champions League victory saying that John Terry has now played one and won one as Chelsea manager, and that he took himself off before the end of the game so he could have a look at things from the bench.
However, Terry admitted last April that he would love to manage Chelsea one day - and I see very few reasons why he couldn't take over this summer.
I know Terry is not everyone's favourite, but because of who he is there is a likelihood he would be given something that few Chelsea managers are afforded - time.
Jeff Stelling
Quotes of the week
Sky Sports Fantasy Football
Play Fantasy Football against Jeff Stelling each win for the chance to win great prizes.
Pick your team
.
Play Super 6
Think you know your football? Predict the scores for six matches for the chance to win £100,000. It's free to play and you could land the jackpot.
Play now
I know that, at 31 years of age, he is young - and, okay, Andre Villas-Boas wasn't a great advocate for youthful managers in his time at Stamford Bridge - but that's not necessarily a weakness.
Kenny Dalglish was only 34 when he became player-manager at Liverpool in the '80s, Pep Guardiola was 37 when he started to manage Barcelona, while Brendan Rodgers and Roberto Martinez took over sides in their early 30s; there is plenty to suggest it can work at the right club.
I think Terry would have to begin as player-manager, because Chelsea can't really do without him on the pitch at the moment, but it's a role I think he could succeed in.
He obviously has authority, and the ear of the squad, whether that be the experienced internationals or the junior stars at the club.
He knows Chelsea's heritage having been there so long and I'm sure he'd have the backing of the owner, Roman Abramovich, with whom he is on first-name terms.
Expectations
I know Terry is not everyone's favourite and I know he rubs some people up the wrong way, but because of who he is, the epitome of Chelsea, there is a likelihood that he would be given something that few Blues managers are afforded - time.
With what's happened in the Premier League this season, expectations have been lowered. If he took over before the next campaign, he wouldn't be expected to go out and win the league at the first attempt, which is what was anticipated under Carlo Ancelotti and Villas-Boas.
He's a natural leader, as we've seen when he has dished out team talks before, during and after games, as well as in his exploits with England. That is precisely what Chelsea need and precisely what they didn't get from Villas-Boas.
Terry would also be strong enough to say to the elder statesmen in the squad, the players that have been his team-mates for the best part of a decade, when they were no longer required - even though the performances of Didier Drogba and Frank Lampard against Napoli suggested that day could still be a long way off.
At the same time, there is no reason to suggest that Terry wouldn't be a technically-astute coach. He has enough footballing knowledge, if not the coaching badges, and I'm sure he has plenty of tactical nous.
Terry would need an experienced right-hand man, in the way 31-year-old MK Dons manager Karl Robinson has the much-travelled John Gorman as his number two. Ray Wilkins, Gianfranco Zola or perhaps, Gianluca Vialli, would be very popular assistant bosses and have the experience that Terry could lean on.
Chelsea fans have been crying out for some stability and I think Terry could be the figure to give them that, and although he won't admit it openly, deep down Terry is probably thinking the same thing.
Seemingly impossible
David Moyes had a burgeoning reputation when moved from Preston to Everton in 2002, but the job he has done at Goodison Park deserves huge praise.
He is a three-time League Manager of the Year and has repeatedly achieved the seemingly impossible on a shoestring budget, not just by keeping the Toffees in the Premier League, but by taking them into Europe, getting them to Cup finals, and creating a side capable of beating Chelsea, Manchester City and Tottenham this season.
His record in the transfer market is staggering, bringing in gems like Tim Howard and Tim Cahill, Phil Neville and Phil Jagielka; he's found bargain after bargain.
The difficulty for him now is does he stick or does he twist? He's been at Everton for 10 years and everyone regards him as one of the best managers in the business.
But there will be a job at another club for him in the next year or two, a club with probably a great deal more resources than Everton; he has been frequently linked with Manchester United when Sir Alex Ferguson retires, while he's also been tipped to move to Tottenham if Harry Redknapp gets the England job
It will be a hard time for Moyes but if you look into his eyes you will see that he is still driven, still has that ambition, and still has that ferocious desire to win.
For that reason, and I know Evertonians will hate me for saying this, I believe he will get lured away by a club with better prospects of picking up trophies, but the Toffees will never forget what he has achieved.
Moyes would definitely do a fabulous job if he went to Chelsea - provided John Terry doesn't get named manager, of course.
Comments (18)
Colin Penfold (Chelsea fan) says...
Intersting stuff as always Jeff. JT would in time be an amazing manager, but I don't think a top flight team can have a player-manager. He did seem to enjoy it on Wednesday - reorganising the team when David Luiz was injured. The commentators remark "for those of you who dont know - the manager is the one in the suit" summed it up!!! JT will need to finish his illustrious playing career before doing the manager's job permanently. Given that he has probably 4-6 years to play he can look forward to watching close up about 8 more managers thank's to Roman's habits. Maybe that is the long plan - "watch this lot John and learn" :O)
Posted 13:09 16th March 2012
Simon Jenkins (Chelsea fan) says...
Whilst this may amuse you Mr Stelling, it may be worth thinking about whether JT has his coaching badges yet....I'll help you....no. I'm certain he would want to coach somewhere else first, and though I'm certain he means it when he says he wants to Manage Chelsea one day, that day is not now. I'm not sure why you can't just let RDM manage until the end of the season - at least....
Posted 12:12 16th March 2012
Andre Mbeng (Arsenal fan) says...
The suggestion from this article is somewhat loose. Being a manager is not just about galvanising players; lots goes into it as well. i.e. spotting players, tactics, club management etc..thus the need for at least a licence. I'd rather suggest Terry as assistant coach maybe But not as Manager. Let's be Serious!
Posted 12:11 16th March 2012
Nick Nelson (Liverpool fan) says...
Is this the joker in you coming out, Mr Stelling? Given all the problems Chelsea have had surely putting JT at the helm would simply add to them. Born leader? Really? Maybe at Chelsea he can hide behind his team-mates but his record as England captain doesn't hold up - when England have had their backs to the wall he has disappeared far too often rather than stepped-up. His 'ability' to attract trouble on and off the field are the LAST things a club trying to avert a crisis need and frankly, if a well-respected servant like DeMatteo can produce as well ( if not better) than the recent managers why would they take such a risk with their reputation?
Posted 10:17 16th March 2012
Paul Johnson (Manchester United fan) says...
I'll like to see him in charge Jeff.....he think's he's been the manager since Jose left so let him take some of the flack! Managing takes more than the ralliing of the troops call, just ask Tommo!.
Posted 08:28 16th March 2012
Paul Fox (Stoke City fan) says...
I think appointing John Terry could be a fantastic move for Chelsea and give them a long term plan they are in obvious need of. I also feel the harshly done by Ray Wilkins would be the perfect experienced right hand man Terry would obviosly require to be a success. While Chelsea have regularly strived for instant gain, this solution could galvanise the existing squad, whilst providing a very exiting future.
Posted 20:44 15th March 2012
John Hay (Leeds United fan) says...
This would be probably be the best appointment of the decade......Finally a man who would manage the team that he is totally commited to. Not just a pay check manager. I for one have totally respected the player, although what has happened recently on the pitch will stay with him throughout the rest of his life, He is without doubt Mr Chelsea and I for one would love to see a manager at Chelsea that want's the team to be a success not just someone who want's to see how much money they can get from a club. As a Leeds fan i am totally neutral to the premier league, but still have great respect for the best managers in the world.....Sir Alex Ferguson being the most respected and feared manager. Maybe John Terry if appointed may rival him......Good luck to both teams in europe.
Posted 19:29 15th March 2012
V J (Arsenal fan) says...
I think this could be an option in about 9-11 years.The player might want to play for about 4-6 years or more and so it might take some(more) time for undertaking a managerial role.
Posted 19:18 15th March 2012
Alan Siveyer (Chelsea fan) says...
Not sure I would want to see Moyes at Chelsea. Too early for John Terry unless injuries have caught up with him. Things to stay as they are. I only hope mourinio does not go to MU when Ferguson retires at end of season
Posted 18:34 15th March 2012
Shaun Hacker (Chelsea fan) says...
A compelling argument Jeff, its been talked about amoungst the fans i know for a while now. I would love to see Terry, Di Matteo, Zola and eventually Frank make up a chelsea coaching staff that every fan would give all the time in the world to. You could see it last night that with passion and pride for the club we can still achieve great things.
Posted 18:29 15th March 2012
Darren Wright (Arsenal fan) says...
You are kidding right? Might carry weight with the current squad, but no experience building one, no experience in the transfer market or management, or managing a budget the size of Chelsea's. I could go on. If he was interested in management he'd need to cut his teeth elsewhere first. He'd be eaten alive at Chelsea.
Posted 18:21 15th March 2012
Joe Sullivan (Tottenham Hotspur fan) says...
I would LOVE to see Moyes at Tottenham, born on the blue side of Liverpool I got into football after moving to MK and started supporting spurs. No better man for the job. I see the point on Terry too, I'd be inclined however, to say Di Matteo should remain at their helm until Terry has some more experience at that level.
Posted 18:17 15th March 2012
Shiv Shetty (Chelsea fan) says...
Terry still has much to offer as a player. Player-Manager may be asking for way too much. The last thing a rational Chelsea person would want to do is to break so early, who could be a glorious manager for Chelsea in the future. So not yet... Hopefully not too many people share Jeff's viewpoint on things!
Posted 17:30 15th March 2012
Chris Rivers (Chelsea fan) says...
As much as his leadership qualities both on and off the field are undoubtedly enviable to most, to say that starting his managerial career at Chelsea would be a huge ask is a tremendous understatement. As much as JT has dealt with one hell of a lot in his life and still seems to put in fantastic performances even when under intense scrutiny in regards to his personal life etc., the tactical finesse required to achieve consistent great results can only come from experience in the role. I feel it'd be too much too soon therefore. However, a player-coach role not dissimilar to that of Alan Shearer alongside Glenn Roeder back in 2006 could reap benefits. Just as Shearer's iconic status galvanised a faltering Newcastle side following Souness' sacking, Terry would have the same effect at Chelsea. And why not be a coach alongside Di Matteo? Last night's celebrations after defeating Napoli clearly showed how passionate and adept he is in the role, not to mention his successes at MK Dons and West Brom prior. There's no need whatsoever to consider replacing him in favour of a more highly decorated name, let alone for somebody with no experience in a managerial capacity
Posted 17:02 15th March 2012
Phil Hoole (Manchester United fan) says...
He needs to be able to keep his own house in order before he could even think about being coach in Div 2 let alone a major club like Chelsea. I don't get this opinion at all.
Posted 17:02 15th March 2012
Toby Mccarthy (Chelsea fan) says...
I think Terry would be a good manager because he came from the youth academy of Chelsea so he should have a lot of passion for the club and he is the captain so he would know the players well.
Posted 16:58 15th March 2012
Malcolm Burgess (Chelsea fan) says...
It's possibly too early for JT to be given the job, although i'm sure that with an experienced assistant at his side, such as ray wilkins or stevie clarke, he would stand a good chance. my only concern is that the pressure of managing the club at this stage of his career would detract from his on-field performances. would love nothing more than to see mr chelsea managing his club in the future though!
Posted 16:16 15th March 2012
Brian Langley (AFC Wimbledon fan) says...
Those scenes towards the end of last nights match, when the benched Terry was trying to issue orders to the players on the pitch constantly in the manner of 'the boss', were slightly embarrassing and summed up all that is currently wrong with Chelsea FC and why most managers there are doomed to fail: the senior players think they run the show but are really not up to the job. Can you imagine seeing such scenes towards the end of a big match at Old Trafford? Paul Scholes or Ryan Giggs bypassing Sir Alex and trying to control matters on the pitch themselves, frantically gesticulating and issuing orders to the lads on the pitch. Farcical. Terry as the next Chelsea manager? That'd be great news for the rest of the big boys in the Premier League as I doubt he's currently got the savvy required to manage his local pub side.
Posted 15:10 15th March 2012