It's been the worst winter I've ever known for British Speedway so, more than ever, I just cannot wait for the action to start in our first meeting of the season at Birmingham on Monday.
I've got my own firm views on the disgraceful happenings of the last four months with Coventry and Peterborough in dispute with the British Speedway Promoters' Association, but I think they are perhaps best kept private.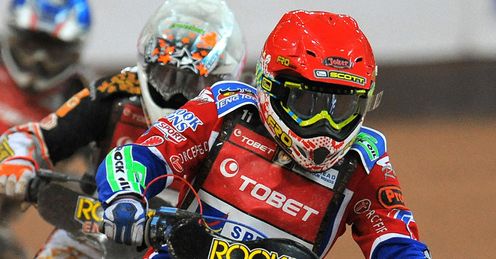 All I will say is that a lesson must be learnt from the entire sorry episode.
Measures should be put in place to ensure that this can never be allowed to happen again. I'm sure the solicitors will see to that!
New season
So what about the new season? Predicting the outcome of the Elite League is impossible because we have two new teams in Birmingham and King's Lynn, plus we are still awaiting written confirmation that Coventry and Peterborough are back in.
But it seems one major positive to come out of the winter mess is that we are looking at an Elite League of 10 clubs.
And make no mistake, Birmingham's Perry Barr and King's Lynn's Norfolk Arena are Elite League venues and it's good to see them make the step up.
There are other Premier League venues which would do the Elite League justice too, so maybe if the Brummies and Stars make their jump into the top flight a success then others will follow.
I reckon the ideal scenario for British racing would be 12 teams in the Elite and 12 in the Premier.
Eastbourne look a tidy side to me and they will be a tough side to beat at home. They've already disposed of Poole and Wolverhampton, two powerful teams, on home shale in the early stages so we should watch out for them.
Wolves will also be hard to beat at home because they have such a strong top five and it only needs one of their reserves to click and they will be a play-off team.
And I reckon Belle Vue are due a massive slice of luck. The signing of top British star Chris Harris got them the whole back page of the Manchester Evening News at the expense of Manchester United and Manchester City, that's how much it captured the imagination!
Ever since David Gordon and Chris Morton have been involved at Kirky Lane they have suffered from injuries, last season they lost Charlie Gjedde for the season before he had even completed a lap!
Now, I reckon they could be in for a decent season. And with the prospect of a new stadium becoming more likely you get the feeling the good times are about to roll for the Aces.
Brummies live
So what about Monday night and the Brummies and Pirates? It's a tough one to call this, but I do believe it's going to take a massive effort for Birmingham to win it.
Not only do Poole have strength at the top with Chris Holder and Davey Watt (acknowledging the absence of Darcy Ward), but at reserve they could tip the scales in their favour.
Dennis Andersson is the next Swedish sensation and has been scoring double figures for fun so far - but his partner Kyle Newman rode for Birmingham in the Premier League last season and knows every inch of the Perry Barr track.
I'm going for a tight call on this one with Poole edging out the home side 47-43.
As for the league title? Here goes: Poole, Wolverhampton, Coventry, Eastbourne. Belle Vue contenders for the play-offs.
Whoever you support, fasten your seatbelts for a roller-coaster of a ride in the Elite League, Premier League, Grand Prix and World Cup all live on Sky Sports over the next seven months. Bring it on!
Comments (1)
Edmund Davidson says...
Great article Nigel, I think the Kings Lynn Stars are going to surprise a few teams at home. I am an Edinburgh Monarchs fan and can't wait for them to join the big boys!, I think it's the strongest league for a few years, looking forward to seeing you and Kelvin on Sky Sports, best wishes to you both.Keep up the great work.
Posted 20:01 11th April 2011