We had another surprise result on Sky Sports on Monday night as Lakeside went to Wolverhampton and won 49-41.
Wolverhampton were unbeaten at home, while Lakeside have been up and down, largely due to injuries to their top man Andreas Jonsson and one or two riders have been slightly out of form.
But they certainly put it together on Monday and they came through and won quite comfortably in the end. They picked up the three points and I feel they really showed their true potential.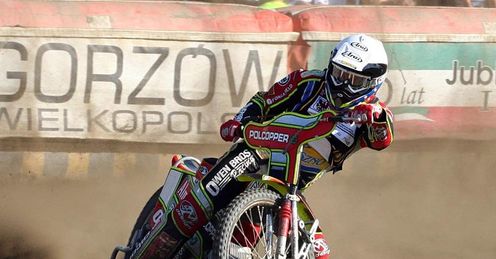 I think Adam Shields did a really good job as captain and gave a really solid performance. Also Joonas Kylmakorpi, who drops down to reserve next month, had been scoring ones and twos and he came in with a much better performance. He was key to the night and I'm sure the Lakeside management will be delighted about that.
The season has been tremendously exciting. I was uncertain whether three points for an away win would work, but on the evidence of the early-season form it is working.
Swindon are a team that, on paper, didn't look as strong as others, but they are proving a lot of people wrong and they're improving in confidence week by week.
Kelvin Tatum
Quotes of the week
SPEEDWAY LIVE ON SKY
Click
here
for live listings
Swindon won away at Belle Vue and Lakeside won at Wolverhampton and so far it has been a positive move and you'd have to say the Speedway's been great.
In fact I think it's as good a start as we've ever had on the domestic scene.
Swindon v Eastbourne
7.30pm, Monday, Sky Sports 2
This is first against second and I must say I'm surprised to see Swindon up there at the top of the table. They've won away at Ipswich and Belle Vue and they'll be delighted with their performances so far.
Swindon are a team that, on paper, didn't look as strong as others, but they are proving a lot of people wrong and they're improving in confidence week by week.
I said at the start of the season that the inexperienced guys would need to perform if they were to do well - and that's exactly what's happening.
Sometimes when a team is criticised before the season starts, I think it can motivate the team to prove everybody wrong and on the evidence of what's happened so far that's what they're doing.
They're doing remarkably well and I'm sure that Alun Rossiter and the management team at Swindon are absolutely delighted with the way the season has started.
They'll now be hoping they can keep it going. They've got a lot of youngsters and there's a long way to go, but if they stay fit and enthusiastic they'll have a chance.
My only concern is whether the younger riders can hold their form in the middle of the season. But if they manage to do that then who knows, they could end up with a play-off berth.
Home advantage?
On the evidence of the season so far, home advantage might not count for much. Swindon beat bottom-placed Ipswich at their place, but then on Thursday the same two teams shared a draw at Blunsdon.
We've seen Eastbourne win away at Coventry so I don't necessarily think Swindon are safe. Ordinarily, you'd say Blunsdon is much bigger than the Eastbourne track and there should be an advantage for the home team, but the way the results have gone this year nobody can be completely confident when racing at home. Anything could happen on any night.
Eastbourne are a good-looking team as we saw on the opening night against Coventry. Unfortunately, Scott Nicholls got hurt that night and I think that has hampered them in a couple of meetings where they were looking to pick up points.
He's back to full fitness now and scored a hatful of points on his return. I'd like to think he'd have a good Grand Prix on Saturday night and he'll be leading the team on Monday to try and win against the Robins.
They've got a good side with Lee Richardson, Ed Kennett and Lewis Bridger, but the key man for me - and the surprise package of the year - has been the young Australian rider Cameron Woodward. He's been going great guns and that's been a terrific bonus for the Eagles.
Kelvin's call
HOME WIN - It's so hard to predict because so many teams have been winning away from home, but after winning away at Belle Vue and Ipswich I would have to think Swindon will believe that they can win at home on Monday night. I expect it to be tight, but I'll stay loyal to the home team.
Comments (1)
Josh Bird says...
Swindon are doing fantasticly wins away at Ipswich and Belle Vue has definately boosted confidents. Next thing we know they will win away at poole
Posted 18:34 24th April 2008