The table might not agree - yet - but we are looking at the two best sides in the land.
St Helens might not have recruited big in the summer and they might not be 100 per cent going into this, but I don't think anybody would bat an eyelid if these two were contesting the Grand Final again.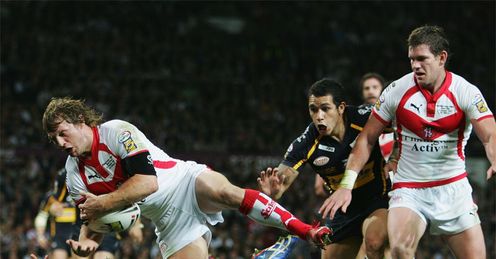 It is always an absolute cracker of a contest and there is usually plenty riding on it.
And we might only be five games into the new season, but this one is no different because for Mick Potter, this game will tell him just where he's at with this Saints side. He knew all along that this would be the game where they can either send out a battle cry or sound the alarm bells at Knowsley Road.
This game will tell Mick Potter just where he's at with this Saints side. He knew all along that this would be the game where they can either send out a battle cry or sound the alarm bells at Knowsley Road.
Stevo
Quotes of the week
ST HELENS v LEEDS
Live on Sky Sports and in HD
7.30pm, Fri, Sky Sports 2&HD2
He will have noticed as well, I'm sure, that Leeds are back in form again. It's no coincidence they have hit their straps with a repeat of last year's Grand Final next on the agenda. They are back to square one, the Leeds Rhinos that St Helens, Potter and all of us know only too well - a side that Saints do not want to be losing to any more.
Changing that is easier said that done though. Even after five wins and a pretty comprehensive dismantling of Wigan last week, they can welcome back Matt Diskin at hooker. Yes, last week they had a lead and could put Lee Smith, or whoever in there, but this will be different, believe me!
Discipline
These games sometimes end up as runaway wins, but most of the time they are close, tense encounters. And as explosive as both sides can be, there will be times when experience and discipline are called for, when someone needs to control the game. Diskin, will keep his forwards rolling when he has to and again, the big fellas will have more than a say in who emerges from this with the points in the bag.
Keiron Cunningham and James Roby are different types of hooker but they also can dictate the pace of a game. Mick Potter has been sensible and not changed anything too dramatically at St Helens, so they will still be quick off the mark at the play-the-ball and anyone ready to step in at dummy-half.
Potter knows it would be silly to come in and ring the changes although isn't it ironic that he has been moaning about sides holding on for too long in the tackle when his Catalans side were often accused at being the worst offenders in slowing opponents down.
Leeds though are a tough, solid defensive unit. Tony Smith removed the indiscipline and McClennan has them extremely well-organised. In fact, both of these sides are capable of cutting loose and destroying teams going forward but make no mistake, they work hard on their defence.
Statistics can be deceiving but believe me, both sets of players look at the points conceded, tackles missed and make it their aim to improve on it. It becomes a matter of personal pride.
But, with these two sides it is hard to ignore the flair players. Just look at the two half-back pairings and you will see class, experience, know-how, everything. It really is a battle of the international jersey.
Fascinating
I know Sean Long has retired from the international scene but don't think for a minute he will want that Leeds duo getting the better of him and he loves nothing more than turning it on on the big stage.
Leon Pryce will also need a big performance because in Danny McGuire and Rob Burrow, Leeds now have a pairing that is functioning beautifully. Both are now seasoned old pros constantly talking their team-mates through the game, they have the experience and they know what they and the rest of the Leeds side have to do in any given situation.
The battle between those two, as well as the hookers will be fascinating to watch, but you know that both packs are going to play a major part. You don't need to be Einstein to understand that if you have the power going forward it creates more room for your three-quarters. Tire your opponents and the gaps open up and then the skill factor comes to the fore.
The other way of looking at it, is there is no better way to demoralise an opponent than by putting good olf-fashioned points on the board.
That is why games between these two have sometimes ended in huge winning margins. When one team gets the chance they go all out to put the other out of sight, leave them on their knees, completely demoralised.
Both of these sides are capable of shocking one another. And both are more than capable of making this a game to remember!
Stevo says
HOME WIN: I am going for St Helens because I think their pride was dented in the Grand Final last year. They might have the Challenge Cup in their cabinet, but trust me, the trophy they really want is the one with the big 's' on it. I expect Mick Potter to go for broke and I expect Saints to come haring out of the traps and take this Leeds side on - after all the onus is on them as the home team. But, you cannot ignore the class of Leeds and if Saints do win, it won't be by much.
Stevo's star men
MATT GIDLEY AND DANNY MAGUIRE: If Saints are going to win they need big peformances from Pryce and Long, but the one man who could be their real game-breaker is Gidley. He has been in fine form so far and if this is as tight as I expect it to be, he might just possess that little extra to see St Helens home; an off-load here, a break there might well be enough. If Leeds win, Diskin's discipline and control will be crucial, but Maguire also has the ability to pull the odd rabbit from his hat.
Comments (3)
Daniel Fahy says...
Writeing us off at your peril, leeds v saints final again two stand out teams again, bradford to finish bottom ( i hope)
Posted 12:42 20th March 2009
Gary Baker says...
Sorry Stevo but I think you've got another one wrong! Leeds are without doubt the best side in the competition and, though Saints are by no means a spent force, I think that some of their key players are just about getting over the hill. Yes they have some excellent youngsters coming through but I think the return of Brent Webb and the return to form of Jamie Peacock are massive factors in Leeds' favour. The Rhinos will put a massive marker down to the rest of the League by taking this one.
Posted 02:41 20th March 2009
Amy Holliday says...
I am glad that Stevo has finally mentioned Danny McGuire in his comments. As he's on of the best players in Super League. I do think that Danny will play a great role in the game against Leeds and there will also the insentive of Leon Pryce in the other team as they are both in competition for the stand off position in England. I'd just like to point out the spelling though, it's McGuire :) I do think that Leeds will only lose if we start making silly mistakes like knocking on and forward passing. Leeds are basically fully fit with only Ali Lauititi out and with Brent Webb back on the field there could be a lot of play making happening. It will give Danny McGuire abit of breathing space now Matt Diskin is back as he can now focus on the play making instead of organising the team. Keith Senior coming back will be a big thing as he will be able to keep Ryan Hall on his wing as he does float inwards during times when he really should be keeping to the wing. Though I do strongly think that now Brent Webb is back, Lee Smith should play on the left wing instead of Ryan Hall and Ryan should be benched until he has improved. The game against St. Helens will be tough but I think Leeds will come out ontop. I don't think any comment can be made about the fans as it doesn't matter where Leeds are they still get a better crowd as they're more powerful in cheering and keeping the team spirt up.
Posted 18:12 19th March 2009