Before we look at discipline in sport, let's look at discipline in everyday life.
Has it improved over the last 25 years or is there less respect for teachers, the police or even the elderly today?
It appears to me that there has been a decline in the standards of discipline throughout society and that filters down to less discipline in sporting events.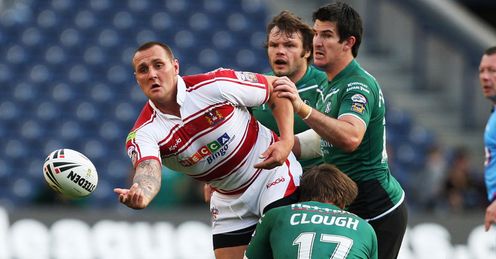 The RFL have made an excellent effort with their respect campaign to try and maintain what everyone thinks are the right standards in which to play, compete and spectate. I have even noticed that football has a similar campaign centred around having respect for their opponents, officials and the opposition supporters.
Television has maybe created this lack of respect by highlighting mistakes made by referees and this is one of the reasons why more players and spectators question the ref's decision more than ever before.
It appears that society has moved to winning is first and everything, and after that means nothing. I understand that wining is important and a certain level of single mindedness is needed to be successful but we need to keep some perspective.
Phil Clarke
Quotes of the week
It appears that society believes winning is first and everything, and after that means nothing. I understand that winning is important and a certain level of single mindedness is needed to be successful but we need to keep some perspective.
It is an interesting age in which we live when we are now more than ever aware of the fallibility of the officials.
Sportsmanship
One of the greatest pieces of sportsmanship I saw this year was when Frank Lampard was mistakenly sent off for Chelsea FC against Liverpool at Anfield and he simply accepted the decision and walked towards the tunnel.
It was a great example of the discipline needed to be involved in top-level sport.
Player discipline comes in many different forms. Respect for the official is one but the dedication needed to be successful involves self sacrifice.
My personal opinion is that players should take responsibility for their own action and yet the discipline set by the coaching staff and management of the club is probably equally as important.
Most teams now have a code of conduct and provide the relevant education for off-field behaviour and I see no need for them to do much more.
Leadership
The Melbourne Storm, probably the most successful team in Australia over the last three years, have their own group of players called the leadership group. They decide a whole range of issues from social activities to internal discipline procedures. It is probably an idea that some teams over here should have a closer look at.
There is also a discipline for your team mates that coaches will often talk about. Is what you are doing helping us to be a better team? It's a question I know one coach repeatedly asks his teams. If the answer to that question is no then you should not be doing it.
Gareth Hock looks like he may receive a two-year ban because of cocaine and yet some players recently convicted of things like GBH get off relatively lightly.
The discipline of the RFL is often criticised for being too harsh or too lenient on players for high tackles but should the RFL need to act more when players commit more serious offenses that receive criminal convictions? You can miss eight weeks for a high tackle yet next to nothing for GBH.
Comments (4)
David Brook says...
Why are St Helens players and club treated so leniantly, Keiron Cunningham deliberately injures a player and gets off with a caution anybody else throughout the league gets a 4 match ban, Leon Pryce throws the ball down on purpose and you lads all say oh there was a Wakefield players hand in there ,Wrong, and finally St Helens are the only club who can keep breaking the salary cap and escape points deduction every time. lets have fairness in the league but include St Helens as well.
Posted 13:46 21st July 2009
Ric Pickles says...
I agree with Andy Loughlin the RFL should start punishing referees for poor performances. I believe that wakefield were the better team at the weekend and probably duid deserve a win but Leeds fought on against a great wakefield team and a very inept Mr Ganson. As a leeds fan Mr Ganson should be banned from ref-ing leeds matches as he clearly dislikes the club and consistently behaves apallingly whilst officiating these games. Although this weekends game was a fantastic battle let down by a poor ref Leeds should have improved their dicipline and not constantly chatted back to him even they were correct a large proportion of the time.
Posted 12:59 13th July 2009
Kate Lancaster says...
Thank you for saying what everyone else is thinking Phil. Can you not get a job at RFL HQ and sort this mess out?
Posted 11:15 2nd July 2009
Paul Thwaites says...
Professional sportspeople are in the public eye and therefore have an obligation to set a good example to the public. Footballers get paid extraordinarily high wages, rugby players significantly less, however it is still what you would consider a 'decent' salary for playing a sport for a living. This salary should be paid to reflect three things; 1: Their natural talent or ability. 2: Their hard work and committment. 3: The example they set to the public, be it the young and impresisonable or the more mature viewer. Harry Redknapp recently made an excellent comment on the radio about footballers increasingly getting into trouble. He stated that players earn lots of money, have a great job and have a fantastic lifestyle and will probably never need to work again after their short career is over, so why can't they count their blessings and just stay out of trouble?
Posted 17:27 1st July 2009