Much has been said about Terry Newton's failure of a drugs test last week.
I think that the team of hard-working drugs testers who have managed to find a reliable and legally watertight test for Human Growth Hormone should be congratulated.
They've worked diligently for years to get this breakthrough and ensure that sport is about healthy competition.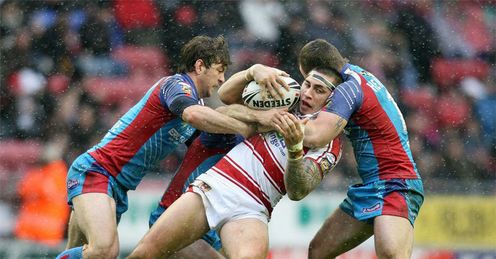 For those of you interested in Human Growth Hormone, here's a brief summary of the subject:
The hormone is naturally produced in the anterior pituitary gland (inside our brains) and stimulates growth, cell reproduction and regeneration. Your body produces it throughout the day in little blasts, the biggest one occurring an hour after you've gone to sleep. (That's one of the reasons why it's a good idea for athletes / players to rest / sleep in the day after they've trained hard). As children and adolescents we produce more than the adult / elderly population, it helps us to grow obviously.
I think that every player in Super League has to undergo an initiation test. Their journey into manhood or acceptance amongst their peers usually involves some degree of pain and bravery. In my opinion, Harrison Hansen had his on Saturday night.
Phil Clarke
Quotes of the week
LIVE ON SKY SPORTS
World Club Challenge
Leeds v Melbourne
6pm, Sun, Sky Sports HD1
Watch online with
Sky Player
How to
remote record
In some cases, doctors use a man-made version of Human Growth Hormone to treat children's growth disorders and adult growth hormone deficiencies.
Sadly, and rather dangerously, some sportsmen and women also use it to increase muscle mass and energy levels. It can also decrease their level of body fat. However there is still relatively little known about it.
We do know that it can lead to a pituitary tumour, thicken the jaw bone, fingers and toes, cause pressure on the nerves (e.g. carpel tunnel syndrome), lead to diabetes, liver damage and gynecomastia (enlarged breasts in men).
If that list isn't enough to put you off taking it, then I'm not sure what is!
On the attack
I spent time a lot of time last week looking at the number of defenders that teams put into a tackle. This week I thought that I'd try to take a quick look into the attacking side of things.
In my opinion, rugby is at its best when the ball passes from player to player at speed and the team progress to the try line. Chris Riley's try on Saturday was a perfect example when the ball was moved from the centre of the pitch to the flank in four fast passes.
I've only done the one game between Warrington and Wigan, but wanted to know your thoughts on what makes a good game of rugby league?
Total number of passes:
Warrington: 183
Wigan: 163
Then we need to take account of the fact that Warrington had a bit more possession than Wigan so we can divide the total number of passes by the total number of play-the-balls that each team had.
Warrington: 183 passes ÷ 143 play-the-balls = 1.28 passes per play
Wigan: 163 passes ÷ 122 play-the-balls = 1.34 passes per play
It might be a surprise to many that there are less than two passes on an average play in a rugby league match. Very few could say that last Saturday's game didn't have all of the ingredients for a classic sporting event - drama, tension, controversy and an amazing atmosphere.
As we attempt to attract more supporters to the sport we need to look at what regular and floating viewers find attractive about the game. Is there enough movement of the ball to entice new followers of the sport? Do we have enough scoring opportunities in a game? Is there enough risk taking?
Let me know what you think.
Phil answers your emails...
Got a question for Phil? Click here to email your question or use the feedback form below...
CHASING ANSWERS
Hi Phil. Can you please advise what the rule change concerning the kick and chase for 2010 is? During the live games at the weekend you commented on a rule change relating to offside when a team kicks on the last tackle. I have been unsuccessful in finding this rule change. Thanks, Philip Sheeran.
PHIL SAYS: The below answer is from Stuart Cummings:
For a player to be onside he must have both feet behind the ball when it is kicked.
A player who does not have both feet behind the ball when it is kicked is placed onside if:
The kicker runs in front of him and the offside player is further than 10 metres from a man receiving the ball.
The man receiving the ball plays the ball but does not retain it (stops it with his foot and then picks up the ball) and the offside player is not within 10 metres when it is played.
If there is no-one waiting to receive the ball then the 10-metre rule would not apply but the kicker would still have to place him onside by getting in front of him.
A player who is in front of the play-the-ball when the ball is played cannot be placed onside in any of the situations mentioned above. He cannot get involved in any part of the next play unless he retires behind the point of the last play the ball.
When this happens the officials refer to it as being "downtown" which is a quick codeword to state that a player is out of play.
In the NRL - but not in our competition - they are attempting to stop players heading downfield before the ball is kicked. They are implementing the law that states that a player cannot chase downfield on a kick chase until the ball has passed over their head. They will be penalised if they do.
It will be interesting to monitor how they go with it.
I hope that this helps you Philip. I do believe that we need to give the two wingers and fullback a real chance to counter attack when they receive kicks. It is a bit like scrums for me. In theory, it's a chance to see the fastest, most evasive players running with the ball in hand.
TACKLING THE ISSUE
Phil, I'd like to ask your opinion on Adrian Morley's tackle on Harrison Hansen at the end of the Warrington v Wigan game. It's been a talking point on the Internet message boards mainly discussing how hard a hit it was and how well Hansen did to keep hold of the ball but I think this is covering up the fact the "tackle" was actually illegal. If you watch it back you can see Morley stiffen his arm by his side, charge Hansen and he pivots his body so in effect swings his stiff arm to make contact. I was under the impression it was against the rules to simply charge a player and an attempt must be made to make a tackle? Morley charged Hansen swinging round to make contact with his arm and clearly had no intention of tackling him given he deliberately had his arm stiff by his side. I know in rugby union that "tackle" would be illegal for certain. What about Rrugby league and whether legal or not by RL rules do you consider it dangerous? Regards, Dave Oddie
PHIL SAYS: I think that every player in Super League has to undergo an initiation test. Their journey into manhood or acceptance amongst their peers usually involves some degree of pain and bravery. In my opinion, Harrison Hansen had his on Saturday night at Warrington when he kept hold of the ball near to his own line with the clock ticking down and his own team just two points in front.
He would not have been human if he'd made that run without a certain level of fear running through his body. Admittedly it happened very quickly, but there was still enough time for Hansen to see Morley attempting to knock him out of the ground.
Fans love Morley for his passion and bravery. He has no interest in self preservation. He just wants to play the game as hard as he can, knowing that it's going to hurt anyway, so he might as well try to inflict more pain than he receives.
Like you, I am aware that a shoulder charge is illegal in rugby union, but not in rugby league (or so I think, I will double check to make sure). I don't think that shoulder charges (if we classify them as that) should be illegal. I haven't seen any evidence to show that they are more dangerous than a conventional tackle and believe that fans pay to watch the high impacts that they often provide.
Comments (8)
Adam Broadbent says...
mr mullen has obviously never ever played rugby league and any one who has will tell him how awesome morley's hit was. I hope to see many replays of morley's well timed powerful hit. by the way mr mullen the word you were trying to spell several times was "of" not "off" adam, rhino's fan
Posted 20:17 1st March 2010
Ade Lamb says...
I agree with John McGann, the whole Morley - Hansen clash was an excellent piece of rugby all round. It's what you would teach young props (I certainly do!) hit your man as hard as you can to keep pressure on the opposition. And as an attacker you are tought no matter what, do not drop that ball! This clash was a piece of excellent rugby displayed on both Morley in making such a huge tackle & by Hansen in retaining the ball 10 yards off his own line, with seconds to go so his team ain't put under more pressure! Thats bravery & desire for me right there. So mr Mullen, i assume you do not follow this sport enough to recognise the difference between thuggery & class. Props are there for 2 jobs. 1- make hard yards 2- make hard tackles Also the first thing that Morley did at the full time whistle was run over to Hansen who was flat out on the floor to see how he was and shake his hand, Adrian Morley respects Harrison Hansen for taking that shot & keeping the ball. That is bravery & desire, all clubs should have 13 players like that on the pitch! At ameatuer level, the props hit the hardest, it's life in rugby league & you know what...I wouldn't change it for the world! It's simple, if someone hits you hard, you hit them harder next time!
Posted 13:18 26th February 2010
Ryan Dugan says...
This is to Matt gleave, If you look at the stats at the end of the game it was a prett even game and even tony smith a draw was probably a fair result, everytime wigan made a tackle the warrington fans were screaming for penaltys and got them. in the previous 2 rounds wigan had the best discipline in the laegue and then all of a sudden we had pens left right and centre giving, yet if you look at what you was doing in the tackle there is no difference, if you want to look at decisions then you look at 2 trys off yours, martin gleeson stills the ball and it goes forward knock i agree you score a try from the rseulting set of 6, but when georeg carmont runs through grix steels the ball it goes forward and the ref does not give a knock on and you score from that set of 6. Both teams have improved and will be in with a shout but we had 3 players out, you had 1 and you should have had carvell and morley banned but lets face it morley is the only player aloud to head shot people week in week out and get away with it, every one knows what morley is like he is thug pure and simple, he got sent off after 9 secs for great britain need i say more, but it was a classic game except the fact you lost we lost to saints in the semi-final last year and was robbed by sean long foot in touch moment but we except it. thats sport
Posted 08:26 26th February 2010
Chris Lambert says...
Fans want to see the big hits as much as they want to see fast skillful attractive rugby. Morley is known for the hits he puts in, he was the same for the Sydney Roosters and they loved him for it. Opposition players know what to expect when coming up against the likes of Morley and there's plenty that give him it back. Harrison Hansen did extremely well to keep hold of the ball, he didn't even know where he was at first so it was a great effort and possibly saved his team the match because if he would of knocked on then Warrington would of had the scrum 10 metres out from the Wigan line. It was a great game and Warrington had the chance to go for goal when they got that late penalty with 2 minutes to go and Solomona blew it so they cant complain, he couldn't of come closer to scoring but he dropped it and Wigan defended well. They look a well drilled team this year do Wigan but it's only early, i'm sure there fans will be calling for the coaches head when they lose a couple of games on the trot during the season. Big Feka has slimmed down and improved his defence but it's affected his attacking ability.
Posted 23:04 25th February 2010
John Mcgann says...
cant understand how D.Mullen can say Morley tackle borders bullying and thuggery, ask anyone that has played this game at any level, and they will say it was a great one on one hit up, even a wigan fan called me after the game and said as a forward morley was awesome, finally a fantastic game, wigan and the wires take a bow, as a saints fan , dont like praising wigan , but what a game, more importantly what a season this is going to be....
Posted 21:13 25th February 2010
Deano Deano says...
Matt Gleave your'e having a Laugh, Wigan got nothing at all from Silverwood in that first half, Warrington were conning the ref by reefing the ball out in the tackle, Carvell shouldn't have played for a start, you should take your'e Wolfy blinkers off and see it from a Neutral, even Saints fans were saying Wigan were hard done to by Silverwood, the Video ref was from Warrington and nearly every one of Wigans Trys were scrutinised by the video ref, typical bad loser and fickle Warrington fan!!
Posted 19:40 25th February 2010
David Mullen says...
Bravery and passion are the least we should expect off anyone playing this sport..Am afraid my opinion off Morley is that his game is based on bullying and thuggery .I take your point that there must be an element off fear when making a run knowing that a forward is just itching to hit you hard and its going to be painful.But c,mon you expect at the least a legal challenge.Mr Morley knows exactly what he's doing and gets away with most off what he does infuriating fans.I was suprised he was,nt banned for the Wigan game anyway for a similair challenge the week before.
Posted 14:06 25th February 2010
Matt Gleave says...
Phil, In your opinion who do you think looked the more improved in the match between Warrington and Wigan last weekend? As a Warrington fan i was gutted with the loss and thought it was pretty underserving. Theres been alot of talk about Wigan after the start they have made, but last week in my opinion they got the rub of the green with all the major decisions, including the one where Martin Gleeson clearly obstructs Matt King from making a tackle on Amos Roberts second try. Regarding the Adrian Morley Tackle, it was a totally legal tackle and a big rap to Harrison hansen for keeping hold of the ball. Anyone who thinks it was a stiff arm clearly have no knowledge of rugby league and should convert to rugby union and spend less time crying about tackles on messageboards, if they don't like seeing hits like Morley's.
Posted 11:59 25th February 2010