The aim of national governing bodies and professional clubs of most UK sports is to develop youth athletes who are able to perform at the highest senior level.
NGBs and clubs can spend huge amounts of money in this process, however identifying talent and potential for the future is difficult.
A few weeks ago you may have heard me congratulating a member of the Castleford Tigers staff, Kevin Till, on completing his PhD research in talent identification, selection and development in junior rugby league.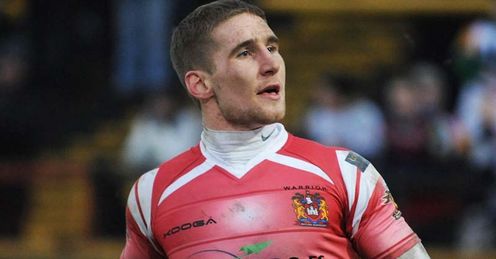 Rugby league is in his blood; he used to play and has successfully combined his work with the Tigers alongside his study at Leeds Metropolitan University.
Identyfing talent
Kevin's research aimed to evaluate a number of issues in relation to player identification and selection within junior rugby league. Before I begin to try to scratch the surface of his findings I need to explain what relative age effect and maturation are. They have a massive bearing on the participation and the development of young players in sports.
Sam was effectively released by Wigan when he was 16 years old when they chose not to offer him a contract. He was smaller than his contemporaries and the club felt that a boy called Jamie Maxfield was a better prospect
Phil Clarke
Quotes of the week
The process of age grouping is one we are all familiar with, in which players are categorised into annual-age groups (i.e. Under 8s) similar to school year groups, using a 1st September cut off date.
These categories are used to try and ensure equal opportunities in youth sport but result in age differences between players termed as relative age.
For example, if you are born in September you are the oldest in the year, whilst those born in August, 11 months later, are still grouped in that team.
Obviously, the older player has had almost a year longer to develop which can lead to differences in size, weight, performance and coordination. These age differences result in inequalities defined as Relative Age Effects. Primary school teachers are incredibly aware of this and take it into account when assessing a child's development but we seem to ignore it in sport.
Research into this subject tends to group players by quartiles. Those born in September to November are classified as 1st quartile (i.e. the first quarter of the year), December to February 2nd quartile, March to May 3rd quartile and June to August 4th quartile. Kevin's research identified that in junior rugby league there are participation inequalities favouring the relatively older player, from the earliest stages of the sport (i.e., under 7's age category).
Catching talent early
Basically, more junior players play rugby league if they are born nearer the selection cut-off date (i.e., September). Also, when selection occurred to junior representative levels (i.e., Regional level), Relative Age Effects increased dramatically. Approximately 80% of players selected to the National level between the under 13s and 15s age categories were born in Quartiles 1 or 2. These findings emphasise how coaching practices bias selection to the relatively older players within junior rugby league.
The other big factor that we need to take into consideration relates to maturation, specifically peak height velocity. In simple terms, as your Grandma says, you've been in a greenhouse and seem to have grown overnight. The timing of maturation in children can occur at different times; with some shooting up early, whilst others grow later. Research has shown that maturation can occur any time between 12 and 16 years of age. Therefore, scouts and youth development teams should take maturation into account when assessing junior players to ensure 'talent' isn't confused for advanced maturation.
An example that springs to mind is Sam Tomkins. Sam was effectively released by Wigan when he was 16 years old when they chose not to offer him a contract. This was after he'd been in the scholarship system at the club for three years. He was smaller than his contemporaries and the club felt that a boy called Jamie Maxfield was a better prospect. (Incidentally, Sam's birthday is at the end of March, a 3rd quartile child, and he really only hit his growth phase when he was 17). Fortunately for Sam and Wigan, other people became involved and he continued playing for the club for free. After watching his four tries against Salford last week, it illustrates the difficulty in identifying talent and potential.
Skill over power
Sadly, in youth sport people don't always understand or appreciate these relative age or maturational age differences. Why does an August-born child never win the Man of the Match in an Under 7's game? It's essential that we educate coaches, parents and administrators about these issues and possibly consider reclassifying the annual-age grouping system to reduce the dependence on physical characteristics in junior rugby league. Should rugby league modify the rules to promote skill over power? I ask this from a participation point of view. How many boys and girls are turned off the game at an early age when they physically can't compete, when given time they might excel?
This begs the question, how many players are we losing to the game because we thought that they weren't good enough, or big enough? In a sport like rugby league, which has a limited pool of players as it competes with football, cricket, rugby union, athletics etc it's vital that we do everything that we can to keep players playing the sport. We need to stop losing players because of their age (Q1 to Q4) or their stage of development (maturation).
I also found it interesting that there were positional differences as well. Props were more likely to be older (i.e. Q1 or Q2) than pivots (scrum half, standoff, hooker) in representative teams squads. Forwards 'matured' earlier than backs in the sample group as well. It would seem to make sense to encourage coaches to rotate players through a variety of positions at an early age. When they all finish growing at 18 or 20ish, the skills become more important and we need to give them all a chance to experience the diversity of game. We're pigeon holing players as a certain position when they're too young.
One of the suggestions made in the report relates to standardised assessments for the monitoring of player development. I know that all clubs like to have their own way of working but we need to collaborate if we want to maximise the potential of the players who want to play our game. Could all clubs use the same template? I thought that it was fascinating to see that the later maturing players performed as well if not better on physical tests (e.g., sprint times) than the early maturers, it's just that they're bigger in the games.
I don't work in youth development, talent identification or scouting but know that the report and its findings should be shared across the sport. I know that the RFL have now made some changes to its youth development structures (e.g., delaying selection to scholarships to Under 15's and 16's therefore attempting to widen the pool), but we've still got a way to go. The dissemination of this research across all levels from the parents and coaches at community clubs to the youth departments of the professional club's is vital.
My role in all of this is to help to spread the word and encourage the people with influence to debate the subject matter.
Kevin Till's research has even featured in the internationally recognised Journal of Talent Development and Excellence and I'd hope the RFL continue to support and use this work. It's essential in my opinion that we monitor and optimise our player's development with some research and do everything that we can to help people reach their goals.
Comments (2)
John B says...
Excellent piece, Phil. I have seen this actually happen. It can also have a determental effect on the bigger player. I have seen players scoring 80 tries a season. Unfortunately for the bigger player usually the smaller players tend to catch up to their height and weight over time, and because they have been used to running through defenders for fun little time has been spent developing their skill level. The main problem is Rugby league has players of all shapes and sizes. Look at Huddersfield where they will pack down with Crabtree and Robinson. The main point is to make sure we look after the young players to give them the skills and desire to play this great game. Maybe the RFL could trial a system at say under 7/8 level have the1st and 2nd quartile players, play in the first half and 3rd and 4th quartile players, play in the second half. It may not be too easy to put into practice however it maybe worth the effort, and interesting to see if players develop their skill level over time.
Posted 22:16 21st August 2011
Carol Ede says...
Don't believe that this problem is exclusive to sports. It is a huge problem in primary and secondary schools, in fact this is where it starts. This is invariable transferred to everything that child pursues. I speak from experience having a son born in August. Don't forget, the childs school age determines so many things int hat childs life. However I'm under no illusion you actually read comments but #just saying and it might give another view to others who read this
Posted 21:07 18th August 2011