'Rules for Rugby League to Evolve'.
That was the subject of one of the emails in my inbox this week. It immediately had me intrigued, especially as it had already been sent to some of the leading minds on the game.
Some people feel that the changes to the game over the last 10 or 20 years, both in the rules and the tactics adopted by the leading teams, is having a detrimental effect on the overall health of the sport.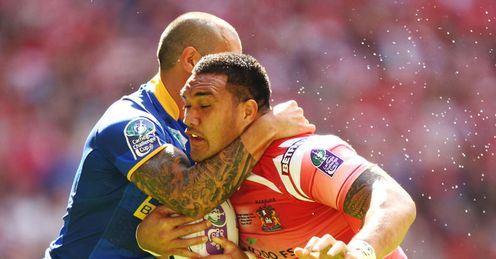 They claim that the 10 metre rule, along with others, has made the game more about the physicality of its players that about their skill. They quote high drop-out rates as juniors progress to youth teams and then into adult sides.
The way that the game is played in the highest divisions (i.e. NRL in Australia and Super League in the UK) is copied almost exactly at junior and amateur level.
Has the game become too physical to be played by most people? Is it that aggressive that only a small percentage of the population feels willing to play it?
Below, I've listed some of the suggestions that are described in a proposal called 'Universal Pro League'. I think that they are fascinating and I've interspersed them with some of my comments. Take a look at the 15 points below, then let me know your thoughts by filling out the feedback form at the foot of the page...
Universal Pro League - The Basics
Ten players per side at the 5m defence line. Match duration played over 3x30min periods; an interchange bench consists of five players with two changes allowed per 30min period.
1) Kick offs: only at the start of each period and will alternate between the teams.
2) Dummy half runners: Caught with the ball are penalised (but not sin binned).
PHIL SAYS: I think that this is very interesting. What are we trying to achieve by this? Some would say that it is to promote the skill of passing and to get more team members involved. When you look at the average number of passes-per-play in a Super League game you'd be quite surprised at how few it is. In the games that I've looked at, we get less than one-and-a-half passes per play (i.e. from one Play-the-Ball to the next).
I would say that this rule might be advantageous at junior level, but don't really know enough about this to comment. Some spectators at adult games love to see a speedy player run from the Play-the-Ball and break the defensive line. Some of the most dramatic individual tries are scored in this manner.
3) Play-the-Ball (PTB): Whilst facing your team's scoring end of the field, place the ball on the ground immediately in front of the tackle, step over the ball with both feet. The second foot is to be grounded before the dummy half can pick the ball up. The second foot grounding will also allow the defence to move.
PHIL SAYS: I've said before that we need to address the Play-the-Ball rule. At present we ignore what's written in the rulebook and this suggestion is worth consideration. We need to find a controlled manner in which to re-start play after a tackle is completed.
4) No markers are required at the PTB. Tacklers are off-side until they have retreated to the advancing defensive line.
5) Drop ball rule: turnover.
PHIL SAYS: I like the sound of both of these ideas but am not sure if we're making the game too fast. It could end up like Touch or Tag rugby. Some people, who themselves are neither strong physically nor aggressive, like to watch the collisions between the big men in the middle of the field.
6) Repeat Set (RS): If a team completes all six tackles of the first sent in their defensive half of the field without dropping the ball, they can receive one bonus set of six tackles.
7) 50/20 not 40/20: successful 50/20s receive a three-tackle bonus which begins with a tap restart from the middle of the defending side's 20m line; tries scored during a three-tackle bonus are worth five points.
8) The Conversion Try: following tries scored from general play (worth four points), a team may kick for goal. If the try-scorer attempts the kick and is successful, the two points are awarded. Alternatively, a team can opt to go for a Conversion Try worth three points. This option provides a team with three 'fresh' tackles starting at the 20m line (but no kicking is allowed during the three tackles).
PHIL SAYS: I love the idea of asking the try-scorer to attempt the conversion. It's made for the modern age. We need to keep up with our rivals in the entertainment industry and this does that for me. The second part of this proposal - having three more tackles to attack from the 20m line - feels like an American Football idea, but I can see how it could add to the drama. Conversely, it stands to reason that the stronger sides would score more often in those three plays, thereby exaggerating their dominance in the match.
9) No kicking during the three-tackle bonus and the Conversion Try.
10) No kicking into the in-goal at any time. If a kick rolls in-goal, it's a tap re-start on the defending side's 20m.
PHIL SAYS: At present I like to see the teams attacking and defending kicks in their in-goal area. I think that it is skilful. Last season in Super League, only 16 per cent of all tries came from kicks, so it was even less than this from kicks into the in-goal. I don't think that that is too many. I realise that the numbers are greater in NRL but don't have a problem with this yet.
11) Held up in goal: possession goes to the defending team; tap restart on the 20m line with six tackles.
12) Following tries and conversions, the team scored against receives the ball and restarts with a tap from the middle of their 20m.
PHIL SAYS: This is worthy of a re-introduction in my eyes, perhaps with the scoring team kicking off from their 20m line, not the half-way line.
13) Sin Bin. All aspects of the safe play code will be in effect. Penalties will attract a sin bind and once an individual player has been sent twice to the sin bin, he will be dismissed from the game. A sin bin lasts for five minutes; the offending player will be replaced by a bench player after the five minute suspension from the field has been completed. This, in effect, will also count as one of the allotted changes within that period.
PHIL SAYS: One third of all tries start with a penalty and some people think that they have too big an influence on games. One third of all penalties come from interference at the Play-the-Ball, so that would seem the obvious place to start. It is the most common offence in a Super League game. How do we reduce the amount of interference in the game? Some might say that it's a bit more complicated, but the use of the sin bin might work.
Whenever I read these rule suggestions, I try to imagine an adult amateur game and the practicality of applying these rules. How many officials would you need?
14) Penalties: no shot for goal and no quick tap. Players can only kick for touch to gain field territory.
PHIL SAYS: I don't agree with this; I like to see both ambitious penalty goals and quick taps which lead to tries.
15) Scrums: they only come into play if there have been two knock-ons or two dropped balls. Otherwise possession exchange is done via turnover. Five men will form the scrum with the referee to feed, however, if there is enough overwhelming support then it wouldn't be too hard to scrap the scrum entirely. Simply play to the first mistake (turnover if no advantage is gained).
PHIL SAYS: I'll write about my thoughts on scrums next week. It's too big an area to rush here.
Phil answers your emails...
Got a question for Phil? Email him at skysportsclub@bskyb.com or use the feedback form below...
Pushing the limits
Hi Phil, I read with interest your recent column on nature vs nuture and it mirrors some of my own thoughts on youth development in sports in general. It took me back to a royal hammering my school rugby team received from a St Helens school that was in large part down to the contributions of one opposition player - who at 13 was a good 6 foot tall and had more body hair than all the opposition combined. The game went thus. We would kick off. The ball would be rapidly passed to the man disguised as a boy. He would then run 40 metres with 5 small boys hanging off him, offload and a try would result. We learnt nothing. The majority of his team learnt nothing and I'm fairly sure that him coasting along winning collision easily taught him nothing.
Given the physical aspect of rugby, why not abolish the strict junior age group system and instead impose weight limits on groups of players and set positions they have to play in? So that instead of the under-XX grouping you have teams with forwards in the 50-53kg and perhaps backs with a wider but same upper weight limit 48-53kg. This would effectively limit the effects of early maturation and put players into similar 'physicality pools'. Perhaps tries scored by centres/wingers could have a differential weight - worth 4 instead of 3 points - to promote passing and skill play over forward play? Thoughts? Dr Richard Collins
PHIL REPLIES: I wonder how many players have stopped playing Rugby League before they ever get to 18? It must be frighteningly high. Not all of these are the game's fault, but I think that in a modern age in which we compete for players with other sports, it's vital that we do everything that we can to keep people in the game.
The article above is more food for thought and in theory I like your ideas, but wonder if they are practical. Would you need to measure the height and weight of every player every three to six months? How many coaches, referees, volunteers and pitches would be required? At least we have coaches, administrators, parents and players who are now aware of this issue. That's a start for me.
Bad behaviour
On the next Boots 'n' All, could you please do a little bit to explain that sticking two fingers up at people is wrong? I have just been watching the final between Leeds and Wigan and what happens straight after Wigan's first try. Sam Tomkins sticks two fingers up at the Leeds fans....
The first thing that we all said is that the behaviour is getting as bad as football, it was just like seeing Wayne Rooney walking past the camera's straight after a goal and using foul language. Hopefully your explanation of why Sam Tomkins did this will change my mind about the way the game is going. Thank you. Jason AB
PHIL REPLIES: I think that it was wrong for Sam Tomkins to give a two-fingered salute after Wigan had scored at Wembley. I think that he'll regret it when he gets older. I can say that with experience as I've done things on a rugby field that I'm not proud of.
If I'd been on the Disciplinary Committee I would have wanted to ban him for one match. I think that we need to maintain and promote fair play and respect in Rugby League - they are both vital components of its future success.
Comments (5)
Daniel Casserly says...
The RL are soft on Sam Tomkins as they are worried he'll go to Austraila, he should have got a 1 game ban. If another play with no record of insulting fans does this next week what will they RL do?? Also moving to a different topic, I like the way Wigan attack and they are a great team, but when will the RL step in and block these tackles on players knees from the side? This will end someones career very soon.
Posted 10:15 3rd September 2011
Scott Adam says...
On the number of youth players who drop out of this great sport due to size disadvantages I would like to add the following: Skill acquisition of some players in my opinion is likely to be hindered greatly when played against early developers. The game becomes about strength power and aggression. The psychological impact playing against a 14 stone muscular, faster player at 13 who has facial hair when you lack the physical development and are half the body weight is no fun. This is the reality, lets not minimize this. The season should have half games played as tag and half as full contact up to 18/or half the games in the season played as tag. This will allow the smaller players to run at gaps, with a quick line defence without getting smashed and keep up their progressive skill development. This sport needs to keep the late developers interested, learning, confident with a steady skill development. Our game for children should be developing speed skill balance and fast decision making instead of pure power and dislocated shoulders that is likely for the less aggressive, less confident and less powerful late developers.I know their are exceptions. Half the session played at tag will also be advantageous for the hulking forward who I feel his skills will improve if he has to count on other assests other size alone as one day if the hulk makes pro he is likely to be Mr average size. Great move in summer amateur rugby- now let us have every other game tag, 4 x 25 miniute quarters and lets develop some Benji Marshells. A couch can allow the late developer to play in full contact also but he can still play just a pivitol role in the team and game by helping win games in tag game if he is more effective in that game. Come on we don't want 13 years olds hanging out in gyms. They should be developing agility, speed, ball handling skills and decision making skills, not necking protein shakes
Posted 20:52 2nd September 2011
Michael Wheeler says...
I agree with teh first comment, the rules we currently have are fine and i dont think there is a real need for implementing the suggested changes above.. one thing i would like to see though is all countries playing the game, playing to the same rules! which is quite ridiculous when you think the top two league sin the world play to slightly different rules. two referee's in the english game would also be a benefit i feel, though would be difficult to roll out throughout the professional ranks, including championship level clubs. the RFL should concentrate on marketing and promoting the game rather than looking at tinkering with teh current rules.
Posted 09:21 2nd September 2011
Ben Lee says...
At present i feel that the rules already in place are working just fine for pro level. The sport is in a good place at the minute, getting more and more fans around town. i wouldn't dream about changing the rules at the highest level of the game. At grassroots level you could implement some of these rules into annual cup competitions possibly, to run alongside the current leagues already established. it would make the grassroots rugby league more exciting and open to possibly more players wanting to get involved. i cant see any long term harm to the sport. i say go for it, a big publicity drive for a new variant of rugby league would do wonders for the game, and could give birth to future england internationals.
Posted 16:05 1st September 2011
Phill Williams says...
Regarding the Bad Behaviour comment; I agree with your comment that Sam Tomkins should of been banned for at least 1 game as what he did reflects bad on a sport which prides itself on respect for officials etc. What I would like to point out though is I can see why Sam did what he did, these are same fans that was booing him everytime he got the ball when wearing an England shirt - where is the fans respect for players?? I doubt many of those fans who was 'clever' enough to boo Sam, woke up the next day and believed their actions were wrong. I believe he made a mistake and genuinely regretted it and has since apologised but a message should have been sent to players that this isnt acceptable behaviour. How do we though tackle the problem of fans being disrespectful to players (swearing, booing etc) - I realise "they pay their money" but in what other walk of life apart from sport does that give people the right to abuse and possible even provoke players?
Posted 12:35 1st September 2011