Some tries in rugby league are scored because the player had too much speed for his opponent and some because he had too much strength, but the best ones for me are scored when the skills of a player and his team combine for that perfect play. Catches, passes, kicks and offloads are the ingredients of my favourite tries.
The evolution of the game over the last 20 years has meant that power has become the prominent factor in rugby league. Creative players are becoming an endangered species and yet they tend to be the ones involved in the magic moments of a match.
Skills Schools
I was delighted last week to see the introduction of the Rugby League Skills Awards aimed at encouraging young players to have fun. They are linked to the Level One Becoming Capable Coaching Course and award bronze, silver and gold certificates as the player demonstrates his/her ability with the core skills of the game.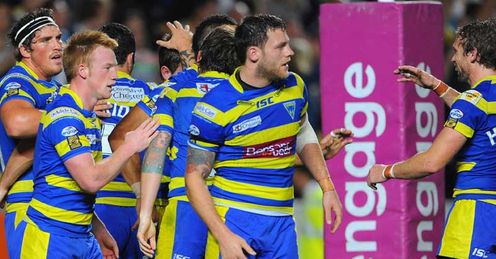 These skills are practised and tested in small-sided games. Just four players against four others in a small section of the field - it's a massive step forward from so many 13-a-side junior matches played on a full size pitch when only the best two or three players tend to touch the ball and score all of the tries. It's such a simple idea and it's brilliant. It makes it easier to match the size and skills of players with a major emphasis put on 'decision making'. It isn't just a case of the biggest, strongest or fastest player dominating the match as so often happens in teams under 12 years of age.
The scheme is aimed at those from four years of age up to 12 and perhaps more importantly, the coaches of those players. I have nothing but admiration for those volunteers who choose to coach teams in these age groups. Without people like them I (along with thousands of others) would not have tried to play rugby league. However, I'd encourage them to find out more about this new scheme as I think that it will be advantageous to them and the boys and girls who play in their teams. There are some great supporting materials available and the new qualification prepares coaches to deliver suitable training sessions for young players in order to provide a solid foundation for them to participate in sport in general, not just rugby league.
We want as many youngsters as possible to learn new skills and have fun whilst taking part in rugby league and I believe that "Becoming Capable" along with the Rugby League Skills Awards is a big step in the right direction.
No second chance
The sudden death games in Super League over the next three weeks tend to focus people's minds. No second chance means that any error could cost a side it's moment of glory in 2011.
Well one mad moment could be all it takes. Teams conceding what might be described as a 'needless' penalty could be the difference between a ring and a sing for the winners, or a moan and a groan for the losers.
It's a pretty well known fact that penalties play such a big part of the game. I've just looked back at the records for the 2011 season and saw that 34% of all of the tries scored started that set of possession as a penalty. It's pretty obvious then that by conceding less penalties than your opponents you increase your chances of winning.
The referees in Super League this season blew their whistle for 2889 penalties and Interference was the most common offence. A 1/3 of all penalties in the Super League were for players interfering with the tackled man in the ruck, holding him down too long.
The three worst offending teams were:
| | |
| --- | --- |
| TEAM | PENS CONCEDED |
| | |
| Crusaders | 253 |
| Wakefield | 241 |
| Catalans | 235 |
| | |
The three least penalised teams were:
| | |
| --- | --- |
| TEAM | PENS CONCEDED |
| | |
| St Helens | 167 |
| Hull FC | 172 |
| Hull KR | 174 |
| | |
Probably what's more important though is whether a team were awarded more than they conceded and it's quite interesting to see the results. The two teams to win in the first weekend of the play-offs and be given the luxury of watching on TV this weekend stand out from the rest. Over the course of 2011, here are the NET penalty records of the top teams:
| | | |
| --- | --- | --- |
| TEAM | + OR - PENALTY TOTAL | |
| | | |
| Warrington | +32 | |
| St Helens | +36 | |
| Wigan | -6 | |
| Huddersfield | +9 | |
| Leeds | -30 | |
| Catalans | -18 | |
I'm not trying to say that you have to 'win the penalty count' to win the match but it certainly helps. The Giants got off to a terrible start since last Friday when they conceded seven penalties inside the first 15 minutes. Some of these were unavoidable when their players slipped at times, but a slip at this stage of the season can possibly mean six points on the scoreboard and a trip to the travel agents next Monday.
Suspension sagas
Whilst talking about discipline and penalties I thought that it might be interesting to look back at the suspensions suffered by each club this year. The disciplinary committee are like referees, they only ever get criticised, never praised. Well, let's see, without going into every single case, their record in 2011.
They've been asked to look at a total of 63 charges put forward to them. In 61 of these they found the player guilty (c. 97%). At least this implies that it is a serious offence and that the player is guilty of the charge. If you get charged you tend to get found guilty.
The worst two offending clubs are Wigan, who have been asked to face 10 charges, been found guilty nine times and had their players suspended for a total of 15 matches, and the Celtic Crusaders, with eight guilty verdicts from eight offences, and a total of seven match suspensions (some guilty cases receive monetary punishments not always match bans). The best record of any team is by Huddersfield who have had just two guilty verdicts from two charges.
In my opinion, the game is in a relatively good position in this regard. An average offence this year resulted in a 1.2 match ban. This indicates that the offences committed tend not to be too serious. We don't have players trying to kill one another, not illegally anyway. I don't think that we've got a major problem with the on-field discipline and I get the impression that the work done by referees, match review panel and the disciplinary committee is excellent by and large. No player or team ever thinks this when it affects them but it sounds like it's working to me. Well done and thank you for your efforts in making the game a fast but fair one.