The Sky Sports rugby league department has always been innovative and the first to bring you fresh ideas and concepts. We want to be the first in the world to show you things that have never been tried elsewhere - this season we've got something extra special for you.
During each game we won't just be collecting the stats and data, but now the information will be fed into a computer to try to predict the winning team. As most of you will know from watching sport, things change before the score does - a certain momentum gets built up before the points are registered.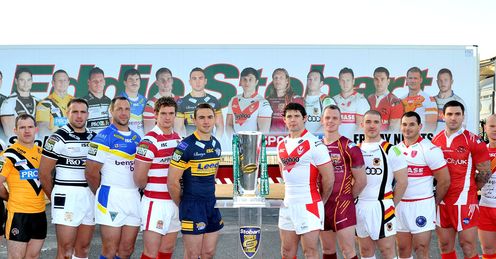 We're going to use a formula to predict the points difference between the two teams at the final whistle. This will be continuously updated as the game progresses. We'll collect data about which team has possession, how well they use it and just how well they defend when they don't have the ball. This will flash up on the screen on our 'Margin Meter' and, based on the way that the game has gone, predict who will win and by how many points.
During the off-season we've asked a leading expert in this field to help us to try to identify the patterns and trends that occur in a Super League game. Dr Bill Gerrard has looked at more than 700 team performances in Super League over the last few seasons and analysed the key performance indicators that teams record.
The posh term for doing this is "data mining" or "predictive analytics", which is the sort of thing that supermarkets do to sell their goods, insurance companies do to calculate their polices or the weather people do to make a forecast.
Insight
We aim to turn all of the data and statistics that are collected into valuable insight. We at Sky want to make sense of all the information available.
Some of you might have seen a film called Moneyball recently; Brad Pitt was the lead actor. It is a true story about a baseball team called the Oakland A's in California. The general manager of the team used detailed analysis of the statistics to help to build a successful side.
He was ridiculed at first until his team started to win and most of his opponents now copy his approach. The general manager was called Billy Beane and is a close friend of Dr Gerrard.
Many sports teams are now starting to take a more evidence-based approach and we want to take you even deeper. Coaches no longer rely just on their intuition or gut feeling, but combine their experience with the numbers and statistics that they collect. They use all of the information to make decisions on recruitment, selection, tactics and training priorities.
Most rugby league sides concentrate on what you could call critical-incident video analysis of games. They scrutinise in minute detail every aspect of a match, and then tend to move on to the next one. With Bill's assistance we've adopted a wider view across more games and then looked to find a pattern in those matches. This is a cutting edge development in sport and has allowed us to come up with a formula which we think will predict how the game is going to finish.
We also plan to investigate many of the theories that we hear people talk about in rugby league.
Is a high completion rate important in winning a game? Some people say that you need to hold onto the ball and make very few handling errors to win, but is that true in Super League?
As well as the 'Margin Meter', we'll also take a look at the most interesting stats before games to see where teams are strong and weak and assess their form trends over the last few weeks, when the season gets going.
Let the games begin.
Comments (7)
Ian Clarke says...
hi guys, please get rid of the margin meter, it's rubbish.i don't like it and i think we don't need it, yours ian.
Posted 18:22 13th February 2012
Russell Johnson says...
Phil all good stuff - anything that creates interest and gets people talking is great! I was wondering if there were any stats on the relationship between the number of penalties and where they are given and the results of matches?
Posted 08:20 12th February 2012
Martin Crowder says...
Can we please abandon the 'Margin Meter' now. It is the most irritating and useless piece of equipment ever introduced into the area of sports commentary. Not only does it achieve absolutely nothing but one of the great delights of competitive sport is it's unpredictability. Why then have a machine, which deals only in statistics, with the sole purpose of attempting to undo all that unpredictability? We have expert commentators and summarisers for that. Almost as annoying as Warrington's camouflage kit and Eddie Hemmings!
Posted 19:16 11th February 2012
Alan Weekes says...
Margin Meter. Your making rugby league look like 'it's a knock out'. Cheap, stupid and exactly what the other code want to see. Its pathetic, please get rid of it.
Posted 21:39 10th February 2012
Tom Clough says...
I just cant get on board with this. Is it not just giving out the idea to people that our sport is predicatable, and we can guess the result using a mathematical formula rather than battling on the field? Whiule I agrree that it's important to be innovative and creative, this is one of the worst ideas I've ever seen. A friend of mine is a football (soccer) fan, and I finally tempted him to give Super League a go this year... he said he enjoyed the match but still got a chuckle from the "Margin Meter", telling him in all its wisdom that the team with the most points at any stage in a match is likely to go on and win the game. But as soon as the other team take the lead, it miraculously changes to predict them winning instead! Sorry Phil, but I could have told you that the team with the most points will win the match, without using any fancy formula. The beauty of our sport is its unpredicictability, the very nature of the game means that the result can't be predicted, shown by how the margin meter didn't get it right once. By all means, show us which team has the momentum at the moment in case we can't already see, but I don't want to see (inaccurate) score predictions. Having said that, it'd be worse if it was accurate all the time! Good effort, and keep trying with the innovation, but this gets a big thumbs down from me.
Posted 13:33 9th February 2012
Craig O'donnell says...
Hi Phil Re: Margin Meter I support your innovative ways to try and engage more with the Super League audience and over the course of the opening weekend of Super League 2012 I have been an advocate for the margin meter among many sceptical others. I have but one suggestion regarding the margin meter - change the graphic representation. Make it more team specific. An idea of mine would be to use images of the team mascots. For example, using the Hull derby as an example. If the margin meter is predicting an HFC victory over HKR by, say 14 points - why not display this by having the Airlie Bird stood over Rufus the Robin, one foot on his chest, holding a board that says "+14", while Rufus cries. Make the animations more fun and ensure they are different each time. I'm sure the graphics team can sort this out. This would engage more, especially with the younger audience, and would support the 'element of fun' Keep up the good work - CraigO
Posted 14:18 6th February 2012
Trevor Fuller says...
Hi Phil, Happy New Year! & Happy New SL-XVII Season! I think this article is an extremely interesting topic to deliberate on further; & furthermore, it will almost certainly yield dividends for people who'll take the time & trouble to trawl, sieve & collate through the numbers & stats of RL games & arrange this information gleaned into readable patterns & recurring meaningful formats! It's more or less the same system in any successful business or institution that desires to know & analyze the whos, whats, whens, wheres, hows, how manys/oftens & why things work or don't work on & even sometimes off the playing pitch, as well! Somewhere, somehow, Phil, as you're doubtless aware, things are always to be found in the figures! if you only know how to read into them & later learn how this data can be applied in practical terms! I for one, will follow this story with interest regarding its future developments, because it is almost certainly the way to go for the future! By the way, 'Happy Scribblings in 2012!'
Posted 16:39 3rd February 2012