When Jean Pascal and Bernard Hopkins fought last December in Montreal, the fight ended in somewhat controversial fashion when it was declared a draw.
Hopkins found himself on the canvas twice in the first and third rounds but came back to win most of the last two thirds of the bout.
One judge scored it 114-112 for Hopkins but the other two judges had it 113-113 and 114-114. Hopkins looked like the winner that night but it was close, especially with Pascal getting the extra points for the knockdowns.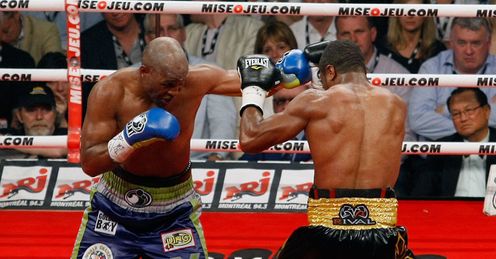 Pascal slowed after having the old veteran down twice so he had to be better prepared for a long fight this time around.
Hopkins had come on strong in the fight and had also avenged some of his losses. Pascal's only loss to date was to England's Carl Froch in December 2008 at super middleweight.
Rematch
Their rematch this weekend also took place in Pascal's hometown of Montreal. Hopkins was 45 and 11 months in their first fight and just turned 46 in January so if he won this fight he would have the chance, once again, to become the oldest champion in history beating George Foreman's record of being 45 and almost 11 months old when he became champion.
Hopkins landed a quick right to his opponent's head in the ninth and Pascal's glove touched the canvas but the referee didn't call it or count it as a knockdown.
Wayne McCullough
Quotes of the week
There were 17,560 fans in attendance for their rematch at the Bell Center and they all seemed to be cheering for Pascal. Hopkins came out as the aggressor as Pascal used the ring just like last time.
Very few punches were thrown in the first round but Hopkins landed the better shots. He used his jab well but got caught with a right and left to the head at the end of the round that swayed the round in Pascal's favour.
It was clear to see right away that Hopkins had made an adjustment this time around by being patient instead of rushing in. They threw 45 punches between them in the first, 34 by Pascal and 11 from Hopkins.
Pascal hadn't changed his game-plan at all. He was looking for one big shot instead of picking his shots and trying to counter Hopkins, the counterpuncher. Hopkins lost the first few rounds but his plan of taking his time was working. The pace was slow but that suited him.
Working
A big overhand right from Hopkins landed on Pascal's chin in the third round, hurting him but Hopkins took his time and didn't rush in. Hopkins was throwing quick punches near the end of the rounds trying to steal them and it seemed to be working.
Pascal stood his ground more in the fourth as his opponent tried to jab and move. He connected with a hard overhand right to Hopkins' chin, hurting him. It was his best punch so far in the fight but he didn't throw a combination afterwards. He was having a little success with his wide one punch attempts but he wasn't throwing enough follow up shots.
Pascal needed to learn how to throw and catch a jab as Hopkins landed his at will. He Pascal tiring and by the sixth round I had it even. The referee, England's Ian John Lewis, was doing a great job keeping them from clinching too much but Hopkins did get away with hitting Pascal a kidney punch and thumbing him in the eye in the sixth.
Going into the seventh, while waiting for Pascal to get off his stool, Hopkins dropped to the canvas and did some push ups.
A left jab and a clubbing right landed for Hopkins in the 7th. He was in control of this slow paced fight and he was able to land rights to Pascal's head regularly.
Knockdown
Pascal was swinging for the big shot but wasn't getting it.
Hopkins landed a quick right to his opponent's head in the ninth and Pascal's glove touched the canvas but the referee didn't call it or count it as a knockdown.
The same thing happened when I fought Hamed in the third round. I landed a left hook to his head and his glove touched the canvas but a knockdown wasn't called. The rules state if a punch lands and a glove touches the canvas, it should be called a knockdown. It would have been the first knockdown of Pascal's career.
The action was slow in rounds eight through 10 with Hopkins taking those rounds at least on my card. Going into the final three rounds, Pascal needed a knockout. Hopkins landed a right to Pascal's head and again his glove touched down.
He was slipping a lot on the canvas at this point and he looked exhausted. He tried to get some combinations going in the 11th round but Hopkins did a good job of holding and tying him up. Pascal pushed at the end of the round which was working but he should have done this earlier in the fight.
Hopkins moved around in the last round and just as he threw a right and left he got caught by a hard, accurate right hook to his chin rocking and hurting him. It looked like Pascal may just pull it off and get the win but Hopkins quickly recovered and moved, staying away until the bell to end the fight.
Hopkins was awarded the victory in a close fight and made history as the older legitimate world boxing champion. He picked up the WBC light heavyweight belt along with the IBO and RING titles.
The judges scored the fight 115-113, 116-112 and 115-114 all for Hopkins. I had it 115-113, also for Hopkins.
Hopkins wants to fight Chad Dawson next, then Lucian Bute and predicted he won't retire until he's close to 50 years old.
Post to your View!
Be the first to post a comment on this story