Juan Manuel Marquez might have a superfight with Manny Pacquiao planned for November 12, but on Saturday he took a 'keep busy fight' in Mexico against unknown Colombian, Likar Ramos in a light welterweight contest.
Marquez weighed in at 138 lbs - not the heaviest he has ever fought at. Back in 2009 he took on Floyd Mayweather Jnr weighing 147 lbs, but there is little doubt that he is more of a lightweight, and he will be fighting Pacquiao at a catch weight of 144 lbs.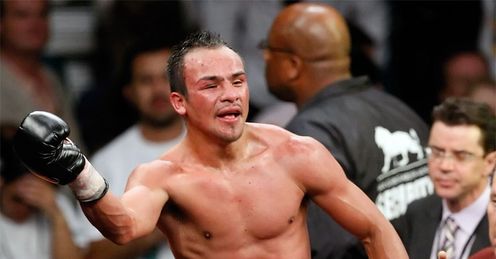 The Mexican has tended to fight at super bantamweight or higher throughout his career but has fought out of his weight class before for the big fights.
The fight against Ramos was a complete mismatch. He had a good record of 24 wins out of 27 fights with 18 wins by KO, but this was only his second fight out of Columbia.
The first time was when he fought Jorge Solis in February 2010 and was knocked out. He had three wins before this fight against fighters with lopsided records which showed the calibre of his previous competition.
This was definitely a safe fight for Marquez to remove any ring rust, but how much of that rust will be gone since the fight was over so early?
Wayne McCullough
Quotes of the week
Ramos was also a lighter guy coming up having fought around 130 lbs and he came into the fight looking chunky and not in any type of fight shape.
Marquez hadn't fought since his win over Michael Katsidis last November so he probably needed to have a fight in between.
Knockout
Ramos, who surprisingly once held an Interim world belt at 130 lbs, landed some right jabs and lefts but didn't look like he was in the fight to win. At about the one minute 47 second mark, Marquez threw a left hook and a straight right at his opponent's chin, putting him down and out. Ramos lay stiff on the floor with his eyes closed. It did not look like a knockout punch but maybe it caught him on the right spot.
Marquez got a KO win and is now looking forward to his trilogy bout with Pacquiao after fighting to a draw in May 2004 at featherweight and losing in March 2008 as a super featherweight.
This was definitely a safe fight for Marquez to remove any ring rust, but how much of that rust will be gone since the fight was over so early? The only resemblance Ramos had to Pacquiao was that he was a southpaw but he didn't stand or move the same way and didn't even come close to his fighting style.
Maybe it was good that Marquez got this one over quickly as all we got to see was his punch power. He didn't get injured which is a good thing but he will have to pack on a few pounds for his big fight later this year and hopefully there won't be any controversy like their last two encounters.
Comments (7)
Kenny Mcdowell says...
Great article Wayne your right in what you say in in being a mismatch and it's not really great preparation for marquez in November with the bout having been so short lived.
Posted 12:26 19th July 2011
Robert Carlin says...
Great article as always Wayne! I think Marquez proably believed Ramos would have given him a tougher fight but the early KO will serve as a confidence builder for Marquez. Both fights with Pacman could have gone to Marquez as they were so close. I can't wait for number three but I think Pacman is far more comfortable at the higher weight as you stated and that will work out in his favour. Keep up the good work Wayne!
Posted 10:40 19th July 2011
Monir Mia says...
To people who dont know...Pac vs Cotto was a real fight, the first 4 rounds were amazing. Pacman had a broken ear drum. Im not sure on this fight...I still think Marquez is elusive enough to slip Pacs left but wot about his right hook? Pacman should be able to walk through him as he's fought big men like Clottey and margarito...but I think Pacman knows the danger with Marquez is him timing him coming in. I hope manny destroys him though...I think it will be a good fight...but Mayweather-Ortiz should be even better.
Posted 10:39 19th July 2011
Gregg Ritchie says...
Undoubtedly Marquez has ability however I fear for him against Pacman. Mannys speed, accuracy and workrate will be the difference and once again Manny will win convincingly!!
Posted 10:25 19th July 2011
Bruce Ginge says...
Apart from the Knockdowns Marquez won the first fight. The second was close. I think Pacman has improved too much since the first fight and will win this fight. It will still be a better fight than the Pacman v Mosley or Cotto fights were. Marquez is a true warrior.
Posted 08:59 19th July 2011
Dave Murphy says...
Great article , with precise coments and actual facts , written by an ex pro , who's in depth knowledge of the fight game says it how it is . Interesting read by Wayne McCullough
Posted 08:18 19th July 2011
Steve Weitzner says...
No surprise here that he KO'd him in the 1st.
Posted 08:08 19th July 2011