David Diaz is a former world title holder at lightweight.
He lost his belt to Manny Pacquiao by stoppage in June 2008 after having defeated Erik Morales in August 2007. He is hoping to get himself back in line for another world title challenge.
Diaz has three losses out of 40 fights with his last loss coming in March 2010 to Humberto Soto. He has won one fight since.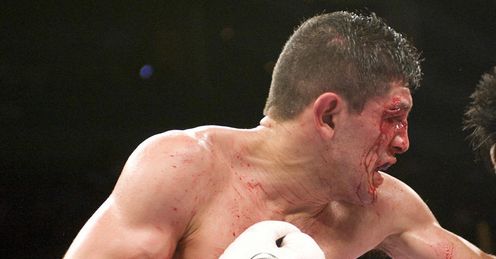 On Saturday he fought Henry Lundy in Hammond, Indiana, on Friday Night Fights. With a record of 20-1-1 Lundy's only loss was to John Molina in 2010 in the 11th round. He was well ahead on the scorecards at the time of the stoppage so it was a setback for him.
The current king of the lightweight division is Juan Manuel Marquez who is set to face Pacquiao for a third time in November for the WBO welterweight title.
This was the biggest win of Henry Lundy's career. David Diaz now has to decide what the future holds for him in a boxing ring.
Wayne McCullough
Quotes of the week
Diaz, a southpaw and 1996 Olympian, came out to force his pace on the younger Lundy. He barely won his last fight so maybe he had shown signs of being done.
Lundy had won two fights in a row, both pretty convincingly. Even though Diaz was pushing forward, it was Lundy who was landing left and right uppercuts in the first.
Diaz had a good second round landing his own right jabs but then at the end of the session, a left to the head of Diaz wobbled his legs before the bell rang. Lundy came out in the third but didn't go for the finish - he was too busy switching stances rather than throwing shots.
In the fourth round a right hook and a left to Lundy's head had him on the canvas. He got up and Diaz went for it, landing hook after hook that left his man cut over his right eye. This was a big round for Diaz but to me, it looked like he may have punched himself out.
Lundy stepped things up in the fifth landing long looping hooks to his opponent's head as blood poured out of the cut on his own right eye. The ringside physician looked at the wound with about a minute left in the round but allowed him to continue.
Dropping
The end came in the sixth when Diaz threw his right jab. Lundy caught him on the head with a straight left dropping him and the referee stopped it immediately. This was the biggest win of Lundy's career. Diaz now has to decide what the future holds for him in a boxing ring.
These guys put on a great show, but it is Lundy who moves on to bigger fights at lightweight.
Also on the card was 2007 World Amateur Champion and 2008 Olympian Demetrius Andrade who took on Season Two Contender champion Grady Brewer. This was a step up for the 13-0 Andrade and an opportunity for the 40-year-old Brewer.
Andrade won almost every one of their 10-round fight to get a points win over Brewer but I think his transition to the professional ranks after 14 wins hasn't really changed him into a solid pro fighter.
He can box well and has good defensive skills but sometimes he switches off and just seems to go through the motions instead of getting rid of the person in front of him.
He needs to show the fight world that he can be a world champion in the paid ranks the same way he did as an amateur.
Comments (1)
Steve Anderson says...
After this loss it seems like Diaz needs to think about his health rather than another fight. Too many boxers yet to recapture their glory days or try for another Big fight when they should admit that time catches up on everybody. Yet another great article Wayne . IHOW
Posted 18:40 22nd August 2011