Under normal circumstances you'd look at this tie and make Chelsea overwhelming favourites - but the way things have been going for them of late, it could prove to be a tricky draw.
The reason for Chelsea's stuttering from is quite obvious: a lack of confidence in each other. Self doubt has crept into their game.
When you're struggling, everything goes against you. You can be a goal up and looking comfortable, and then as the match draws to a close, the opposition gets a set-piece and you begin to fear - and that's exactly what happened against Everton in the FA Cup.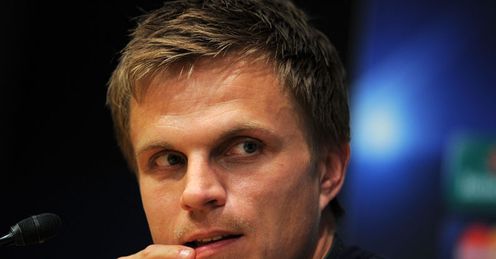 But the Champions League, in all likelihood, is their only chance of silverware this season and you would expect them to be really fired up for this game.
We know it's Roman Abramovich's holy grail and if his club win it, it will bring him so much kudos in the business world. Chelsea have reached the semi-finals of this competition five times in the last seven years and everyone at the club is determined to get their hands on the trophy.
Copenhagen's ground, the Parken Stadium, is very tight and as the Danes loves English football I'm expecting a vociferous crowd. I've seen their other games and the passion is intense, my goodness they make some racket!
Phil Thompson
Quotes of the week
LIVE ON SKY SPORTS
UEFA Champions League
FC Copenhagen v Chelsea
7.00pm, Tues, Sky Sports HD2 & 2
Lyon v Real Madrid
7.30pm, Tues, Sky Sports HD4 & 4
Inter Milan v Bayern Munich
7.00pm, Wed, Sky Sports HD2 & 2
Of course, they won't be helped by the rumours about Carlo Ancelotti possibly getting the sack, which intensified in Monday's newspapers.
Players should be able to get on with their jobs but when these stories surface consistently, they do take note. They'll either be in the Ancelotti camp or not. That creates divides and is not great for team morale.
I think Ancelotti will want to make a real statement of intent in Copenhagen and secure a confidence-boosting win. Therefore, I could possibly see him playing Fernando Torres, Nicolas Anelka and Didier Drogba from the start.
Copenhagen may be a bit rusty - they don't start their Danish league campaign until next month - so maybe Ancelotti will look at it and think this is a game where his three "star" strikers can perform as a unit. If it were me, though, I would go with two up front and a flatter midfield, with Drogba the man to miss out.
Unbeaten
Copenhagen will be a really tough nut to crack. They are unbeaten at home in the Champions League this term, beating Rubin Kazan and Panathinaikos, and getting a great draw with Barcelona.
Their ground, the Parken Stadium, is very tight and as the Danes loves English football I'm expecting a vociferous crowd. I've seen their other games and the passion is intense, my goodness they make some racket! It will certainly be a warm welcome for Chelsea
And much like Shakhtar Donetsk did against an out-of-sorts Roma last week, Copenhagen may be able to smell Chelsea's fear and capitalise on it. They are polishing off their pre-season at the moment, but you could make the argument that they will be fresher than Chelsea - for the first half at least! It will be like somebody has wound them up and let them go in the early stages; they just have to be careful they don't run too much.
Ancelotti has paid credit to Copenhagen's dynamism, but they do have someone who could turn the game, ex-Chelsea man Jesper Gronkjaer.
He was enigmatic during his time in England but usually the bigger the game, the better he performed. He is expected to start in the hole behind lone striker Dame N'Doye, and will be looking to get on the ball and make things happen. He's still got a bit of pace and that ability to drag the ball past a defender.
Of course, let's not forget that he played a vital role in Chelsea's success over the last few years. He scored the goal against Liverpool on the final day of the 2002/03 season to get them in the Champions League, and that seemingly persuaded Abramovich to take control of the club.
Everyone in football knew how bad the money issues were; they could have gone into administration, so if Gronkjaer hadn't scored that goal, who knows how far they might have fallen? They are the margins you deal with in football.
So it would be quite ironic that a player who made Chelsea's rise possible, could put a nail in the coffin of both Chelsea's Champions League hopes - and their manager's job.
THOMMO'S VERDICT: I think this game will end in a draw. Chelsea are going to be overworked early on because Copenhagen will come flying out of the traps, but Ancelotti's side should be able to deal with that and as long as they're not behind at half time, they could be the dominant force afterwards.
They haven't been very fluent up front of late, though, so I'm not sure they will trouble the scoring themselves. I can see a 0-0 draw, which won't be that inspiring on Chelsea's part but will put them firmly in control of the tie ahead of the second leg at Stamford Bridge.
Comments (8)
David Hopkin (Arsenal fan) says...
HAs anybody seen Anelka play recently......Drop him and lay off Drog and Fernando as thats the way forward with a flat 4 man midfield
Posted 15:06 22nd February 2011
James Middleton (Chelsea fan) says...
i agree with you steve wright cause they are just out of form and we didn't want to have the champo league fa cup and the prem on our backs do we. so the players will really go for it this season in the champo league. 2-0 chelsea (torres and lampard)!
Posted 14:59 22nd February 2011
Davids Chief (Manchester United fan) says...
if Chelsea should win the first leg then it would be a miracle neither will they draw.
Posted 14:42 22nd February 2011
Brendan Cosgrave (Aston Villa fan) says...
Chelsea are having a nightmare at the moment . There too chiefs and over grown ego's pulling in different directions. I disagree with you Phii on this one, I think the dutch will win at home and draw away.
Posted 12:55 22nd February 2011
Chris Power (Chelsea fan) says...
Gronk 0 Chelsea 3 no worries...
Posted 09:10 22nd February 2011
Steve Wright (Chelsea) (Chelsea fan) says...
NO they wont,this is the trophy they bought torres for,he's up for it,drogba etc are up for it.youll see a different chelsea to the one of late....on form i dont fear anyone in europe,and that form could come back at any time.
Posted 18:35 21st February 2011
Tim Luvjoy (Chelsea fan) says...
I am a Chelsea fan but i cant see us getting past Copenhagen.. I hope they make me eat my words, but we are serious void of confidence its hard to see how or when we'll start getting past teams. Everyone seems to have worked us out and clearly we dont have a plan B.. Also, Ancelotti needs to stop giving the opposition ammunition...comments like ''Chelsea will not go out against Copenhagen'' will hardly make the Danes hand the tie to us.. He did exact same thing against Wolves and we all know what happened there! Sad to say but this is where we head out of the Champion League. 1-0 tomorrow to the Danes, and they'll hold off for a score draw at the Bridge..
Posted 17:15 21st February 2011
Kola Rinton (Barcelona fan) says...
Karma, I guess thats what happens when you fire your best coach, players. They come back and hunt to you down.
Posted 17:13 21st February 2011