All eyes will be Taunton at the end of this week with very good reason.
India are always a great draw in this country and this summer's tour, which gets underway against Somerset on Friday, will be no exception.
Quite simply, Test cricket's best side will come up against the team that dreams of sitting top of the pile - England - and it should be a cracking four-Test series.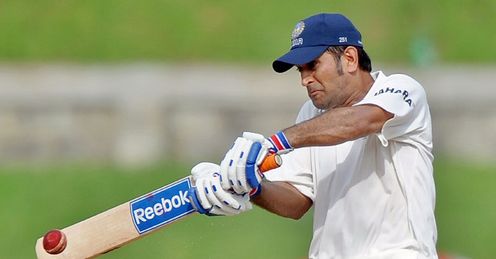 Over the coming days we will get plenty of early pointers about how the summer will unfold but for now here is how I think the sides stack up ahead of next week's first Test at Lord's.
Captaincy
Mahendra Singh Dhoni is an absolute cricketing superstar in my eyes - it's virtually impossible to fault him. He has mastered batting, captaincy and keeping wicket in all forms of the game which makes him pretty unique as a cricketer.
Strauss' batting form has dipped recently and everyone is awaiting his contest with Zaheer Khan with baited breath.
Bob Willis
Quotes of the week
LIVE ON SKY SPORTS
England v India
First Test, Lord's
10am, Thu, Sky Sports HD1
Watch online with
Sky Player
How to
remote record
Moreover, he has succeeded in stamping his imprint on the side since becoming captain in 2007/08 - even though there are plenty of egos and multimillionaires in the team - growing into the role almost effortlessly.
Similarly, Andrew Strauss has the ultimate respect of all his players after leading England to back-to-back Ashes series wins; his captaincy has definitely improved as time has progressed but his decision to retire from 50-over cricket is a huge error on his part because it will splinter his authority within the group.
His batting form has dipped recently and everyone is awaiting his contest with Zaheer Khan with baited breath. Verdict: Dhoni delivers more on this score.
Batting
India's array of talent at Lord's will be astonishing even if Virender Sehwag, who is still recovering from shoulder surgery, misses out.
Incredibly, Sachin Tendulkar is getting better with age, while Rahul Dravid, VVS Laxman and Yuvraj Singh - to name but three - will be tremendously difficult to dismiss twice. England must capitalise on any favourable pitches and atmospheric conditions to make deep in-roads.
It's incredible to think that someone like Virat Kohli, who was a revelation during the World Cup - completely unselfish and playing for the team - can't even make the squad while someone of Suresh Raina's quality may not get into the side.
There are more question marks against England in this department - Strauss is struggling, while Kevin Pietersen's career is coming to a crossroads; he's nothing like the Viv Richards or Brian Lara we thought he could be when he burst on the scene. But Alastair Cook is in the form of his life, Ian Bell and Jonathan Trott are run-hungry and Eoin Morgan is growing into the side very nicely.
The selectors got that one right. Morgan is clearly a guy with special talent and temperament; they put him above Ravi Bopara on those criteria. Verdict: India are simply the best in the world.
Seam bowling
Even with Zaheer Khan (man-of-the-series back in 2007) on board, India's attack is not world-class.
Ishant Sharma bowled well in the Caribbean but that was against a poor West Indies team, while the feisty Sreesanth must find greater consistency even though he is a better five-day bowler than one-day bowler. They have much to prove because they are far less experienced in English conditions.
I always think that counts against bowlers. Rarely do you see bowlers who haven't had a lot of experience in England coming over here and doing particularly well.
On form James Anderson, Chris Tremlett and Tim Bresnan should probably be England's frontline three at Lord's but I'm still a big Steven Finn fan.
Finn picked up wickets in the Lord's Test against Sri Lanka without bowling very well; I'm sure that he will have learnt from that experience.
If everyone is fit I would put both Bresnan and Finn above Broad, who hasn't really produced anything for over a year - partly due to those injuries in the Ashes and the World Cup. It's just not happening for him at the moment.
He needs to reappraise his bowling. He and the England management have got to decide what type of job he is going to do for England; they've always thought of him as an aggressive opening bowler but he's certainly no Michael Holding!
Now Tremlett is getting the ball to bounce off a length, they don't need Broad haemorrhaging runs with the new ball at the start of an innings. I think a spell out of the side would actually do him some good. Verdict: England have the edge.
Spin bowling
Harbhajan Singh may have 400 Test wickets but I rate Graeme Swann as a better bowler. I don't foresee see a scenario where either side will select a second spinner - both sides like depth in their batting too much - so it will be a straight shoot-out between these two. Verdict: Swann will rise to the challenge.
Overall verdict
Bat will dominate ball for much of this series so we may only see one or two results. England may be able to exploit India's seamers to a greater degree than vice versa, but I predict that the sides will end up winning one Test apiece.
Comments (7)
Samuel Mayer says...
To be fair I think India are slightly the better side overall, and in my opinion probably the best side in the world, at this current time.Whilst I don't think that India are leagues ahead of England with the bat, they do certainly have the slight edge in this department.Bowling wise I have the honours roughly even,for me,I beleive England should play Bresnan over Broad, he seems to be improving all the time, and could end up a potent strike bowler for England.In conclusion, I would say India are slightly the better side, but with England on there home turf and knowing the conditions better, I think it will be a very close, and very entertaining cricket series indeed.
Posted 17:15 17th July 2011
George Staples says...
Yes Bob I agree, especially about Broad. He should be dropped and told to go away and get some county wickets as well as re appraise his technique. But that won't happen, he Will be in the squad and he will almost cetainly play. His is a political selection regardless of form. The seklectors are England's achilles heel. Along with Broad, they will select Prior, whose poor glovework and inconsistent batting will count for nothing, as he is another of the favoured few and will olay. Kiueswetter, Davis and Bairstow deserve recognition. There will be no variation in the fast bowling, Shahzad would provide that. Where is Rashid, a fine leg spinner, excellent fielder and he can bat? These selectors live in the past. The coaches are NOT doing any good work, or Prior and Anderson would improve. Perhaps the weather will save England or some other excuse offered by Messrs Miller, Flower and Strauss. Dream on England! George
Posted 11:18 17th July 2011
Gary Bolton says...
I can't see this series finishing 3-1, no matter how much we want it to be full of results, both teams have a fantastic batting line up, with India strong at the top, and perhaps England having the edge at 7,8,9, with a tail that has really prove to "wag" in test cricket. Also the weather will play a part, but I can see the series going 1-0 either way, or possibly 1-1 as Bob says. Come on England!!
Posted 07:49 17th July 2011
Michael Dexter says...
I have to agree with Mat, mostly. Yes we should produce pitches that suit our bowlers, just as they do everywhere else. I am also in favour of leaving out Broad for at least the first and maybe the second Tests, if not the series. I have to also agree that KP needs a massive series, or he could be shown the door very soon. I would also think about bringing in Keiswetter for Prior, maybe for the last game. I think he is going to be a better keeper and run getter than Prior. The series score - Tests 2-1 England ODI and T20 - England will be whitewashed.
Posted 23:43 16th July 2011
John Baker says...
Bob enjoy and respect your matter of fact analysis. You briefly touch on the early batting order. the other day Sir Ian remarked of his surprise that Peterson had not hit a test hundred since 2007. What concerns me is the messages being sent to Peterson and other players who will not be bleary eyed as to the fact that he has not delivered consistently and when it mattered for some time. Other players, Bell, Bopara and even Trott have all been judged on each game. Bell particularly is being played out of position (odis and test) without any regard to his batting skills etc.. Messrs Flowers Gooch should look out of the box and learn from others and their handling of players such as Tendulkar Dravid Ponting Clarke Dilshan etc and to remind Graham Gooch of earlier in his career. In otherwords Ian Bell is not a number 6/7 skill batter in any form of cricket. Finally, what are they doing with bowling selections. Tremlett and Finn who have been doing the business are discarded for Broad and Dernbach. Broad and the selectors requiring a rethink on what his role is and Dernbach as yet too much of the same slow ball deliveries. Keep pushing the logic button.
Posted 15:00 16th July 2011
Abhinav Misra says...
This is a first rate article by a non biased ex cricketer. Bob you are comparisons are all logical perhaps with the only exception of the harbhajan vs swann verdict in which i think you didnt give a reason for your liking swann more . But i think its to do with him being an old school english spinner who gives it air and bowls slow but 400 wickets is no mean debt with the amount of criticism he comes under .But kudos you arent an overconfident like the rest of your sky sports mates.
Posted 22:31 15th July 2011
Mat Richards says...
England need to win 2-0 or better to be number 1 and there will never be a better chance to do it, but it all comes down to the ECB and the pitches that are produced and the England bowlers and the overrates they have, If England produce 4 pitches that arent flat slow corropate batting wickets which will end up in in 5 daysof batsman in charge (just to gurnatee 5 days of sales) then i cant see how England can win 2 tests. BUT as England are at home they should be producing bowling friendly pitches with pace and bounce which almost asure 4 results as England must win this series if they have any real intentions of getting to number 1 in the world and they have the best bowling unit of the 2 so they should back themselves to get 20wickets for less then the Indian bowlers Overrates will be key as well in this series as getting 20 wickets for wont be easy for either side, England cant afford to keep bowling at between 12-13 overs an hour because they will carry on losing between 8-10 overs a day and if you do that over 5 days you are looking at 40-50overs in a test match and at the end of any test match that amount of overs is a massive difference England if you get the decent test match result pitches and can get your overrate up at 15-16 then we have a cracking chance of winning this series and winning it in style. England 3-1 i hope, but i feel MONEY will be key in this series and none of these pitches will be like the one at the rose bowl last month and there all be friendly batting wickets and the series will end up a boring 0-0 draw stalemate with the batsmen killing each game with 500 each. Sadly, just like how test match cricket is dying worldwide
Posted 18:45 14th July 2011