Yorkshire Day rather passed me by, but never mind - the 40th anniversary of one of the most iconic games in Lancashire's history is here.
The three-wicket Gillette Cup semi-final win over Gloucestershire in 1971 is still one of the most influential and memorable days in the club's history.
You know the one - it finished in the dark. There must have been 24,000 or so rammed into Old Trafford as we chased down 230.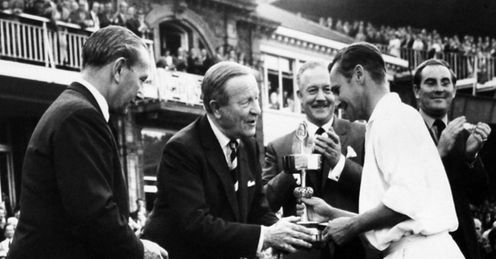 The match was effectively won when David Hughes, in the gloom, hit John Mortimore for 24 in an over.
We'd been offered the light before then but our captain, Jack Bond, opted to stay on. To this day, I think that's the best decision ever made in one-day cricket.
To mark the occasion, Lancashire have organised a celebratory dinner. There's just one problem - they haven't invited the players who took part!
Sachin Tendulkar and Rahul Dravid are head and shoulders above the rest. Those two play a different game to some of the others, who look like rabbits in the headlights. One or two have really been found wanting.
David Lloyd
Quotes of the week
LIVE ON SKY SPORTS
Friends Life T20 quarter-finals
Leicestershire v Kent
4.30pm, Sat, Sky Sports HD3
Nottinghamshire v Somerset
1.30pm, Sun, Sky Sports HD2
Hampshire v Durham
5.00pm, Sun, Sky Sports HD2
Sussex v Lancashire
6.30pm, Mon, Sky Sports HD1
Watch on the move with
Sky Go
How to
remote record
To my mind this should be a massive occasion. I would expect to fill The Point and make it a most memorable day but it seems it will be a very low-key affair. I find it all a bit embarrassing.
I've nothing against Dickie Bird - and he was one of the umpires that day (Arthur Jepson was the other) - but why is he the chief guest? Surely that should be Jack?
Never mind, I'll find something else to do.
Short
It's the Friends Life T20 quarter-finals this week, so I'm off to Leicester before returning to Trent Bridge - the scene of England's second Test win over India on Monday.
As the match finished in four days, we didn't have enough evenings out to complete the modern pentath-naan so this set of results has been declared null and void. Everyone was quite philosophical about it and we'll start all over again in Edgbaston.
Since that defeat things have gone from bad to worse for India, with Harbhajan Singh and Yuvraj Singh ruled out of the remainder of the series.
I thought Harbhajan would be a really big player this summer, but it hasn't turned out that way and India are very firmly coming off second best.
England are fitter and stronger and India have found it really difficult to cope. Quite simply, they have been found wanting.
If you listen to their pundits and ex-players, they say the problem is the old Achilles heel - the players can't play the short ball.
Sachin Tendulkar and Rahul Dravid are the exceptions - they are head and shoulders above the rest. Those two play a different game to some of the others, who look like rabbits in the headlights. One or two have really been found wanting.
The evidence is there for all to see that this is a team that is very at home on flat tracks but struggles in more awkward conditions.
Tendulkar and Dravid are world-class because they can cope with any conditions anywhere in the world - much as Sunil Gavaskar could.
Some Indian fans seem to be pinning their hopes on the return of Virender Sehwag - but what has he been doing? Has he played any cricket recently? How's he doing in the nets?
India still have issues with Zaheer Khan; even if he is declared fit, do they really want to go into a Test match with a four-man attack? It seems a bit risky to me.
I can see 4-0 coming up, to be honest.
Moved
In other news, I'm battling with my golf. I played yesterday and was rubbish.
The good news is I've got a new trolley - one of these new-fangled electric ones. It was last seen disappearing into a bush...
I'm on a health kick at the moment so after I'd finished my round I made sure I had some mushy peas with my fish and chips.
On the home front, the cast iron seat, which takes a team of navvies to shift, has been moved once again at Mrs Lloyd's behest.
At least after all that worry last week she's happy with the colour of the garage door - although these things do tend to change...
Comments (14)
Jim Taylor says...
it would be great to see if Cook or any other England batsmen score an innings of 400 or 500 , as this Indian team bowlers have struggled even against a 2nd eleven county side as they did against North Hants
Posted 12:58 12th August 2011
Barry Davis says...
I was at that semi-final in 1971. I remember the jammed in crowd and the sense of something special brewing as the light began to fade. It felt like the day might never end. Magic!
Posted 20:02 11th August 2011
Ram Babu says...
bumble comments were honest and graceful....but as an indian and a cricket fan.i believe this series is over but the question can india bounce back.it is difficult and i expect india to fight..but bumble predicts 4-0 whitewash.i think it is only come dream....my prediction eng 3- ind 0.one wil end in a draw.....if england do come top spot i ithink they can last for a long not even like india more than one year
Posted 11:18 10th August 2011
Paul Mokler says...
Many thanks for coming to Leominster last night, Bumble, with Peter Hayter, and giving your services free of charge. It was a terrific evening and everyone enjoyed it. I would imagine a great deal of money was raised for a very worthy cause. Thanks for signing two books for me, too. Hope to see you at Edgbaston at T20 Finals Day.
Posted 08:11 10th August 2011
Gordon Mccullough says...
Bit of Trivia for you Bumble. Young Jordan Clarke who has broken onto the scene for Lancashire this year is the brother of Graeme Clarke who is part of the Durham Academy set up and there is another brother Darren who played minor counties cricket for Cumbria. Father Ian has been a stalwart of Cleator First X1 for many many years in the North Lancs Premier Division (NB He scored a century this year for Cumbria over 50's against Yorkshire over 50's last month) and it was a proud day for him when all 3 sons and himself represented Cleator first team last season, before going their seperate ways. GMcC
Posted 16:42 9th August 2011
Philp Roberts says...
Even though your from the wrong side of the Pennines you are still a first class hero David and best commentator to grace sky sports. Even better than Kammy!
Posted 21:49 7th August 2011
Chris Orme says...
I was there at the Lancashire Luncheon on Friday and I can reassure Bumble that Jack Bond was there and he stole the show. Fair play to Lancashire and the MC for the event John Gwynne as although Dickie Bird was there, Jack Bond was treated as the Star Attraction. His anecdotes were amazing and honestly, Dickie didn't really get much of a word which I thought was the right thing to do.
Posted 15:53 7th August 2011
Brendan Regan says...
India have come to this country poorly prepared, physically they are a bad example of a team, with too much T20 cricket on flat tracks. Dhoni has always had poor technique and has been found out, with gloves and ball and has a lot of work to do, I believe this team is too old and needs a makeover quickly. Sachin and Dravid apart a lot of work needs doing. Sachin I believe is the greatest ever Batsman that has played the game and is a king, I think he should be knighted, and made Chairman of a new world players organisation to give players a voice at the top table, to stop ridiculous situations like DRS happening.
Posted 08:42 6th August 2011
Steven Cundy says...
On the T20 Bumble I am really looking forward to the games this weekend but I think an effort should be made to put on sale the tickets after the results. As a Worcestershire fan living in Birmingham I brought tickets at Edgbaston for Finals Day and they have been promoting it for months. I do feel sorry for fans of say Hampshire who may get through though as they will have to spend a small fortune from over priced ticket touts. They are nearly sold out already.
Posted 07:38 6th August 2011
Martin Hicks says...
I remember that great Lancashire era and as a Gloucestershire fan that match in particular. What happened to Harry Pilling - do you still carry him in your pocket? Going back even earlier my hero growing up was Geoff Pullar. I only saw him live once at the Oval - he was out for 13. The Lancashire game that I remember best is a later era when Aravinda da Silva almost spoilt Lancashire's final.
Posted 12:08 5th August 2011
Andrew Wilkinson says...
I agree with 'Bumble' I was only 11 and went with my dad to the game. I always remember as my seat was on the grass, Mike Procter seemingly catching a certain 6, until his legs miraculously where snatched from under him, maybe grabbing Lancashire fans? Jackie Bond and that Lancashire side where pioneers in the one day game and he should right up at the top of any list. As for India and England, after watching cricket and England all over the world, finally I can enjoy our brilliant side, so they could turn up with anyone they like, we will still be number one come September.
Posted 09:44 5th August 2011
David Waterworth says...
rather short sighted of Lancashire CC not to invite the players to the occasion especially as one of the players in that match, Jack Simmons, is now one of the senior men at the County. If my memory serves me well, the year after this game we played them again in a limited overs match under similar conditions and we won again, am I correct Bumble?
Posted 22:06 4th August 2011
John Taylor says...
Can't believe LCCC have been so senseless but after ECB forgetting you last week we shouldn't be so surprised!! It was a truly memorable match in a memorable period for Lancs cricket and goodness knows we sadly haven't had too much to celebrate since then.
Posted 21:52 4th August 2011
Graham Jarvis says...
I remember the game very well as I was one of the 24,000 spectors that were there along with my mum
Posted 20:46 4th August 2011