I guess we got it all this weekend in the world of boxing... the good, the bad and the ugly.
The ugly was no doubt the decision that saw Jamie Cox become the Commonwealth light-middleweight champion; the bad, I thought, was the verdict in Paul McCloskey's cracking world-title eliminator and the good? Well what else can you say about Vitali Klitschko?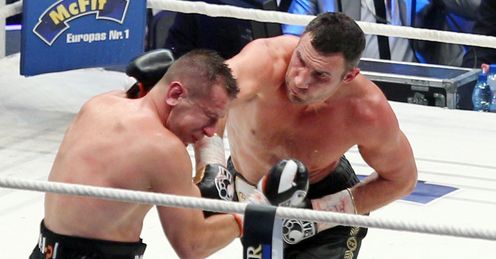 Judging by the forums and websites I have been on, everyone felt the same about the Cox decision as I did on-air on Friday night. I couldn't help but tell the world what I thought because my jaw had long dropped at what we were seeing.
The McCloskey fight was another controversial one although not half as bad. You cannot question his heart or commitment but I am sorry I had to question the decision. I had Breidis Prescott ahead by two rounds and speaking to the locals at the Odyssey Arena, most of them thought their man was lucky as well.
Make no mistake, Vitali is the badder of the Klitschko brothers. Wladimir is the playboy of the two, the younger, free and single one. Vitali has family resposibilities and he knows this is all about business. And believe me, he might be all smiles and laughs when the camera is on, but as soon as it switches off, he his is miserable and he is mean. And above all, he really wants to hurt David Haye.
Johnny Nelson
Quotes of the week
But, I guess that is what makes boxing so special. We all have differing opinions and differing views and the fact that people are talking about the weekend shows you that as a sport, it can still grip people, still get them wound-up and in some cases I'm sure, still get them writing to the British Boxing Board of Control.
I just hope though, that boxing here in Britain does not become known for home decisions. We pride ourselves on the standard of our judging and refereeing and I would hate those standards to slip. The last thing we want to do is become like Germany, where it was always said you need to knock the other guy out to get a draw.
Klitschko v Adamek
When David Haye signed to fight Wladimir Klitschko I thought he had picked on the right brother. And after watching Vitali Klitschko destroy Tomasz Adamek for 10 rounds, I have not changed my mind one bit.
Vitali is cruder, meaner, stronger and he really dislikes David. He came over to the UK just after the Wladimir fight simply because he wanted to get David in the ring - and wanted to knock him out - so it was no surprise when he said it all again in Poland on Saturday night.
You can understand why as well. Just who is there left for him to fight in the heavyweight division? If David seriously wants one more fight then he is the only man left. He is the one big draw in the heavyweight division. Adamek had great support and was as brave as they come, but now he's gone, there is no-one out there to get the Klitschkos excited. All of a sudden you're talking Dereck Chisora and Tyson Fury and with the greatest respect to both of those guys, they are nowhere near that class yet.
But if David is tempted to delay his retirement and fight Vitali, he has to realise he will be on peanuts. Yes he is still is box office, but the show he put up against Wladimir took away all his bargaining powers. I know Glenn McCrory feels Haye should take his place in the queue, but there isn't really a queue to speak of and no matter what you think of him, his performance in Hamburg or what he says, you have to admit that David versus Vitali at Wembley, would get everybody buzzing.
Vitali though, wouldn't be fazed. He came into the ring in front of 40,000 Poles to jeers but after overwhelming Adamek, left to cheers. I do think as well, his performance was as diplomatic as it was destructive. From the moment he landed that first right, he could have ended the fight whenever he wanted.
It seemed like he was almost propping Adamek up. I think he wanted to get some rounds in, he was also wary of humiliating a local hero in front of his own fans and the Klitschkos are always aware of their popularity in Eastern Europe. But it's not just that with Vitali; I think he enjoys torturing these guys when he's got them under control, like a schoolboy pulling the legs off a spider.
Make no mistake, he is the badder of the brothers. Wladimir is the playboy of the two, the younger, free and single one. Vitali has family responsibilities and he knows this is all about business. And believe me, he might be all smiles and laughs when the camera is on, but as soon as it switches off, he his is miserable and he is mean. And above all, he really wants to hurt David Haye...
McCloskey v Prescott
Paul McCloskey is very fortunate to find himself fighting for a world title next. Yes, he showed a lot of spirit and a lot of character to pull off the decision win, but I'll be honest and say I had Breidis Prescott a couple of points up.
Had the Colombian not tired towards the end, he would've won easily. But McCloskey knew that might happen and give him credit, he rode the storm and was the fittest man in that ring come the end of the 12th.
But I am still struggling to see how he won. He was put down in the first - and I thought it was a knockdown at first sight, which is all the referee has - and badly wobbled on more than one occasion. I spoke to one of the officials after the fight and they said he was behind after the ninth; maybe he won the 10th and 11th but he didn't win the 12th. It just didn't add up.
I have to say that it was view shared by plenty of locals I spoke to afterwards as well. And Irish boxing fans are great; they will cheer their guy to the rafters yet are the first to admit when they think he has been beaten, which the vast majority seemed to.
Still, we have all been given kind decisions before and I am pleased for Paul. That fight was a massive learning curve for him and one I am sure he will be better for coming through. He might not have had Prescott in all sorts of trouble, but he kept walking his man down, showed no shortage of bottle and what I liked about his performance most was the way he had to change tactics and adapt mid-fight - and did.
He didn't have it his own way and had to dig in, so perhaps deserves a little luck. Now I see no reason why he can't go and win that WBA light-welterweight world title.
It looks as if he will face Marcos Maidana and that is a fight he can win - and one he'll probably find easier than Prescott. Maidana is a banger but he works in bursts, so Paul will be able to control the tempo. I thought Prescott changed his style to box a bit more but we know Maidana won't do that; he is like a juggernaut on the motorway - you can see him coming a mile off, but if he hits you, you're in trouble.
Amir Khan got hit plenty because as fast as he is, he is not an awkward guy to fight. McCloskey is. Technically he is very good and if he can avoid those big overhand rights early on, he is certainly smart enough and fit enough to beat Maidana down the stretch, on points.
Cox v Sai
There's no other way of putting it... it stank! It was not a good decision, whichever way you look at it. Jamie Cox kept landing low blow after low blow and in clear view of the referee. In fact it was in clear view of everybody - at home or at the Hilton Hotel in Mayfair or sat at home.
These were not even on the blindside either. The ref warned him, and then took a point off in the sixth, but then it happened again straight away. And again. And again. By the time he took the second point off in the 12th round it was irrelevant. He should've been thrown out long before that I'm afraid.
I'm not knocking the lad because as a fighter you do what you can get away with to win a fight. At times they were borderline but most of the time they could only be described as blatant low blows. I'm not saying they were intentional either, which means it falls to the referee to take action. I like Mark Green but I do hope something is done. Bad decisions pop up from time to time and I hope the Board deal with this; the trouble is, he will be tried by his employers, so they have to realise the buck stops with them.
What worries me is that was Frank Warren's charity show. There were a lot of people there who admitted to knowing nothing about the sport, yet even they knew the decision stank. These were people that were there to raise money and were new to the sport that could've been converted. The referee's performance did little to showcase our sport to potential fans. I can only hope they have not been lost to the sport forever.
I hope Jamie learns from this as well. There's no doubt he is a talented boxer, but he clearly struggles to keep his focus, in and out of the ring. He's a young kid on the way up and he has only fought once every six months in the last couple of years; it's no secret that he has had his problems outside of the sport.
In the ring he is a bit like the Cameroon football team. He has all the talent in the world but lets himself down with his lack of discipline. That's why you saw him box beautifully for one round and then just start brawling and landing those low blows the next. He wanted to work the body, which was admirable, but he did take it a little bit too far.
You have to feel sorry for Obodai Sai as well. He was unbeaten but had never fought out of Ghana, yet at no stage was he intimidated; he was constantly there, walking forward - even when he got a whack in the particulars.
He must have been left wondering what boxing in Britain is all about and as I say, I hope we do not end up with a reputation as a place where fighters do not want to come because they know they won't get a decision.
Do you agree with Johnny on any of the weekend's three fights? Let us know by filling in the feedback form below...
Comments (4)
Joe Davies says...
The Cox decision was shocking. It seemed to me watching at home that the ref was reluctant to disqualify him as he didn't want to take away the satisfaction of an outright win for Sai, which is more impressive than one by default which is all anyone not watching the fight would have seen. The ref even seemed to be explaining this to a deflated Cox before the decision as it seemed obvious to all involved he had been fairly and comprehensively beaten. To have the guy's title taken from him after fighting so bravely in a foreign country, in front of a foreign crowd - ridiculous. Almost heartbreaking seeing Sai leaving looking so vulnerable and disillusioned with his chosen profession. The board should render the decision void, or at least demand a rematch for the integrity of the sport
Posted 19:19 13th September 2011
Steven Barr says...
i tottaly agree with johnny nelson. i could not believe my ears when cox got the decision. the 3 judges must have been reading books.
Posted 17:09 13th September 2011
Jamie Macdonald says...
I agree whole heartedly with Johnny's article. Vitali was a class act. McCloskey was lucky. And Cox, well I was one of those so incensed by Friday night's farce that I emailed the BBBofC. Here's hoping Sai at least gets a rematch, should he be prepared to take one.
Posted 16:52 13th September 2011
Jesse James says...
I stopped watching and going to fights because boxing was being destroyed by judges who were constantly failing to award fights to those that deserve it. Just when i thought boxing was cleaning up it's act, bang comes this fight between Cox and Sai. i was so much in shock about the decision of both the referee and the judges and it's put the final nail in the coffin for me. How do these guys sleep at night after such a disgraceful decision ? Decisoins like these are ruining the development of British talent and encourage our boxers to be lazy.
Posted 16:48 13th September 2011