I can usually tell how big a story something is Over Here by the following sequence of factors...
Does it get mentioned straight away on Around The Horn, ESPN's points-scoring sports-reporter talk-around?
Is it among the headline topics on Pardon The Interruption, the ensuing programme where veteran journos Tony Kornheiser and Michael Wilbon debate the big issues of the day in head-to-head fashion?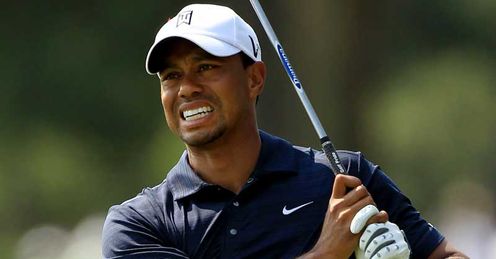 And does it get Jim Rome burning on his mixture of daily TV and radio sports-jockathon?
As a final check on the worthiness of any story, I might also look to see if it gets its own sports-ticker headline on SportsIllustrated.com (running across the top of their website in red, to underscore its importance).
Tigers Woods' US Open pullout ticked every one of those boxes - and a few more besides. This was Big News this week in every sense. It is also Bad News for next week's US Open, if you believe most of the sports pundits here, and also for the future of the US PGA Tour, and possibly of civilisation as we know it.
Now, that's not to say it is the biggest story of the week on this side of the pond. There's some pretty stiff competition from two thunderous Finals in the NBA and the NHL's Stanley Cup, plus the protracted agony of the NFL labour dispute, which drags on and on like a nerve-searingly bad toothache.
But the sports ticker was pretty insistent: T Woods Out Of US Open, it repeated, over and over again, as if the event might even be over before it had started.
Void
No Tiger, no tournament, seemed to be the message coming out of most sources, which is pretty rich seeing as it is now fully three years since a certain Eldrick Woods won a Major (his amazing one-legged US Open at Torrey Pines). In that intervening time, 10 different golfers have lifted the four most coveted prizes in the sport, only three of them from the US.
The rush to pronounce on the subject was positively tsunami-like (although, it should be pointed out, none of the usual suspects went as far as to insist the Tiger Era was over).
Pro-turned-pundit Andy North insisted it was the "smart" and "mature" thing for Tiger to do; ESPN's Mike Tirico opined it was the "best outcome" for Tiger personally, ensuring his future health and competitiveness; golf analyst Bob Harig added that this should "silence the doubters" who pooh-poohed Tiger's nine-hole withdrawal from the recent Players Championship; Wilbon thought it was time for Woods to "take a sabbatical" while sparring partner Kornheiser added it was "a lost year."
The air of mourning was palpable, and not just for the US Open but for pretty much the rest of the golf calendar.
"The game is exciting with him in the mix," Harig went on to explain. As if, somehow, the sport is devalued by his non-appearance.
But do they actually have something here, as seen through the slightly star-spangled filter which a lot of US sports commentators use?
This week's world rankings see just four Americans in the top 10, with the veteran duo of Steve Stricker and Phil Mickelson leading the way at Nos 4 and 5. Only 10 Stateside players inhabit the top 30 and, of those, only two are under 30 (Dustin Johnson and Hunter Mahan).
Outsiders
There are a good gaggle of 30-somethings who have been on the fringes of making things happen for a while without pushing through the glass ceiling, notably Bubba Watson, Nick Watney, Matt Kuchar and Rickey Barnes. None look as if they are quite ready to leave us with the sound of breaking glass, though.
All of which leaves American pundits feeling particularly vulnerable to the European takeover of the top 10. In fact, it's not just the European draught they're feeling, but also that of South Africa (six in the top 50) and South Korea (another three).
Therefore, with Woods dropping to No 15 (and falling) and Mickelson blowing hot and cold (with rather too much of the latter), there isn't a lot just now to have US supporters cheering that loudly.
In fact, the only other Americans outside of Tiger and Lefty to have made their mark in Major terms in the past seven years are Zach Johnson (the 2007 Masters) and Lucas Glover (the '09 US Open), along with veteran Stewart Cink (the '09 Open Championship).
In the same time span, 11 non-Americans have conquered one of the four golfing pinnacles; Rory McIlroy showed he's not far away; Luke Donald, Martin Kaymer and Lee Westwood all been world No 1; and British golfers fill six of the top 13 spots.
So just WHO will the local fans at Congressional Country Club be rooting for next week? Mickelson, obviously. If he pops onto the leaderboard at any stage, he will have domestic pundits salivating at the thought of a fifth major - and his first in the US Open.
Chances
But then it's kind of thin. Graeme McDowell will have his share of fans thanks to his Irish connection, which always plays well over here. Charl Schwartzel, winner of the Masters just two months ago, could walk round the whole of Maryland and not have anyone recognise him, and Kaymer, another Major non-American success story, is equally anonymous outside a handful of clubhouses in Scottsdale, Arizona.
Ian Poulter would have a major fan following if we were playing in Central Florida and McIlroy's youthful charm continues to charm many commentators. Lee Westwood? It seems he will have to win a Major before anyone here really pays any attention.
But, if ever there was a time to take this Tiger-less landscape by the tail and really make the US golf world sit up and take notice, it is now (well, not now but Sunday week, on the final green of Congressional, with a title at stake).
Yes, it isn't the same without the former world No 1 and 14-time Major winner in the picture. But wouldn't it be great to see another young gun firing on all cylinders? Rory, the door is wide open...
Comments (1)
Dan Davis says...
Tiger has well and truly lost the aura of invincibility he once had. The only reason he is missed at tournaments now, is because it's another opportunity missed to see how the next chapter of his fall from grace plays out. I say good on him for having the sense to heed the specialists advice, and hope the R&R returns him competitive to the sport. For one, I feel we should be giving the new generation more praise than they are actually getting. There are some great players out there, playing great golf, dedicating themselves to sport day in, day out, and yet we still want to see if Tiger can make it back? I feel the americans should be more worried about where the next generation is coming from, as opposed to when the last generation is coming back?
Posted 06:42 13th June 2011