Akron isn't usually the hub of the media multiverse. In fact, this rather unprepossessing city in north-east Ohio isn't usually the centre of anything in particular.
Its big hey-day was back in the early 20th century when it was "the rubber capital of the world," and tyre companies like Goodyear and Firestone flourished with incandescent brightness. With boom, bust is usually not far away though, and, for the inhabitants of Ohio's fifth-largest city, the 1970s and 80s witnessed the decline of much of this region, termed The Rust Belt for its slow industrial decay.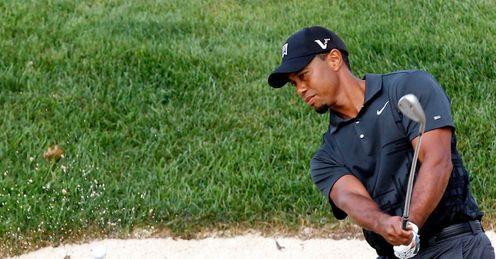 It is now dubbed the 'City of Invention' after its rebirth as the Polymer Capital of the World (I promise I'm not making this up), with a burgeoning high-tech industry centred on the University of Akron and the Goodyear Polymer Center. Bridgestone are also building a massive new HQ here, to open in 2012.
Attention
In sporting terms, Akron is utterly unremarkable. Living in the shadow of Cleveland (and the City of Futility's own long-running major title drought, which stretches back to 1964), all the locals have to focus on are the Aeros (a minor league baseball team) and the Zips (the university's sports teams).
Woods could sail blissfully into the sunset on Sunday as a contender once again. Or he could run aground on the Reef of Uncertainty that still lurks in wait for even the greatest of competitors, once their Achilles heel has been exposed.
Simon Veness
Quotes of the week
LIVE ON SKY SPORTS
World Golf Championship
7.00pm, Thu, Sky Sports HD1
Watch on the move with
Sky Go
How to
remote record
But then there is the WGC Bridgestone Invitational at the Firestone Country Club this week (live on SS1 and HD1 at 7pm on Thur, 5pm on Sat and 5.30pm on Sun, and 7pm on SS2 and HD2 on Fri) when the sporting focus on Akron will be as intense as its long-ago industrial zenith.
It is therefore entirely fitting this will be the venue - and the object of scrutiny of much of the US media - for the return of one Eldrick 'Tiger' Woods and his bid to return as a Major force in the world of golf once again.
All the attention will be on whether Tiger's own 'rust belt' is still in place or if he has shaken off the 12-week absence from the tour that has had many pundits ready to proclaim the Woods era well and truly over.
The Golf Channel carried his Tuesday press conference live and many a scribe followed his nine-hole practice round with the same level of analysis and solemnity as they would the back nine of any of golf's Majors.
Fox Sports, ESPN, CBS and even CNN all carried headline reports on the return of 'the Wounded One', pontificating ad infinitum on the extent to which we will see the 'real' Woods this week and how much golf has missed him (which is pretty much the same as how much the media has missed him, Rory McIlroy and Darren Clark notwithstanding).
Nadir
Many commentators are quick to point out that it was at this very event a year ago - one which Tiger has added to his personal honours list no less than seven times - that the current world No 28 finished a miserable and forlorn 18 over par, a stunning 30 shots behind winner Hunter Mahan. It represented the nadir of the 14-time Major winner, a time for bringing out the black sackcloth and ashes and pronouncing his career on life support.
Twelve months later, Woods is still looking for a win (a drought now stretching back to the JBWere Masters in Melbourne in November 2009); he has managed just six events so far in 2011; the last we saw of him in competitive terms he was limping off the Players Championship with his left leg requiring a casualty ward all of its own; and his world ranking is tanking faster than the US economy.
Conversely, despite all the sporting evidence suggesting we should expect very little from Tiger and his Battle of Wounded Knee, the actual interest in his progress is practically off the charts once again. Not quite to the level it was Post Fire Hydrant when every publication, TV station, radio commentator and talking head wanted a piece of the action, but certainly close to it. Not necessarily DEFCON One, but a decent Two or Three.
His press conference was classic Woods (even if the chin-beard was not; a nod, perhaps, to rock bands like System Of A Down and their alien sounds - indicative of something new, a change of tack, a re-birth). Calm, confident, absolutely solid in his belief "I'm focused on trying to win a golf tournament."
No drama, no deviation, no controversy. Not even a flicker of doubt or denial when he shook off ex-caddie Steve Williams' recent comments about "wasting my last two years with Tiger."
Uncharted
Business as usual, then. Except that nothing about this version of Woods is usual. Despite his protestations of being injury-free and without pain for the first time "in years" (with his own accent on the plural), not even Tiger himself can know with 100 per cent certainty what the next four days hold in terms of where he is in golf's current pantheon of the good and great, or even if he is ready for four successive days of torque and tension on his knee.
He is in uncharted territory, in the Sea of the Unknown, sailing a new course and with a new crewman on the bag (former amateur day friend Bryon Bell). He could sail blissfully into the sunset on Sunday as a contender once again. Or he could run aground on the Reef of Uncertainty that still lurks in wait for even the greatest of competitors, once their Achilles heel has been exposed - both literally and metaphorically in this case.
The talking heads are almost apoplectic in their eagerness to see which way the good ship Tiger will venture.
But one thing is for sure - the interest in the WGC event is certain to provide Akron with far greater exposure than it would normally expect.
And we will see if the City of Invention can be home to the re-invention of Tiger Woods.
Post to your View!
Be the first to post a comment on this story