Somewhere in the depths of North Dakota, or Wyoming, or Montana, there is someone who hasn't heard of Steve Williams. But you'd have to go a long, long way to find them right now.
'Right now,' of course, is that mid-ground between the end of the WGC-Bridgestone Invitational last Sunday and the start of the USPGA Championship on Thursday.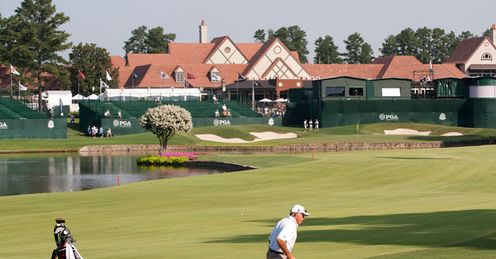 'Right now' is a new kind of sporting Twilight Zone, when everything revolves around a caddie and his comments in the wake of his player's win at the WGC event.
And 'right now' is totally and utterly obscuring the lead-up to the year's fourth Major, at least over here where the sports media seemingly works 25 hours a day and gnaws at stories like a dog with a two-day-old bone.
Stunned
It isn't just the sports news folk, either. I watched, stunned, this afternoon as major news network CNN devoted a big chunk of their coverage to the ongoing furore surrounding caddie Williams, his new employer Adam Scott, and his ex-boss.
Here we are, on the eve of another great jewel in the golfing firmament, and all the talk is of what a caddie said following his man's win on Sunday. Bonkers doesn't even begin to describe it.
Simon Veness
Quotes of the week
And, for once in the last 18 months, the ex-boss wasn't quite the focus of attention. Okay, he's a pretty good reason for it, but, for at least 48 hours Tigers Woods is the back-story to the manic roller-coaster ride that is New Zealander Williams.
Here we are, on the eve of another great jewel in the golfing firmament, and all the talk is of what a caddie said following his man's win on Sunday. Bonkers doesn't even begin to describe it, especially when the news media are so busy getting their knickers in a twist over it.
If we thought the Tiger Woods-athon was just starting to show signs of abating, we were seriously mistaken.
Think about it. The former world No 1 finished a distant joint 37th, 17 shots behind winner Scott (all right, that was an improvement on last year, when he was 30 behind Bridgestone winner Hunter Mahan), and not even a blip on the final day Radar of Achievement.
It was a miserable weekend for Woods - seven times a winner of this event in the past - with closing rounds of 71, 72 and 70 while Scott was going 70, 66, 65 and even the likes of Simon Dyson and Edoardo Molinari were under par for the final three rounds.
And then his former caddie basks shamelessly in the glow of his new player's victory and the talking heads go hysterically gonzoid crazy. It's nuts. Officially brazils and almonds. Fruit loopy.
How did we get to a state where the events and comments of last Sunday have kicked up such a dust-storm we can't even see the Atlanta Athletic Club and its crazy-long Highlands course at the moment?
Is the mere idea of Tiger Woods at the moment enough to dominate all matters golfing? Yes of COURSE Williams was going to be cock-a-hoop about being in the winner's enclosure once again but surely we have some idea of hyperbole and exaggeration these days? He all but admitted it on Tuesday and still the uproar wouldn't die down.
And then I read a great quote from Cameron Morfit, senior writer for Golf Magazine. He wrote: "Only a legend with a toxic image problem could have made Williams the most popular person at Firestone just by firing him."
A legend with a toxic image problem. Wow. And yikes. And maybe wowser after that. Is that what Woods now represents to a large slice of the golfing audience, a fallen idol with all the charisma of a radioactive sand-wedge?
Test
From my rather distant view on the Armchair Omnibus, I'd be really keen to know what genuine golf fans make of this apparent public put-down of the Man Who Could Once Do No Wrong (But Whose Every Foible Is Now Exposed For All The World To See).
It's a real, live Greek tragedy playing out before our very eyes and even Sophocles and Euripides would struggle to script where we go from here at this stage.
Where we DO go from here, of course, is Atlanta and a physical and mental test of the most extreme. Mental because the Highlands course has some unusual demands even by the standards of the USPGA with its bonkers rough and treacherous water hazards lurking in odd corners.
Physical because most of Georgia is suffering through a severe summer heatwave that has had temperatures approaching 40C and humidity to match, a combination of atmospheric extremes that will have most spectators wilting, let alone the participants.
I was in Atlanta last week (visiting the airport, not the Athletic Club, I hasten to add) and the stifling heat made you want to run screaming for the nearest water - which won't be a positive move for any of the players this weekend.
Granted, the forecast is for slightly cooler weather ('only' 32-33C and with scattered thunderstorms), but with the fact the course is playing all of its 7,467 yards, it is going to be a physical challenge of the highest order.
So, if a certain player's knee or Achilles tendon is not in tip-top, 100% shape, you can certainly expect another outbreak of Tiger-baiting, whether it is as a result of Williams and Scott claiming another victory or just Woods himself continuing his comeback struggles.
The Battle of Atlanta is about to break out all over again folks (some 147 years after General Sherman marched the Federal army through the remains of the Confederate resistance) and it is going to make compelling viewing.
For, as I vividly recall a certain I.T. Botham insisting shortly before he went out and made an unlikely hundred against Australia in Brisbane, "Form is temporary, class is permanent."
This weekend, we will find out if the man who has dominated golf for the past 14 years (minus the last 18 months) is really a Class above. Or just a failed Form Horse.
There is no middle ground for Woods these days; it is boom or bust, do or die. The majority of the golfing world sees him in simple, stark terms - first or nowhere.
And there is an awful lot of nowhere in Georgia.
Comments (1)
Matthys Ackerman says...
It was entirely David Feherty's fault for affording a caddie the opportunity to air his sweaty laundry. I certainly dislike Tiger and equally so is ex-caddie. Allow the newcomers their moment of glory and forget about Tiger. Think back and see whether you remember Tiger ever saying anything remotely intelligent in his interviews. Compare that to Mickelson or Els to see the difference.
Posted 16:31 10th August 2011