Do you know the worst thing about following the NFL in America (apart from the fact you can be exhausted just trying to keep up with it)? Sports radio. And way too much of it.
(For those cunning readers who detect a strong similarity with last week's opening theme, you are, of course, quite correct - see for yourself).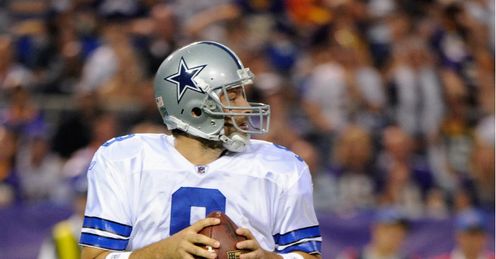 In stark contrast to the sharp, hard-hitting, insightful and downright entertaining coverage on TV and in the written media, sports radio over here is a travesty; or a travesty of a mockery of a sham (as Woody Allen once said); an episode of Dumb & Dumber but without the jokes.
American sports radio is like a blunt instrument with which the jocks beat you over the head until you cry "Enough! No more! I'll switch over to the Knitting Channel!"
It just makes you want to weep for journalism standards (and yearn for Alan Green on Radio Five Live. You see, I told you it was bad).
Sports radio here is all being the loudest or the most strident; the most provocative and argument-inducing. In short, it's about volume. Forget facts, reasoned arguments or even basic logic, just be as vociferous and obnoxious as possible, and you have the recipe for local talk radio.
Oh, and it's also woefully parochial as well, to the extent that, if you are travelling in Ohio but you might, just possibly, want to know what's going on in other states, you need to BE in those other states if you want a full picture of the sports news (and not just the latest score from the Dayton Dragons).
But it's the volume that gets me (or, rather, gets me to reach for the 'Off' switch). To quote that bastion of all things logical, Monty Python: "An argument is a connected series of statements intended to establish a proposition." Except on American sports radio, where an argument is simply a question of who can be the loudest, and the most repetitive.
This latter is vitally important because it allows you to completely ignore anything that might damage your own proposition and just keep blindly stating your 'opinion' until the listeners either give up or go off in search of something more soothing, like the nearest hurricane.
Deluged
Or earthquake. Because here's an example of how mind-numbingly, inanely, blindly DUMB the local sports radio jocks are here in Orlando, where "1080 The Team," is merely an exercise in terminal stupidity. Last week, the co-presenter of the afternoon show Tuck and O'Neil (don't ask me if it was Tuck or O'Neil as they can usually match each other for sheer idiocy) insisted that earthquakes were "weather." This week, he described a head coach as being "cheekish." Dick Emery could have made a whole character out of that word, if it existed.
I wish I were making this up, honestly I do, but it is the one glaring drawback with being in the US for sports coverage (unless you go to the huge expense of getting satellite radio, in which case you are then deluged with even more content of varying quality).
The simple reason, of course, is there is just too MUCH of it. Every city, town and backwoods hamlet has its own sports station, and there is no earthly way anyone can produce enough quality in those circumstances.
That certainly isn't the case with the NFL, which has produced an amazing volume (and array) of quality in the first two weeks. And, lo and behold, Week Three is on the horizon with even more joys in store.
Dallas Cowboys fans probably don't know whether to rejoice or bewail; be optimistic or fear their season is about to run off a cliff. How badly hurt is Tony Romo? Can he possibly be patched up for another fourth-quarter epic? And is it borderline crazy to send him out against Washington with what amounts to a huge target on his chest?
Philadelphia fans have similar concerns over Superman Michael Vick, whose injury Kryptonite surfaced again in the defeat at Atlanta (where it was actually their much-vaunted and expensively-assembled defence that imploded in the final analysis, not the Mike Kafka-led offence).
Up in New England, Patriots followers believe the latest incarnation of Bill Belichick's AFC East machine could again sweep all before them, such is the early-season potency of Tom Brady and Co. By contrast, Indianapolis couldn't be doomier and gloomier thanks to a total eclipse of the son (the son, in this case, being that of Archie Manning).
Nosedive
In Jacksonville, the Luke McCown era lasted all of one-and-a-half games. Now it is the Blaine Gabbert era, and good luck to all who sail in her. Equally, Kansas City, Miami, Seattle and Minnesota are all hoping against hope to pull out of a two-week nosedive that threatens almost instant 2011 oblivion (Carolina, the other 0-2 'weaklings,' can at least point to the astonishing Cam Newton and his ability to throw for 3,000 yards each week).
Detroit, Buffalo and Washington are all holding their breath, fearful to look at those nice, shiny 2-0 records in case they suddenly blow up in their faces (which could certainly happen this week, as the Lions travel to Minnesota, where they haven't won in an Ice Age; the Bills have to stop Surly Bill's runway juggernaut; and the Redskins take on the Cowboys not knowing what kind of Romo-inspired craziness they are likely to witness).
And then there's the New York Giants, whose performance at home to St Louis last Monday was about as convincing as any argument from sports radio-land; i.e. not very. That they managed to scrape past the misfiring Rams was amazing enough; that they scored 28 points was positively X Files territory.
There have been two constants through this opening fortnight, though. Houston have quietly racked up successive W's and look like they might (whisper it quietly) take on the mantle of AFC South champs, if only because the other teams in that division are falling apart faster than the NASA satellite that is due to make an unscheduled return to earth this weekend.
And Green Bay still have the firm demeanour and single-minded focus of Champions with, if possible, even more weapons on offence than last term. Their trip to Chicago could easily be the highlight of the week as it will certainly be a true early-season test of their all-round ability. Plus it will show which Bears team we can believe in this year - the outfit that trampled all over Atlanta in Week One or the Swiss-cheese version that was riddled by New Orleans last Sunday.
There are no obvious answers as yet, of course. I'd put money (maybe 50p) on the Patriots winning at Buffalo and on Cam Newton throwing more passes than Charlie Sheen in a nightclub. But otherwise, all bets remain off as far as I'm concerned at this stage.
Which is the pure joy of the NFL at this time of year. Unless you are listening to it on the radio.
(PS: my wife thinks it should be George Clooney, not Charlie Sheen, as he actually gets all the women)