Ricky Hatton is back out in Las Vegas preparing for another crack at the pound-for-pound title.
In the build-up to May 2 you can follow the Hitman's every move with his exclusive fight diary on sykysports.com.
Scroll down for Ricky's latest entry as we take you right behind the scenes...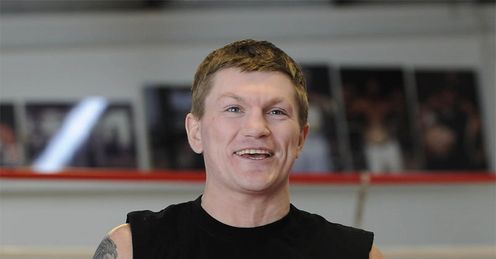 Sunday, April 12
Easter Sunday, but no chocolate eggs for me today, not that I am bothered I don't eat much chocolate - I'm more into savouries.
Well, today our Matthew arrived full of the joys of Spring.
It's nice to have our kid here with me, he's not just my brother he's my best mate as well. Matthew picked up a little cut that needed one stitch when he fought Ted Bami.
On the way in I saw the adult movie star Ron Jeremy. He hadn't a clue who I was and when one of the lads let on to him, he ignored us. Not a bad judge of character, I suppose!
Ricky Hatton
Quotes of the week
HATTON v PACQUIAO
MGM Grand, Las Vegas
Saturday, May 2
Live on Sky Box Office, Ch743
Live on Sky Box Office HD, Ch 752
Call 08442 410888
Click here for details
It's healed up nicely now, so it's looking like he will be fighting on my undercard.
Today I went into that largest gift shop in Vegas and bought some absolute tat. I got some t-shirts, fridge magnets and tin plate signs for my new house, round the corner from where I live now.
I bought a new Heartbreak Hotel sign and that will be going up soon as the building work is finished! I went down to the buffet at the Rio in the morning, on the way in I saw the adult movie star Ron Jeremy.
He hadn't a clue who I was and when one of the lads let on to him he ignored us. Not a bad judge of character, I suppose.
Monday, April 13
In the morning we ran around Sunset Park and Sam Cantwell was in the wars.
Having already had his trainers disappear, he got sunburn sitting round the pool on Sunday and then when we were down the gym he got caught by our Matt's elbow and has a lump on his head the size of an egg. Not his day, today!
Sparring again, with Marvin, Cornelious and a new kid, Daniel Mitchell. The rounds are increasing now and I am happy with the pace. My weight is spot on and my fitness is great.
Following training me and Matt had to nip over to the medical centre to do our physicals for the fight, then it was back to the apartment for dinner and in the evening, some autograph signing.
I have a agreement with EA Sports, I am one of the characters in their Fight Night game, so I signed (yet more) gloves and photographs for competition prizes.
I spoke with my fiancee Jennifer today, she is in Spain. I woke her up as I got the time difference wrong - trust me!
Jennifer is getting my apartment ready for after the fight. No sooner do I get back to England, than I will be off on holiday to Spain... already I can't wait!
Comments (6)
Sean Killen says...
Mr Richard Hatton! Well mate what can i say other than im counting the minutes to fight night, ive got the fight ordered and the fridged stocked with some nice cold guiness or stout as we call them, i would have loved to go but work and marriage commitments stall me and not to mention the £3000 it would cost....but anyways il be sat in my front room me and my dog jess il have my man city shirt on blue moon blaring filling the house with atmosphere, i will be taking and throwing every punch as usual (mentally thankfully) and i really think we have a chance this time, to be honest ricky, im a 34 year old man and ive seen alot and been through alot but i just want to say your my hero/role model and the way you represent not only yourselve but our country Great Britain makes me proud to be british, make him eat that glove ricky
Posted 15:39 17th April 2009
Stu Campbell says...
Absolutely no doubt with this one mate I think your gona knock seven shades out of him!! Dont get me wrong he's good but your looking the best Ive seen you. Good luck!
Posted 14:26 16th April 2009
Daren Kirkup says...
Ricky I'll be there on May 2nd to watch ya mate! Cant wait! 4 planes to get there but its gonna be worth it I can feel it! Your a hero to all Englishmen mate! Keep up the good work mate!
Posted 12:22 16th April 2009
Dean O' connor says...
Come on Ricky, your the man, your gonna beat paqcuaio, your gonna stop him in the late rounds, pacquaio will have never felt power like this, he will think he has been hit by a jumbo jet, your a machine in the ring, keep your head screwed on and if you get cortez dont even look at him the the ring, i know how he played a huge part in the mayweather fight, i was watching that fight on hbo and even they american commentaters said hatton is fighting two men tonight. your going to trash pacquaio and send him back down to deal with the lighweights, then you will beat marquez, then you will beat mayweather jnr and then you will have your life to enjoy sipping a few cold ones and promoting the next great fighters.
Posted 11:37 16th April 2009
Ian Blair says...
Just like to say Mr Hatton, you are the perfect role model for millions of people (worldwide not just UK!) My son has your pictures on his wall and you are his hero! (True to your roots, humble,no trash talk and the best sense of humour in sport!) - his words, not mine! He's 12 by the way, whatever happens May 2 (Ricky KO Round Five!) you will always be our hero. Keep smiling mate
Posted 21:18 15th April 2009
Scott Healey says...
Sounds like all is going well over there, just watched the video of yourself on the pads. I think I counted 17 punches in 7secs! I feel sorry for the Pac Man. Good luck and all the best.
Posted 17:56 15th April 2009