Is this just a blip or something more serious?
A changing in the guard or just a blip I wonder? No Roger Federer in the semi-finals, but Rafael Nadal to be challenged by Andy Murray and the Serb Novak Djokovic in the last four as well.
I must admit that I'd been pondering all last week over Federer, the best player I have ever seen, as he went about his business with a sort of aristocratic lethargy.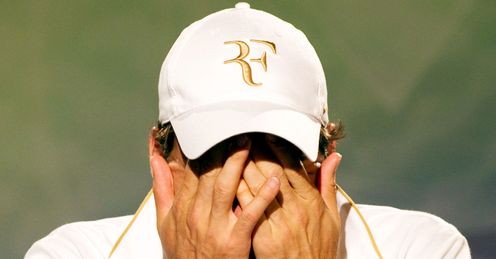 It was the same yesterday against Tomas Berdych, that uncomplicated hitter who beat him in four sets. I wondered if this was the end of Federer's regal reign. If he had lost his unquenchable thirst to win, the answer was probably yes because that would make him mortal. But he said afterwards that he had been hampered by aches and pains in recent weeks and talked up next year hopefully. That seems to clear it up.
It will be gamble but Murray will have to attack Nadal from the net. Importantly it has worked for him before in Australia.
Gerry Williams
Quotes of the week
I must say that Berdych is a strong uncomplicated player who, when he saw his chance, wasn't frightened by it.
In the other half of the draw Andy Murray's display once again confirmed that Britain has a player of the highest quality.
His match against the new personality boy Jo-Wilfried Tsonga (or Ali as he is known to the French) was a fascinating contrast in styles. In essence it was Murray's savvy against Tsonga's swashbuckling. Halfway through you could sense Murray was winning a fascinating mind game.
Gamble
So how will he cope with Nadal, the world's number one ranked player and former Wimbledon champion? Quite differently I'm sure. It will be gamble but Murray will have to attack Nadal from the net. Importantly it has worked for him before in Australia.
You may have been wondering what happened to the man from Chinese Taipei who gave Andy Roddick his comeuppance so unexpectedly. Well Yen-Hsun Lu was put smartly in his place by Djokovic 6-3, 6-2, 6-2. The Serb had the sense not to approach the match in the cavalier style Roddick did, but to take Mr Lu seriously.
Returning to Federer and he wasn't the only likely champion to have fallen yesterday. The Williams sisters - the top seeds - were dumped out of the doubles by Russian pair Elena Vesnina and Vera Zvonareva.
And so now to today's business, the women's semi-finals; Vera Zvonareva against Tsvetana Pironkova from Bulgaria where they have no grass courts at all, and Serena Williams against Petra Kvitova from the Czech Republic.
Ivan Lendl and Martina Navratilova must feel very proud of the way Kvitova and Berdych have played here this fortnight, and certainly I will never forget the great Jaroslav Drobnı before that.
Oh and I mustn't forget Jan Kode¿, who after playing in the final at Wimbledon went home and built a grass court in his back garden. He was here last year and I said to him "Jan how's your grass court?" he said "it's very, very good, I promise you."
Promising
Finally my odd spot to finish with today. On Court 14 I watched one of the promising young players that we're not supposed to have in Britain. He's our top junior and his name is Oliver Golding. He lives only a few high lobs from Sky television headquarters in West London.
He's a six-footer subsidised by the LTA and therefore able to train at Bradenton in Florida under the very successful American coach Nick Bollettieri.
In the third round of the under-18s he beat one of the best Australian juniors Jason Kubler, who was the top seed.
Here is the bit that really grabbed me. Our Oliver Golding cares enough about making tennis his career that he's turned his back on a life in - wait for it - theatre. He was a child actor and appeared in TV sitcoms such as Black Books. Sounds and looks pretty good to me.
Comments (2)
Paddy Singh says...
Roger remains the most artistic player today, but now it is not artistry that wins matches, it is sheer power. Look back at Roger's initial winns in Grand Slams - his delicate drops over the net, the back and forehand smashes down the line, his serve and volleys and the number of aces every set. No longer part of his game. At this Wimbledon, for the first time I bet he would not get through to the semi finals, and that before the tournament started. I won £100. The reason for the decay of Roger is not that the thirst is not there, for it is very much. But he needs a coach. A top coach who can tell him what is wrong. He will then have meny years more
Posted 19:44 2nd July 2010
Maureen Doyle says...
Why o why does Roger Federer always have to act like a prima donna. I thought that was only for footballers. Cant he accept that he was just outplayed.
Posted 11:12 1st July 2010