Today it's the men's semi-finals, first Tomas Berdych against Novak Djokovic and then the one the British are stewing over Andy Murray against Rafael Nadal.
Everybody asks "has Andy really got a chance?" my answer is yes.
Nadal I believe is the favourite. After all he is number one on a computer that ranks the men players. It's not a matter of hunch or personal preference but of mathematics. And Nadal has actually won Wimbledon once which surely will be a psychological advantage.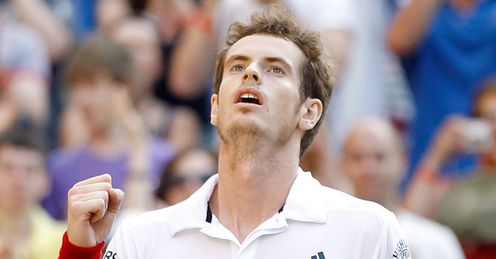 Murray's record against him is 7-3 to the Spaniard, but Murray has just the game to frustrate him as he demonstrated at the 2008 US Open championship and again at the Australian Open at the start of this year when Nadal retired with the scores 6-3, 7-6, 3-0 in the Brits favour.
Nadal thrives on hitting huge drives from the baseline. Murray's game in contrast is so flexible and inventive that he can frustrate Nadal with a chip here, a drive there, next a drop shot, then an angle then a serve and volley. He has the skill to do it. The question is has he the nerve on the biggest stage of all?
The last British man to reach a Wimbledon single's final was the late 'Bunny' Austin back in 1938. I can't resist telling you that as a youngster I used to play at the same tennis club (i.e. the Nord Sports Club in South East London) where Bunny Austin and years later CM Jones and then Roger Becker were also members.
Surprise
The women's singles final tomorrow will be between Serena Williams (surprise surprise!) and Vera Zvonareva.
The Williams sisters have won eight of the last 10 Wimbledon single's titles and I don't see how anyone can make a case for the Russian to beat her now.
Serena had already served 73 aces going into her semi-final against Petra Kvitova, but the Czech left-hander struck the ball firmly from the start clearly determined she wasn't going to be intimidated.
There was a hint of Martina Navratilova about her. It was only in the first set tie-break that she became a bit too cavalier. Berdych having dethroned Federer the day before, you wondered what's going on in the Czech Republic. Quite a lot I would have thought. Serena won 7-5, 6-2.
With two vivid personalities like the Belgians Kim Clijsters and Justine Henin already out, an unlikely pairing played the first of the women's semi-finals - Tsvetana Pironkova from Bulgaria, against Vera Zvonareva from Russia.
The two were so alike it was disconcerting. Both are slender, both have one-handed forehands, both have two-handed back-hands, both were uncertain about going forward and both wore eye shades.
Pironkova who is yet to win a singles title on the WTA tour took the first set 6-3 and the television picture briefly focused on a gentlemen looking drowsy.
Zvonareva, who I now spotted wore her hair up at the back to help me distinguish between them, almost imperceptibly stepped it up - taking the second set 6-3 and the third 6-2. She'll be the second lowest ranked women's finalist placed at 21.
Chuckle
Finally this morning a chuckle at ourselves. This fortnight began you'll remember with our annual paranoia over the porosity of our British up and coming talent.
Now it's all Murray Mania and excitement over our two juniors in the semi-finals of the Under-18s singles, Laura Robson and the young actor Oliver Golding.
Earlier in the fortnight two other young British players put out the best men's doubles pair in the business.
It all goes with the strawberries and cream and it's called Wimbledon.
Comments (4)
J A says...
Whats with the punching of the racket Murray??? get a grip....well done team murray.
Posted 02:08 4th July 2010
Jean Collins says...
Andy Murray did what he promised and played a great Game against a Great player in Nadel World No 1.I like a lot of the announcers agree he did not disgrace himself. I believe And will still win a Grand Slam real soon. I also believe Nade's next opponent may shock him wevwioll see.
Posted 22:30 3rd July 2010
Ifeanyi Araraume says...
I was vindicated yesterday with nadal's crushing of murray,it wasn't even a close match,the british media know how to hype a murray even when we know he's not as good as del potro or soderling,he doesn't have the mental strength to move his game to another level and you guys in the media keep reminding him of bunny austin,I believe he can still win wimbledon but only on two conditions,first nadal and federer would have retired from the game,second he must play on an empty centre court to ease some pressure....simply means he can't win it,nadal who is his age mate has already won 7 grand slams from 9 final appearances and already feels like a veteran one more grandslam will see him equal the great agassi and guess what he's only 24.
Posted 07:19 3rd July 2010
Adam Whiteley says...
look, lets be honest hear, murry has beaten nadal several times now, so lets not get all "he doesnt stand a chance". hes already beaten him so yes he can do it, but the trouble is, we all know what nadal does, he steps up his game to a level federer on 14 occasions couldnt deal with, let alone anyone els, so it will be tough as we all know. i just think nadal may have 1 slight edge, having been there a little bit more than murry, so he knows how to do it that little bit more.
Posted 12:49 2nd July 2010