Have you recovered from Transfer Deadline Day?
What a hectic day it was for the Sky Sports News HD team and the traders at Sky Bet HQ, who had markets on all the potential movers throughout the day.
It felt strange not being involved having helped cover the last eight Deadline Days on Sky Sports News but I enjoyed watching Jim White whip viewers in to a frenzy and it was fascinating to monitor the market moves with Sky Bet as punters had their fingers burnt backing Wesley Sneijder to go to Manchester United and Gary Cahill to Spurs but landed significant late gambles on Raul Meireles and Mikel Arteta.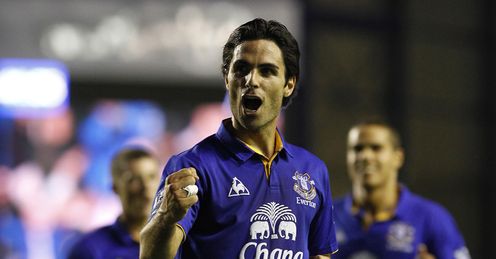 Now we'll have to see which clubs have done the best business and whether the new faces at Arsenal and Tottenham can kick start their seasons.
Manchester 13-3 North London
Super Sunday was an extraordinary day of football.
Manchester City were first to lay down a big marker with a thumping win at Spurs that saw their title odds shorten again to 2/1 with Sky Bet.
When a team scores eight you'd expect a euphoric feeling for the home side but Sunday felt weird and there was a shocked silence in the studio during the advert break after the final whistle.
Ed Chamberlin
Quotes of the week
However, for the umpteenth time they were immediately trumped by Manchester United, who hit Arsenal for eight.
It was a bizarre experience being sat in the Old Trafford studio watching the humiliation unfold.
Paul Merson feared it might happen from the start but still looked on in horror as his old team was ripped apart, while Gary Neville sat there shaking his head at the naivety of Arsenal's defending, taking no pleasure in United's humbling of Arsene Wenger.
Old Trafford torment
When a team scores eight you'd expect a euphoric feeling for the home side but Sunday felt weird and there was a shocked silence in the studio during the advert break after the final whistle.
Paul was terrific after the game and spoke with real passion about the club.
He stood by Wenger as the man to turn the club's fortunes around but expressed disappointment in the way the team was set up at Old Trafford on Sunday.
He explained how Arsenal tried to play the way the team has always played but without the players and confidence to pull it off and absolutely no 'plan b'. The young full-backs had no protection and United were able to get in behind the back four at will.
Far lesser teams have come to Old Trafford and made life far tougher for the home side.
Take Crawley Town as an example in last season's FA Cup. They were well organised, determined and successfully frustrated and made life difficult for Manchester United. The home side didn't have a moment's frustration on Sunday.
The journey down to London after the game with my producer was full of those "did that really happen?" type moments.
Sky Bet's Title odds: 5/4 Man Utd, 2/1 Man City, 4/1 Chelsea, 11/1 Liverpool, 25/1 Arsenal, 100/1 Tottenham, 500/1
It all means that after just three games Arsenal are out with the washing at 25/1 to win the title.
However, I like the look of some of this week's new signings and am sure they will soon bounce back. An eight-point gap to the two Manchester clubs already looks very hard to bridge.
Manchester steal a march
Manchester United are rock solid at 5/4, while City are the big movers over the first three weeks down to 2/1 having started the season at 5s.
Chelsea are on the drift out to 4/1 while Liverpool have yo-yo'd already and are now back in to 11/1.
It's been a decent start to the season for us with the forecast of a 1-2-3 finish of Manchester United, then Manchester City and Chelsea in third at 10/1 looking pretty good at this very early stage.
We got very lucky last weekend with Everton as the 'bet of the week' at 13/10 as I still can't believe how Blackburn managed to snatch defeat from the jaws of victory.
International football doesn't really float my boat from a betting point of view but I'm looking forward to watching Bulgaria (5/1) against England (4/7) live on Sky Sports HD1 on Friday night.
I'd be in no hurry to back England at 4/7. Sky Bet have a stack of markets available on all the week's international football.
Best of Britain
The Tour of Britain starts on September 11 and I'm excited to hear that Geraint Thomas has been chosen to lead Team Sky in the race.
This guy is a real talent and now has the stage to show it. Most of this season the handbrake has been on as he works for the good of the team - notably when he lost minutes in the Tour de France when instructed to wait for team leader Bradley Wiggins who had broken his collar bone - but next week the shackles will be off.
I expect Thomas to grab the chance as team leader to show how good he really is as a world class all-round rider and I think he'll be a excellent bet to win the Tour of Britain.
In the meantime, Wiggins has a great chance to win the Vuelta a Espana, which would be a magnificent achievement.
It's shaping up as a two-horse race with Wiggins trading at 2/1 with Sky Bet and last year's winner Vincenzo Nibali at 6/4.