If you live in America, you can wake up one morning and your local sports team will have moved to a new stadium 200 miles away.
That's the way it works over there. The owners have no thought for anybody.
So you can't expect an American to understand the rivalry that exists between two English football teams.
If an Englishman owned Aston Villa then there's no way that Alex McLeish would have been given the manager's job, but it doesn't surprise me that Randy Lerner has made this decision.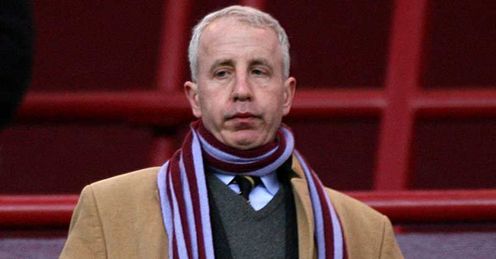 I just don't think he understands the feelings of the fans. I live in the West Midlands and the Villa fans hate Birmingham City, so they don't want their rivals' manager to take over. It's the same as you'd get with Tottenham and Arsenal fans, Man City and Man Utd fans or Rangers and Celtic fans.
Don't get me wrong, I like McLeish and I think he's a very good manager. He won the Carling Cup for Birmingham and beat a good Arsenal team in the final.
The chairman can't just bring McLeish in and then sell all the best players. That's just hanging him out to dry. A star name would turn things around for the chairman and for the new manager straight away.
Paul Merson
Quotes of the week
But I just can't get my head around this one.
Up against it
McLeish will be up against it straight away and not just because the fans are against him.
Villa selling Ashley Young and I wouldn't be surprised if Stewart Downing goes as well. Plus they've let Brad Friedel leave and Nigel Reo-Coker is going on a free.
Last summer they sold James Milner and the year before that they sold Gareth Barry. Everyone else is buying players, but Villa keep selling them. There's no way they can finish in the top six if they keep doing that.
I understand when teams like Wigan can't afford to buy players. They don't get a big crowd, but Villa sell 40,000 tickets every week so they shouldn't be selling their best players all of the time.
Two years ago, Villa were finishing in the top six and getting to the Carling Cup Final. It is a big club and the fans expect them to be around Europe, but that's an impossible job when you're selling people like Young and Downing.
So maybe nobody else wanted the job? Roberto Martinez didn't even talk to them and he manages a team that play in front of a half-empty stadium every week. That says it all.
Things just don't look good for Villa right now.
Buy a big name
I think they need to go out and buy a big-name player. And I mean a really big name.
When Bruce Rioch came in at Arsenal, he went and got Dennis Bergkamp and McLeish needs to do something similar. I'm not talking about a promising young player, like when they signed Young from Watford, but a big star whose name all the fans will want on the back of their shirts.
Villa haven't had a star player that everybody knows for a long time, so if McLeish can get hold of one it will turn the heads of the fans. He needs to make the supporters say: "Wow. I can't believe this player is coming to our club."
I think that's a must. The chairman can't just bring McLeish in and then sell all the best players. That's just hanging him out to dry. A star name would turn things around for the chairman and for the new manager straight away.
He also needs to get off to an unbelievably good start. They've got Fulham, Blackburn and Wolves in their first three games, which isn't a bad set of fixtures, and he will have to hit the ground running.
A few wins will soon appease the fans. We saw criticism when Alan Pardew took over at Newcastle, but before you knew it they were singing his name. It all turns around if you get results.
But if McLeish loses two or three of those games then they'll be in all sorts of trouble.
Thick skin
Alex is a really nice man and I really hope he does well, but this is pure pressure straight away.
You have to remember he was the Glasgow Rangers manager and that's a massive club, so he's clearly got thick skin. He wouldn't have taken this job on otherwise.
I wouldn't say he was a failure because he took Birmingham down, just as I don't think Ian Holloway was a failure at Blackpool. He missed key players at key times - it all went wrong when Scott Dann got injured - and I don't think he had the firepower to keep them up.
What I would say is that the Villa supporters don't need to worry too much about the style of football. I don't think he'll play defensive football like he did at Birmingham.
Managers play to their strengths and at St Andrews the strength was the back four. People say Sam Allardyce plays long-ball football, but if he was the manager of Arsenal I'm sure he wouldn't do that. I think McLeish will play more attacking football.
But the fans are right to raise their concerns. I don't see why they shouldn't make their voices heard. If Randy Lerner sells the club in 10 years' time, the fans will still be there, so they have every right to protest.
Unfortunately for them it hasn't made any difference.
Comments (3)
Bazkamp Barrett (Aston Villa fan) says...
Fair comment Merse, but lets be honest what really "BIG" name player would want to come to Villa right now? We've been a selling club for the last 2 seasons, this continues this year with Young and Downing going. The Villa have not been linked with 1 player this transfer window while our so-called rivals for european places, Liverpool, Spurs, Man City are going around splashing the cash which we simply dont have. Benitez apparantly wanted 30m transfer budget which was rejected. So we have no spends this summer. Lerner will find out the hard way, when attendances drop, negative football and numerous losses again...When he ends up having to sack McLeish and paying him off. The fans will still be here when Lerner & McLeish leave, with us picking up the pieces
Posted 13:25 17th June 2011
Andy Soden (Aston Villa fan) says...
"Villa haven't had a star player that everybody knows for a long time" Erm ever heard of Darren Bent who we signed 5 months ago???
Posted 13:22 17th June 2011
James Kirwan (Aston Villa fan) says...
Finally a man talking sense ive always like Paul Merson always he is a real hero at aston villa and this all makes perfect sense it shows that the top people who know the club understand this decision to be bad for the fans. Just one small error paul you said we havent had a big name in years Darren Bent is 1 big name but i agree Mcleish needs someone like scott parker or fernando gago or someone that will life spirits.
Posted 13:00 17th June 2011