The Premier League returns this weekend and, as ever, you can follow all the action on Sky Sports.
We asked Soccer Saturday expert Paul Merson to look at the fixtures and give us his verdict on where the games will be won and lost.
As usual, he's taking a close look at the live games and this season he's also having his say on all of the other matches.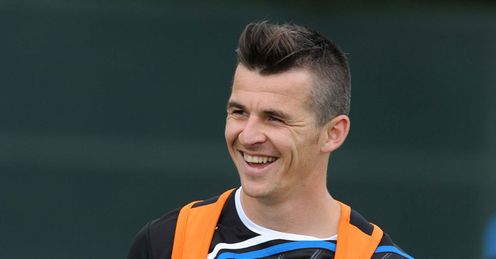 So read on for his shouts and don't forget to let us know your views in the comments box.
Super Sunday: Norwich v West Brom
1pm, Sun, Sky Sports HD1
Are Norwich going to be one of those teams that do well against the big boys and then lose to the lesser teams?
For example, Wolves beat Manchester United, Chelsea and Liverpool last year and nearly got relegated. Norwich fans will be hoping that won't be the case with their team.
Norwich did very well at Chelsea and when they equalised they looked like the more likely team to win, but West Brom at home is a game they'd have highlighted when the fixtures came out and they've got to win this.
West Brom aren't a bad team, even though they've got no points. They had some nightmare fixtures to start the season, but played well against Man United and Chelsea and were a bit unlucky against Stoke.
It will become a long season if they lose this game and make it four defeats. They aren't a team who are going to win six on the trot at any point, so it'll be hard work for them to gain on the other teams.
I don't see them going down, but they'll be looking at this game as a chance to get off the mark. I think Roy Hodgson will show Norwich respect, keep it tight and show them how hard the Premier League can be.
But this is a big game for Norwich as well and they always have a go. This is a must-win game and I think they might...
PAUL PREDICTS: 2-1
Super Sunday: Fulham v Blackburn
3.30pm, Sun, Sky Sports HD1
I felt for Steve Kean against Everton because sometimes, no matter what you do, this game comes down to luck.
Blackburn missed two penalties and then lost to a penalty that never should have been given. They've got no points, but if they play like that every week they've got a chance.
They're one of my tips to go down this season and they haven't proved me wrong yet, but Scott Dann is a good signing. Birmingham went down last year because he got injured, which shows you how important he is.
But, like Birmingham, you are at risk if you don't score enough goals. Blackburn are solid at the back, but will they do enough at the other end?
Goals are a problem for Fulham as well. I like Bobby Zamora, but you can't rely on him and their away form is poor, which puts a lot of pressure on them to win at home.
I thought Fulham would have started the season much better. They've been in the Europa League since July and I thought they'd be fitter and stronger than the rest when the league started. They haven't flown out of the blocks at all and now they're playing catch-up.
They've got a decent team, but if they don't win this then they might end up in that mix of eight or nine teams that could go down. However, I think their passing and movement will be too good for Blackburn.
PAUL PREDICTS: 2-0
Monday Night Football: QPR v Newcastle
7pm, Mon, Sky Sports HD1
I look at QPR's transfer business and I have to say it was better than Arsenal's.
I say that because they've bought players with Premier League experience and there's no worries about whether they'll settle or not.
You look at Joey Barton, Anton Ferdinand, Shaun Wright-Phillips, DJ Campbell and Luke Young and you could throw them all in on Monday night. In fact, I would play them all straight away because they're better than the guys in the team already.
I'd be surprised if Newcastle don't target Barton and I hope he doesn't do anything silly, but I think that's a good move for him. No disrespect to QPR, but I thought a bigger club would have come in for him.
I don't see him getting on very well with Adel Taarabt on the pitch. He's a free spirit, a bit of a luxury player, and I think that might wind Barton up.
Meanwhile, Newcastle have had a great start, getting seven points and winning at their arch rivals, but I worry that results have covered over the cracks. Maybe they've looked at that good start and decided they didn't need to spend money before the window closed.
I don't see that form carrying on. They've lost a good player in Barton and I think they needed to strengthen their squad.
QPR capitulated to Bolton in their first home game and Neil Warnock needs to make sure that doesn't happen again. They need a good result at home and I think they'll get one.
PAUL PREDICTS: 2-1
The rest of the weekend's games
Arsenal v Swansea
PAUL PREDICTS: 3-0
A few years ago you'd have looked at this game and expected a cricket score, especially after beig thrashed at Old Trafford, but I don't think Swansea will go there with that fear. I don't think Arsenal are that good at the moment, but where are Swansea going to get a goal from?
Bolton v Man Utd
PAUL PREDICTS: 0-3
United should be miles too strong for Bolton. Ashley Young's on fire and whatever he does is coming off right now. He's got together with Wayne Rooney and they just seem to know what each other's going to do on the pitch.
Everton v Aston Villa
PAUL PREDICTS: 1-0
This is a very hard one to call, but I'm going to go for Everton because they're still a decent team on their day. I think Arsenal bought Mikel Arteta two years too late, but David Moyes can't avoid to lose players with the squad they've got.
Man City v Wigan
PAUL PREDICTS: 4-0
Man City have definitely been the most impressive team so far. Man Utd were good against Arsenal, but still conceded two goals and a penalty, whereas City are irresistible. Wigan have done well against the three promoted teams, but this is at least 20 steps too far for them!
Stoke v Liverpool
PAUL PREDICTS: 1-1
I'm doing this game on Soccer Saturday and this will tell us if Liverpool will be a threat this year. They've won at Arsenal, but this game is the marker - that's how highly I rate Stoke. Kenny Dalglish will see how far his team have come on Saturday.
Sunderland v Chelsea
PAUL PREDICTS: 0-1
Sunderland have had a nightmare start and the fans are on Steve Bruce's back. I hope they give him a chance because he's a good manager, but I've got to pick a Chelsea win. They're not playing well but are stronger player for player.
Wolves v Tottenham
PAUL PREDICTS: 2-1
Tottenham have lost to both Manchester clubs, but the way they got beat is a worry for Harry Redknapp. They capitulated a bit in the second half of both games. Wolves have had an unbelievable start and I think they will beat a Tottenham side that's low on confidence.
Follow Saturday's football on Soccer Saturday from 12noon on Sky Sports News HD and then see extended highlights on Football First from 8.25pm on Sky Sports HD2.
Comments (15)
Stephen Jay (Arsenal fan) says...
I like the optimism in the Arsenal game prediction, even if we hadn't bought any more players in I'd have fancied a narrow win. I look forward to seeing how Wolves will do as well.
Posted 12:15 10th September 2011
Wen Franck (Manchester United fan) says...
I am sure that Stoke is going to beat liverpool 1-0 at Britannia Stadium. Defensively Soke is strong at the back and with bean pole Crouch leading the pack and winning all the high balls he will be the main man tonight and also he wants revenge on Liverpool. Bet on him to score against his old club.
Posted 02:37 10th September 2011
Richard Hubbard (Stoke City fan) says...
Good old Paul always stuck up for Stoke and he was right when so many was wrong about them! Hw Knows his stuff unlike so many other so called pundits
Posted 22:16 9th September 2011
Jon Jones (Arsenal fan) says...
@ Chris Ahern. I think Swansea might surprise some people, whether or not they finish with a negative result. Now's the time to be playing against a completely re-vamped back four!!! Only Koscielny will have survived from the team that lost to Man U. I'm not going to disrespect Swansea with a disrespectful scoreline prediction. Just be glad if we could unleash a result like the one we had to endure two weeks ago!!!
Posted 21:04 9th September 2011
Leigh Brewster (Arsenal fan) says...
I disagree with Paul on a few of these results and the comment about arteta he will be a great signing. I think Bolton will give utd a tough game and think they'll get a point. Can see arsenal and city winning by 6 while Liverpool will draw at stoke.
Posted 19:29 9th September 2011
John Jones (Wolverhampton Wanderers fan) says...
I fancy Swansea for a point!
Posted 18:36 9th September 2011
Alan Jones (Blackburn Rovers fan) says...
hmm Paul Merson is a good Predictor but sorry this weekend will suprise you all!!!! Norwich 1-1 West Brom, Fulham 0-2 Rovers, QPR 2-2 Newcastle, Bolton 1-1 Man Utd, Wolves 1-3 Spurs, Man City 3-2 Wigan, Aresnal 5-1 Swansea, Stoke 0-2 Liverpool,Sunderland2-0 Chelsea, Everton 2-2 Aston Villa lets wait and see
Posted 17:27 9th September 2011
Chris Shepherd (Tottenham Hotspur fan) says...
@ Alan Whitaker (Bournemouth fan) ..... Soooo Funny bro , im still chuckling !!!!! Nice 1.
Posted 15:45 9th September 2011
Chris Ahern (Swansea City fan) says...
Can't disagree with the predictions, while I want Swansea to go and play football everywhere, doing it against Arsenal might be a few steps too far at this point. That said, that depends what Arsenal turns up, if their players have settled in well enough, they should have more than enough to beat Swansea. However like Man United, Swansea have an abundance of pace up front, and without Song sheilding the defense, Arsenal are Definately there for the taking. Swansea will have to get that damn round thing over the line but no reason it can't be against a weakened Arsenal Back Line! For Jase Auluck, while Arsenal wiped the floor with blackpool, Swansea have a stronger defense, 2 of which played against England and were not outclassed by the best English attack I can remember for the last 5 years. Arsenal do have Van Persie however who is as good if not better than Rooney.
Posted 15:35 9th September 2011
Tim Smith (Liverpool fan) says...
Jase Auluck (Manchester United fan) - and yet our "small team" wiped the floor with you last year at anfield and i fancy them to do the same this year tenner on 4-1 to liverpool can't say i agree with merse on many! Nor 1- 3 WBA Ful 2 - 1 BLA qpr 1 -3 NEW stoke1-2 LIV sun 0-2 CHEL wol 2-2 spurs bol 2 -3 MAN U eve 0-2 VILLA MAN C 5-1 wigan ARS 4-0 swa
Posted 15:28 9th September 2011
Paul Barnes (Aston Villa fan) says...
Being a life long villa fan, We have had our ups and downs, I like every body else was shocked with alex mcleish being appointed,,And after birmingham being relegated was not expecting anything this season but a scrap with relegation. After selling our best players again for the third season in a row, But what alex mcleish has achieved seems to have stabilized the club, and the players he has brought in are good, And i am starting to believe again that we might have a good season, He has sorted out the dressing room more importantly, And it looks like his man managment maybe one of his best atributes, which has surprised me, and we have still got alot of realy good players, great new goal keeper,and a few really good signings in the transfer window but i would of thought merson ex villa player would have predicted a villa win with ease, i think everton are in real trouble this season, sorry toffees but i think your premier stay maybe over, Well done alex Mcleish, you have my full support now. Sorry for ever doubting you. I just hope that randy lerner will back him as much as he did martin oneil,Time will tell
Posted 15:02 9th September 2011
Jase Auluck (Manchester United fan) says...
Paul, just looking at your predictions for the big boys here. I still can see Arsenal wiping the floor with Swansea (6-0+) as the did with Blackpool last year, considering this is at home with their new recruits on show infront of their crowd, but I can also see Swansea getting a jammy goal and the home fans getting nervous. But realistically this will be a straight-foward match and result for Arsenal. As for United, I think you are either under-estimating Bolton considerably here, or you are over-estimating United's chances of winning at the Reebok. It's a tough fixture for United because of the close proximity of the clubs, but bear in mind that Ferguson may make some changes and introduce the more experienced (and slower) players as we got plenty of fixtures coming up now, so, me being the optimist that I am, I'll go for a 3-2 United because our keeper is pants! Good luck though David...City should wipe the floor with Wigan - and yes I have been very impressed with this season. Nasri will be superb for them, especially for the movement upfront. Not one of the games I'm expecting City to drop points. Chelsea could come unstuck against Sunderland if its a fast game. I find Chelsea far too slow compared to couple of years ago, so if you play a high tempo, you will get behind their midfield and attack their defence. However, if Chelsea can dictate the rhythm, then I see this fairly simple result. Liverpool....well, who cares? I did say big boys didnt i?!
Posted 14:13 9th September 2011
Alan Whitaker (Bournemouth fan) says...
good predictions.... i think if paul would have been betting like this back in the day he'd be loaded now!
Posted 13:41 9th September 2011
Andrew Harvie (Newcastle United fan) says...
I'm sorry but this may seema little biased as a Newcastle fan but I can't make sense of Merson's comments here. Like a lot of his media counterparts Newcastle are being constantly written off. We have a good start to the campaign and bring in what already looks like some decent players and we're being told that we haven't strengthened our side. Granted we did not secure a striker which is what we need, but we have 2 decent forwards in Demba Ba and Leon Best. Barton was a good player for us, but only for 2 seasons, one of which was in the championship. He wasn't exactly talismanic for us, i think people got caught up in the Barton saga because he typified our style of play for the last 2 years. Now we're moving on and trying to play some decent football, we're being put down by pundits left right and centre. I think QPR will be a tough side to play but i can't see them gelling that quickly and beating a Newcastle side that must have some confidence off the back of a great 3 games.
Posted 13:28 9th September 2011
Sean Lockwood (Arsenal fan) says...
Some excellent predictions there from the Merse......might have a tenner on it! Especially liking the Spurs prediction..........anyone would think Merse is an Arsenal fan!
Posted 13:25 9th September 2011