David Haye stands on the verge of heavyweight glory.
The Hayemaker will take on giant WBA champion, Nikolai Valuev, in Nuremberg on November 7, live on Sky Box Office.
As ever, the Sky Sports team of Jim Watt, Glenn McCrory, Nicky Piper and Johnny Nelson, will be on hand to give you their expert opinions come fight night, but first skysports.com has brought the panel together to set the scene...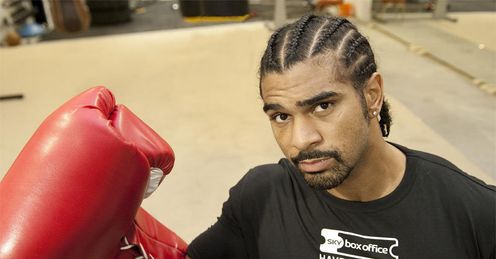 SKYSPORTS.COM: We're no strangers to big fights on Sky Box Office, but here we are talking about a world heavyweight title - and one involving a British fighter. How good is that?
NICKY PIPER: Oh, it's fantastic. When I started getting into boxing it was about 1973 and I was seven and Muhammad Ali was right at the peak of his game. Everyone knew who he was and I followed the end of his career just as closely, the fights with Leon Spinks and Trevor Berbick and then on to the Larry Holmes era. Then I remember the lull we had then, which is similar to what we have been through recently, until Mike Tyson came along and blew everyone away in 1985/86.
DAVID AND GOLIATH
WBA Heavyweight title
David Haye v Nikolai Valuev
Saturday, November 7
Live on Sky Box Office
Call 08442 410888 to book now

And I really do think David has the potential to do just what Tyson did back then. He is relatively small like Tyson was, but has the speed, power and accuracy. Put him on one of those punching machines we sometimes see on Soccer AM and neither would probably hit as hard as the big heavyweights, but the fact they hit so much faster makes them devasating. I think there is a long-term plan in place for David to light up the heavyweight scene and he can - he is a good-looking kid, he talks well and has plenty of charisma. The fact that we are sitting here now talking about the heavyweight world title again, with a British fighter as well, says it all. I think we're on the verge of something very exciting.
JIM WATT: It's brilliant! The last time we were talking about this was with big Lennox - and that seems a long time ago. As I have said earlier, I would've liked to have seen David have a couple more fights to establish himself as a heavyweight, but he clearly fancies himself as a world champion. I hope he does it and I hope he wants to stick around and really rule the division, because that is what boxing needs - and British boxing as well.
When I was growing up and even fighting, everbody in the country knew who the heavyweight champion was. No-one could tell you who the middleweight champion was but everyone knew the name of Muhammad Ali, Sonny Liston, Larry Holmes and even Mike Tyson. The heavyweight division just has that magic about, that mass appeal. The problem is since the Americans haven't done so well, that has suffered, but I do think David Haye has a real chance to be the next big thing, I really do. He'll take anybody on, he's rarely in a dull fight and he wants to entertain. When was the last time you could say that about a heavyweight champion?
GLENN McCRORY: The heavyweights have always been boxing's big draw and it's great that here we are, after so long, talking about a British guy fighting for the world title. The first Christmas present I remember getting was this little projector that had Joe Louis fights on. I also had some tapes of Ali fights and used to sit in my bedroom for hours watching them.
Then I remember Muhammad Ali-Joe Frezier and the Rumble in the Jungle and all Ali's predictions and words - and that got me hooked on boxing. We do fabulously well for such a small country and are a force to be reckoned with, but we haven't really had one big heavyweight name, apart from Lennox Lewis. If David can pull this off and actually topple the giant, he will go on to be a superstar - and I don't just mean here in Britain.
JOHNNY NELSON: Like Jim says, just brilliant. Honestly, I want David to win so much; one, for British boxing and two, because down the years I have warmed to him. He has a lot of balls, has taken a helluva lot of stick but has always done it the right way and has got the results. I think he is the sort of charatcter that, if he comes through this, can light up the division. We all remember Muhammad Ali but until he came along, the heavyweight division was pretty dull, but he lit it up.
The way he spoke, the way he fought, you either loved him or loathed him - but he got you talking. Ever since then, we have all been fascinated by the heavyweight champion and it's so good for the sport in this country to be sat here talking about one of our own becoming world champion. It would be a massive boost to boxing and inspiration to the other heavyweights out there that if you want it, if you don't just love the fame, but love the game, you can succeed. There is nothing like a heavyweight title fight for excitement and profile and I am so pleased for David - and for us here at Sky - that we are going to see a British fighter involved... with a genuine chance of winning and going on to bigger things.
Do you agree with the panel? Let us know by filling in the feedback form below...
Comments (10)
Aaron Cooper says...
Pesronally im unsure of who to pick as the victor of this fight. I am suprised that people keep throwing up Hayes size as an obstacle. Ok Valuev is 7ft plus and Haye is only 6 3. But Chageav is only 6 1 and Holyfield the same height, the first beat him and the second lost a very dodgy decision. The only thing for Haye to watch is his chin he got dropped by barrett and mormeck and they had half the weight Valuev has to throw. Still i think it good for british boxing and the heavyweight division someone like Haye has come along. I truly hope he wins on saturday then he can test the reserve of the Klitchko morons. I cant imagine them ducking him although they may use his behaviour as an excuse. Unless Haye can get a knockdown Haye to win on points!
Posted 10:04 3rd November 2009
Duncan Hughes says...
one of the old trainers once wisely stated " a good big un will always beat a good little un " well, Vaulev is not a good " big un " lateral movement for 12 rounds is very tough but if David can do this i think we will see the big russian undone. David can really bang ( ask enzo ) Valuev may not initially be bothered by Davids power and having him leabing all over you will be a massive drain on energy levels, i think Haye in 5 go for it mate, the division deperately needs you.
Posted 14:28 2nd November 2009
Joe Rowley says...
David Haye is not ready yet ,Valuev is a lot quicker thanmost people realise,and he can box as well,whenyou add it all up,ithink it will be a very one sided win for the russian.
Posted 19:44 1st November 2009
Ian Gardner says...
It's a fight i'm really looking forward to especially since so many fights have fallen through this year. I've only seen Valuev fight once and i thought at the time that anyone with speed/skill could comfortably outbox him. From what i've read Valuev has had a fair few close shaves (although not on his back) and if Holyfield (who may thought beat him and was shot 5 years or so ago) ran him close Haye must have a really decent chance. A ko would be outstanding and my biggest worry is Haye gets caught when trying to be too adventurous , but if he doesn't get carried away and if he doesn't get tagged (Valuev looks very slow but would obviously ko Haye if he catches him) he could win a comfortable points decision. I can't see Valuev winning by any other method that KO as Haye is by far the better technician. I'll be rooting for him all the way.
Posted 21:59 31st October 2009
J P says...
Stuggling to understand why Haye gets so much bad feedback hes quick powerful and a great finisher but people still say hes talk talk the kid backs up what he says from what ive seen He destroyed Macrinelli as he predicted i seem to remember evry1 back then saying Enzo would expose him truth be known he retired Mac with that KO..... never been the same fighter since and i loved the young Enzo Personally i feel hes britains bright spark at the moment and i hope he wins in style I rate the fighter not the person bein a nice bloke dont win titles
Posted 14:07 31st October 2009
Lee Courtney says...
Ian T how can he be a hype job? The guy unified at Cruiser something the Klits will never do at heavy as they will never fight each other.
Posted 13:34 31st October 2009
Dean Howlett says...
I think Haye has a great chance of coming through against Valuev, though he will need to dominate in Germany to win on points. Also if he wins this one, then he should definitely go for Wladimir Klitschko ahead of Vitali. If Corrie Sanders can knock Wladimir out, then I certainly think David Haye can do the same. Vitali on the other hand is a very tough customer, and perhaps a bridge too far, but I hope I am wrong on that one.
Posted 18:38 30th October 2009
Chris Hickey says...
David Haye will win this fight. The Heavyweight division needs him to, as its the worst division out of them all at the moment. The Heavyweight division is not what it used to be. Everyone keeps referring to the Klitschko's and saying that David won't beat them. I've been watching boxing all my life and trust me 10 years ago or so in the era of Tyson, Lewis, Holyfield etc both Vitali and Wladamir would have won nothing! They look better than they are because they have nobody to fight. seriously, how many rounds do you think it would have taken a young Tyson to knock both these guys out? I'd say 3 at the most. I honestly can't watch any of the heavyweights as they bore me to death. Haye is a very exciting fighter and I'm confident that he'll win and clear up.
Posted 15:54 30th October 2009
Ian T says...
Haye is another British hypejob that will get exposed if he decides to man up and face either Klitschko.
Posted 00:10 30th October 2009
Gari Jones says...
All the Panel have hit on two key issues there, the heavyweight division is boring and thier are no real names that drum up excitement either. This is where David Haye can come in - I wouldn't say he's as entertaining as Ali but he is entertaining and when he gets, not if, but when he gets through with Valuev then we'll have something to look forward to. When he's champion he then should turn his focus to Wladamir and Vitali Klitschko, if David wants to unify the division then he'll have to beat those two. The division is boring beacuse the Klitshcko's refuse to fight each other (which would make an exciting fight) they always opt to fight some fat sluggish person calling himself a boxer Arreola, Chagaev, Samuel Peters to name a few. David is lean, fit, strong, fast and has great knockout power, if he were to lose to Valuev by some rubbish decision or because he got caught by a stray punch, then kiss goodbye to the best chance of anything of interest to hit this division since the days of Lennox Lewis, Haye to win 7th round KO.
Posted 23:54 29th October 2009