Best of Enemies brings two friends-turned-foes together for an all-British world-title affair.
When David Haye and Audley Harrison meet on November 13, live on Sky Box Office HD and in 3D, there will be much more at stake than the WBA heavyweight crown.
It is a fight that has captured the public's imagination already and our expert Panel are no different.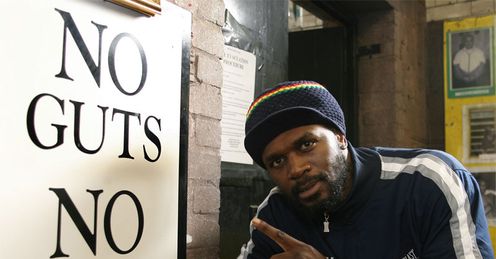 As we count down to fight night Jim Watt, Johnny Nelson, Glenn McCrory and Nicky Piper will tell us what to expect from both fighters, before delivering their final verdicts...
Question Five
For all the talking, all the history between the two, the only thing that matters between David Haye and Audley Harrison is what happens in the ring. Haye is the huge favourite, so what does Harrison need to do to prove them - and most of us - wrong?
JOHNNY: Well for a start his preparation has to have been spot-on. I would've had him sparring with three different guys, one cruiserweight, two big-punching heavyweights, all of them doing one minuter per round, so they all stayed fresh and kept him under pressure. Audley has coasted his way through fights before but he cannot afford to do that here, he just can't.
NICKY: It won't be a shock to anybody if David starts fast, but if Audley does it will surprise everybody, not least David Haye. If he can build up some momentum and win say the first two rounds, it might be a different fight all together. At the very least he needs to land a big shot or two just to make David wary, to earn his respect.
GLENN: He has got to go out, hands up and bully David jump in on him and hit him as hard and as quick as he can. He's big enough and good enough to do that. If I were Audley's trainer, I wouldn't have one defensive notion in my mind; he has to go all out and throw shots, because he will get the time to do it.
JOHNNY: First though, he has to use that fast jab to control the pace and direction of the fight. He has to be prepared to put it on David and push him back and that jab has to be the forefront of his gampeplan. In the past we have seen him just hang it out there, but it cannot be standard this time - it has to have some snap. If that jab is dominant, not just a gesture, it will mean he is fighting at his pace - and that is crucial.
NICKY: Audley does tend to paw that jab out there and Johnny's right, he has to stiffen it up. Normally he uses it as a defensive tool rather than offensively, but even if he is going backwards he has to land it hard in David's face, because it is powerful it does hurt and it will keep David off balance. We all know he's got that big left in the locker, but he has to ram that jab home first. But it's hard to teach and old dog new tricks and I just wonder whether Audley is able to do anything different any more.
JIM: I think Audley will do what he has always done - cover up and spend more time thinking about what's coming towards him rather than what he is sending the other way. I don't know that he will ever get that big punch off but he does have that huge southpaw jab that is good enough to give David Haye plenty of problems.
GLENN: I can see Audley making a big statement in the opening round and putting David on the back foot. This is Audley Harrison, Olympic gold medalist, we are talking about, not that great giant Nikolai Valuev or John Ruiz; if he can be what he says he can for this one fight, he has a chance. Forget all the records, all the false dawns, if he believes he can, he can bully David Haye.
NICKY: I hate saying this because I don't want to see him be negative, but I have a feeling Audley will try and be very evasive, certainly for the first three rounds or so. He has to use those long arms and his boxing abiility to negate those big bombs we know David is going to be throwing.
JIM: David won't like boxing a guy who's fighting off the back foot with a long, southpaw jab and it's not going to be easy to deal with. But it's what happens when Haye lands that first punch that matters; if he does so at full force and catches him on the chin, Audley is not going to get up.
GLENN: The bottom line for Audley is, he has got to be braver. You have got to be brave like a soldier at war. Tell a soldier to go over the top and most won't; the hero will go over the top and might win the war. Of course he might come a cropper, but if Audley really believes this is his time, he will have to be prepared to take that chance, lay it all on the line. He knows if can do that then he might well beat David Haye and he will be world heavyweight champion. I knew for a fact when I fought I was willing to go over the edge, but is Audley?
JIM: Audley is massive and he is talented - he's an Olympic gold medalist. He is a southpaw, he doesn't like getting hit and sometimes those are the hardest guys to hit. He also has the power to knock David out because David's chin is still not proven at heavyweight, so you can't write him off.
GLENN: He has the ability to become heavyweight champion of the world and I've always said that. But the only person that really needs to believe that is him and I am not sure anybody else can instill that in your head, no matter who your is trainer is. If you have a blank canvas you can paint it however you want, but if it's tainted already and not open to ideas, you can't.
Question One: Talking the talk - click here to read
Question Two: The temper trap - click here to read
Question Three: The enemy within - click here to read
Question Four: David's new Goliath? - click here to read
Comments (3)
Rob Mud says...
I think Haye will walk this and that too many are wishing for a competitive Audley Harrison. The British heavyweight scene has been absolutely terrible for a number of years. I mean Danny Williams got wasted by Samilsam, caught a gameless Tyson and was hit from pillar to post by Klitchko, an ex-kickboxer in his late 30's and a former taxi driver at 35 have been British Champion. And in the midst of this, Harrison has been beat by Williams and the cab driver once, and very close to being 2-0 down to Michael Sprott! If Haye gets beat, it will only show he was not a proven heavyweight and Harrison could enjoy his moment and then get absolutely battered like Danny Williams by one of the Klitchkos. The only intrigue left is wondering if David Haye can actually bring a bit of excitement to the division and actually hurt the granite like Klitchkos. This little side show says nothing about the class in the division. True boxing fans know what the benchmark is and it is probably Vitali based on his record. Beat him convincingly and then you are a true champion and worthy of note in the history books. Mr Haye, Valuev has not shown the public that you are the real deal. Knockout in 3 to Haye!
Posted 22:04 9th November 2010
C M says...
I honestly do not care who wins this fight as it is two Brits fighting for the world title. I believe overall Haye is the better boxer and has proved it in the ring, unlike Harrison who has failed to live up to the expectation of his undoubted ability. I also think that if Haye was to fight the Klitschko's, he has a great chance to win against both of them. However, I don't know why but I just have this feeling that Harrison will somehow win this fight. Don't ask me why, I just do. I just hope this fight is a classic, one we remember for years to come, and not a one round knockout. Also I hope neither boxr suffers serious injury as I believe there is real potential for that given the inevitablity of a knockout and the power both theses guys punch with.
Posted 22:03 9th November 2010
Ian Watson says...
Despite all the trash talk I hope this will be a good fight. It's Haye's job as champion to take the fight to the challenger. To date Harrison has shown nothing to prove he can beat Haye with the exception of a good left hand. Every time Harrison has tried to step up in class he has been found wanting. My particular beef with him is the lack of courage he displays. In some fights you can see him visibly cowering which for a heavyweight of his stats is a concern. He should have capitalised on his height, weight and power advantages years ago but lacks the heart to do so. Haye is not everyone's cup of tea, which I can understand, but he's fought and beaten those put in front of him and I suspect this fight is a chance to apply more pressure to the Klitchko's and hopefully remove some of their stringent contract conditions which are stopping a mega-fight from happening.
Posted 15:49 8th November 2010