The last week seems to have heralded a new phenomenon in cycling: the transfer window.
This year, the UCI rule on transfers changed, allowing riders to "talk to" prospective new teams from August 1.
In effect, that means they can announce that they're changing teams from that date, which suggests they might have been talking for some time before.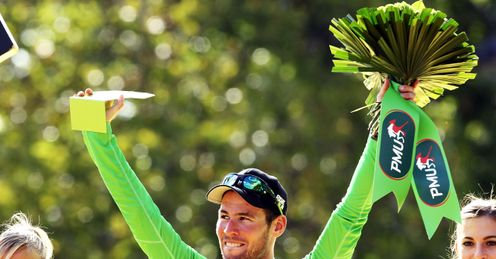 But they always did. Many of the discussions and deals for the following season have traditionally been done at the Tour de France, mainly because everyone is there.
Allowing riders to announce their new teams from August 1 may only bring forward the negotiating period. Maybe the Giro will be the new Tour when it comes to wheeling and dealing.
It's my understanding that Cavendish agreed terms to join Team Sky in May, but that, by the end of the Tour, he still hadn't signed a contract.
Richard Moore
Quotes of the week
Still, the "transfer window" - if I may call it that - has provided some welcome post-Tour entertainment.
There will be a lot of movement this winter, involving big names such as Philippe Gilbert, whose planned exit from Omega Pharma-Lotto looks like it will get messy; Thor Hushovd, who could leave Garmin-Cervélo, and Mark Cavendish. But I'll return to him.
Meanwhile, the formation of the Australian team, GreenEdge, and the possible disappearance of HTC-Highroad, will muddy the waters. As for Cavendish: will he stay, or will he go?
Well, that - or at least the validity of the question - will depend on whether his current team remains in the sport. The signs are not good, despite team owner Bob Stapleton's assurances on the final day of the Tour that he had a couple of replacement sponsors lined up.
Rumours
This week, the Velits twins, Peter and Martin, signed for QuickStep. Tejay van Garderen is said to have signed for BMC. And rumours abound that Tony Martin will sign for Saxo Bank, or Astana, or any one of several other teams. An exodus is expected, but for the moment the team remains, at least on paper, largely intact.
One rumour is that the team will carry on in a new guise, perhaps by merging with another team. But the longer there is uncertainty, the less likely their survival seems.
For Cavendish, it's complicated - increasingly so. It's my understanding that he agreed terms to join Team Sky in May, but that, by the end of the Tour, he still hadn't signed a contract. During the Tour, he spoke to Stapleton for the first time in months, after their relationship broke down at the end of last year.
Was Stapleton telling Cavendish that the team's future depended on him staying? If so, that might seem an unfair burden to place on him - but it's entirely logical. Any sponsor would want Cavendish, and it's perfectly feasible that Stapleton's negotiations have hinged on Cavendish's continued involvement.
Equally logical would be Cavendish's desire, wherever he rides next year, to be surrounded by many of the same teammates.
With his two closest allies, Bernhard Eisel and Mark Renshaw, under contract to Highroad in 2012, there are only two ways he could continue with them: if Highroad remains, or if the team folds and they are allowed to move. But what if the team's continued existence depends on Cavendish's decision? See what I mean about complicated?
Cavendish told the BBC on Monday that he made his final decision in a hotel room in Eindhoven last Saturday, after sprinting in ahead of Robbie McEwen to win one of the post-Tour criteriums in Wolvertem-Meise, Belgium.
We will find out soon what happened in that hotel room, and for whom Cavendish will ride in 2012.
Richard Moore is the author of Sky's the Limit: British Cycling's Quest to Conquer the Tour de France, and Slaying the Badger: LeMond, Hinault and the Greatest Ever Tour de France.
Post to your View!
Be the first to post a comment on this story