When a sports documentary comes out about the Penn State disaster, it could be entitled 'Five Days of Hell in Happy Valley'.
On Saturday a grand jury in Pennsylvania indicted former assistant coach Jerry Sandusky - he who helped to create the defensive fortress known as 'Linebacker U' - for allegedly molesting eight kids.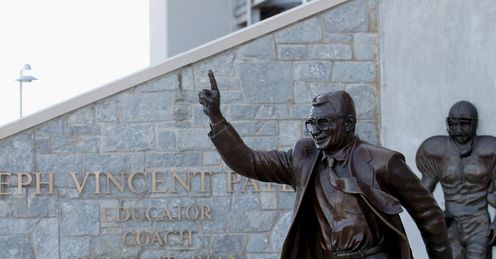 After the subsequent press outrage, 20 more children have come forward and said that that they were subjected to the same hell by Sandusky. Athletic director Tim Curley and University vice-president Gary Schultz were also indicted of perjury.
The grand jury clearly stated that legendary coach Joe Paterno had been told about the first incident in 1998, passed the news onto Curley and then seemingly washed his hands of the incident.
The US media was enraged, immediately calling for Paterno's head with immediate effect. After all, if there's any figurehead of Penn State football, it's Paterno and when the media wants blood, then it's blood they'll get. They also wanted the head of Graham Spanier, Penn State's president.
Emotional
On Monday, the news reporters had flooded State College and Penn State cancelled a press conference due to legal 'issues'. Curley and Schultz were both fired.
On Tuesday, Paterno - who had been coaching at the school since 1966 - was still in charge, but The New York Times reported that Paterno was on his way out, and despite a student rally outside his house, it looked that way. He was at odds with Spanier, and everyone could see it.
And on Wednesday, Paterno, who had been the head coach of Penn State since 1966 and helped to build the program and university, handed in his resignation, saying that he had not done enough to help the kids and encouraging everyone to say a prayer for the victims.
When he told his team in tears, the locker room was emotional to say the least. "I've never seen players get that way. I've never seen coaches get that way," junior cornerback Stephon Morris told the Associated Press. "I've never seen coach get that down before."
"For coach Paterno, the greatest coach of any sport really, to go out like this is unfair," senior offensive tackle Okoli said. "He's meant so much more to the university (than football). He's had such a legacy, and this isn't a fitting end."
Battle
Later that night, the Penn State Board of Trustees fired both Paterno and Spanier with immediate effect, meaning that the former wouldn't see his last home game against Nebraska.
Outraged students at Happy Valley - for whom Joe Paterno is a god - overturned a TV van and chanted their coach's name, feeling that he was a scapegoat in this. If you're really cynical, you can perhaps think it was sadder that Sandusky was not sent to calm the rioters - because then we would have seen a 2011 version of what it would have been like to see someone getting thrown to the lions!
And on Saturday the Nittany Lion team - which Paterno had been responsible for in part or whole since 1966 - will be asked to pick themselves off the floorboards and fight for 60 minutes against Nebraska. The battle won't be just against the warriors from middle America in red and white - the battle will be against the world.
Support
For fans like me (I'm writing this blog sitting beneath my Penn State clock) the battle won't be just on Saturday, it'll be whether they can keep their faith in the Blue and White.
For some keeping the faith is easy. You went to school there, your family supports them, and nothing is going to shake your faith in the school, its principles, and of course, its football team.
But for some - like me - it's difficult. I didn't go to school at Penn State. I became a fan of the Nittany Lions because I saw a documentary on Joe Paterno in 2003, saw how much he believed in young people, believed in longevity (he had been offered other jobs but didn't go), and thought: "That's the type of school I want to support".
I then went to a game at Beaver Stadium (via a train from New York to Washington DC), where I was given a lift by two PSU fans I'd never met before to the Centre of Pennsylvania (they won, by the way), and fell in love with the school ever since (although admittedly it was difficult in 2004 when they were awful and I had a flirtation with Arizona State).
In effect, Joe Paterno - to me (and so many others) - WAS Penn State.
Shock
Since then, I've gone to Beaver Stadium numerous times, said "We Are" with 100,000 people, and drank in State College bars late into the night after games and made friends with numerous Penn State students - some of whom I still keep in touch with.
I blogged on the university's recruiting travails, and I even considered taking Penn State courses on line and making donations to the University. And I thought that when a school talked about 'ideals' it meant it - even if the nights in State College didn't always live up to the moral and ideals that the school espoused!
Right now, my faith and love of the program is absolutely rocking. I'm wondering whether I want to wear my Penn State fleece this winter or my Penn State hoodie this summer, simply because wearing the shirt means something more sinister than a school emblem.
There is no more Joe Paterno, and it's difficult to get behind the coaching staff without him. After all, he was the reason I 'came' to Penn State in the first place.
There are no immediate answers about how I - and thousands of others - feel about the program. We're too shocked.
Are we still Penn State? Or will be go and support someone else? All we know is that our valley is no longer happy, and until they clean this mess up once and for all, it won't be for years to come.