Another great weekend in the NFL!
The state of Louisiana is a lot of fun to be in at the moment. Not only are the state university LSU unbeaten and on the verge of going to the National Championship Game, unless miracles happen they'll play the Game of the Century II against Alabama in early January, but New Orleans are scoring points for fun.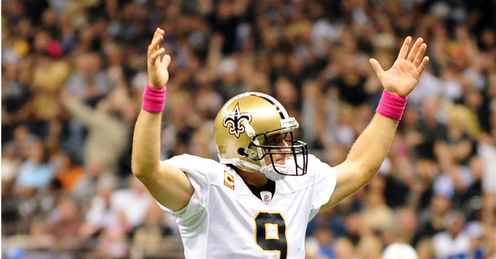 With their destruction of the New York Giants they managed to impress Alex Ferguson in Week 13 of the season. But who else did?
IMPRESSED
New Orleans
The Saints crushed New York 49-24 in the battle of the 'News'. Drew Brees was on fire, this time throwing for 363 yards and four touchdowns in the win. Y'all having fun yet?
Denver Broncos
Someday the NFL critics will shut up and say: "Hell, the kid knew how to win". With Tim Tebow leading the team, the Broncos are 5-1 and just a game behind Oakland in the AFC West standings. Could they make it with a crappy quarterback? Remember Rex Grossman and the Bears? Or Trent Dilfer and the Ravens? What happened there?
Dallas Cowboys
The Dallas Cowboys seem to be finding something right when they need to. It's called "Moxie". Down for various periods of their game against Miami on Thanksgiving Thursday, Tony Romo actually had a good fourth quarter, driving the Cowboys for 54 yards at the end of the game to set up the winning field goal. Suddenly, the 'Boys are winning the NFC North.
Oakland Raiders
The question: Are we believers in the Carson Palmer story now Oakland have won three in a row - including last week's 25-20 over Chicago? Probably not - especially as Sebastian Janikowski kicked SIX field goals for the Raiders - but right now they are flying high on top the AFC West.
Green Bay Packers
Potential upset? No problem for Aaron Rodgers and Co, who comfortably beat Detroit 27-15 at a loud Ford Field. They are 11-0 by the way, and look unbeatable.
New England Patriots
We hate to say it, but Brady and Co look as though they are going to the Super Bowl as the AFC's representatives. There is just too much firepower on this team - as Philadelphia found out in their 38-20 loss.
Baltimore Ravens
Everyone knew that San Francisco weren't world beaters despite putting up a 9-1 record to start the season. Baltimore served to prove the point, smothering the Niners 16-6 in the sort of game of football that sparks memories of Ian Holloway's comments about taxis and ladies for one more week.
Miami Dolphins
Played their heart out but lost on the final kick of the game to Dallas. Yet Miami have improved a lot from the early season and there's a lot to be said for that.
DEPRESSED
San Diego Chargers
If Norv Turner survives to 2012, we'll be shocked. Oh, and Phillip Rivers' touchdown to interception ratio is 16:17. Gulp.
Philadelphia Eagles
We saw a YouTube clip with a three-year old saying: "Fire Andy Reid". 'Nuff said.
Pittsburgh Steelers/ Kansas City Chiefs
My friend John tweeted before the Sunday night game: "I'm going to turn off when this gets ugly". I wonder - did he turn off after the fifth or sixth turnover? Oh and John - the Steelers won 13-9 by the way.
Cleveland Browns
The 0-3 Cleveland Crushers of the Lingerie Football League are a lot more fun to watch than the 4-7 Cleveland Browns. They at least have a little more something to them, so we've been told.
Buffalo Bills
Buffalo have lost four straight and are 5-6 for the year. Against the Jets on Sunday the Bills managed to lose in the same old heart-breaking style that we're all used to.
New York Giants
Suddenly the Giants, who have lost three straight - including Monday night's horror show in New Orleans - are starting to look at their injury list and wince. They are going to need their kings to return if they are to continue their quest for more rings.
Ndamukong Suh (Detroit Lions)
Suh's ejection (and then subsequent denial that he'd done anything wrong) for stamping on a Green Bay Packer player's arm wasn't entirely out of character - Suh is always going to be a player who is a little over the top. But his denial that the incident ever happened? Depressing.