Anyone who doubts that Andy Murray is an unbelievable competitor need only reflect on his five-set victory over Viktor Troicki.
Having rallied from two sets down to force a fifth-set shoot-out, the injured Briton found the strength to win five straight games and win the decider 7-5.
It was a comeback victory of seismic proportions but one that shouldn't come as a surprise because Murray has shown time-and-again in his career that he possesses incredible resilience and mettle.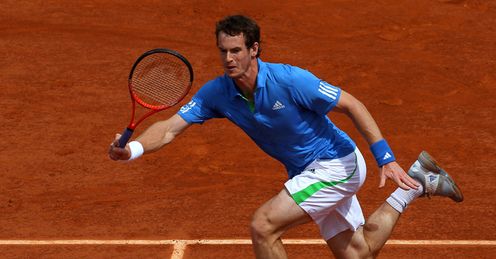 The difference this time was his ankle injury; at the start of the match he clearly wasn't certain how much weight he could put on it, but once he built up some confidence he started to move really well and that is a huge positive when you consider the challenges that still lie in store.
Test
His anger-management still needs some work - once again he appeared to want to pick a fight with everyone, which was more than a bit unnecessary - but no-one can doubt his competitive spirit and with unseeded Argentine Juan Ignacio Chela awaiting in the next round he now has a great shot of playing Rafa Nadal in the semi-finals.
By his own frank admission, Nadal is short of confidence but because he is able to admit it, he is able to correct it.
Barry Cowan
Quotes of the week
All top players want to test themselves against the best and so often Nadal has brought the best out of Murray, most recently at Monte Carlo where the Briton produced the two most impressive sets I've seen him put together on a clay court.
Murray was exceptional that day; his game had the right balance and he was aggressive in a controlled manner.
Since then the two have practiced a lot together and I think Murray will go into that potential contest believing he can spring a surprise, even if the last two days has taken a lot out of him emotionally and physically.
That makes it imperative that he takes Chela out quickly.
Underdog
Murray can take heart from the fact that Nadal has been playing well below his best. I would give him no more than a six out of ten for the tournament so far.
However, the longer he remains in the tournament, the more wary you have to be that he is going to find his best tennis, which is why overcoming John Isner in the first round was so significant.
By his own frank admission, Nadal is short of confidence but because he is able to admit it, he is able to correct it; by fronting up he is taking the pressure off himself because if Sunday's final is between him and Novak Djokovic, most people will consider him the underdog.
When Nadal has won the competition five times and Djokovic is yet to win at Roland Garros, that is saying something!
All sorts of theories abound why Nadal looks below-par are doing the rounds; among them is the suggestion that the balls used in this competition are faster through the air and therefore more suited to hardcourt players.
It's a plausible theory but I think the bigger factor is far more simple: Rafa has lost his mojo.
Psyche
In the past Nadal has come to the French Open as the best player on the block; but that isn't the case after Djokovic's victories in Indian Wells, Miami, Madrid and Rome. That has hurt his psyche.
Djokovic had a tough match against Del Potro, who had everything to prove, but came through to claim a tremendous win. Now he's had the benefit of the walkover over Fabio Fognini.
Sometimes that can work against you because you are left kicking your heels - you build up momentum through a grand slam and that momentum can be stopped - but on current form it will take something far greater than that to knock Djokovic out of his stride.
We can now look forward to a Federer-Djokovic semi-final - and the Serb has to be the favourite.
I keep saying to people that you cannot rule Federer out because he is still capable of coming out and playing great tennis.
But Djokovic is now only one victory away from becoming World No 1; it will take an irresistible force to stop him achieving that goal.
Comments (1)
Aman Narang says...
Even though i agree that nadal has been below par this tournament , he is still winning his matches in straight sets wich proves he still has that winning mentality and he has shown time and time again that there is no better big match player than him...I feel with murray's injury he wont have enough in the tank to outlast rafa over five sets and I also believe federer is gonna spring a surprise over djokovic to set up another federer-nadal clash!
Posted 21:33 31st May 2011