The 125th Wimbledon Championships is building towards a gripping climax.
Throughout the tournament Sky Sports pundit Barry Cowan is here to answer your questions and reflect on the biggest stories emanating from the All England Club.
Click here to email your question as Andy Murray attempts to become the first British winner of the Men's singles title for 75 years.
Day Eight
After Monday's shocks and scares, day eight has plenty to live up to!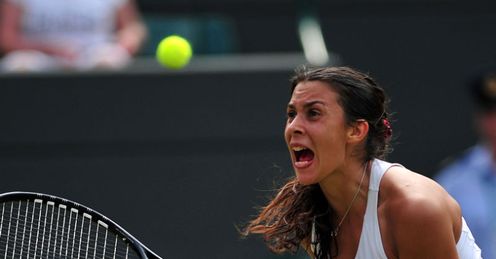 At one stage, with both Williams sisters out, Roger Federer a set down and injury dogging Rafael Nadal, it threatened to be one of the most remarkable days we've seen at Wimbledon for quite some time.
Ultimately both men came through to join the impressive Andy Murray and Novak Djokovic in the quarter-finals, but the women's title is now genuinely up for grabs.
The injury timeout rules need to be looked at because I think it is terrible that you can play for an hour, get to a tiebreak and then take eight or nine minutes out. To me it is wrong.
Barry Cowan
Quotes of the week
Determination
In the end it all caught up with the Williams sisters; having played so few matches their lack of fitness - Serena's in particular - told.
That's not to take anything away from Marion Bartoli, whose victory over Serena has earned her a quarter-final match-up with wildcard Sabine Lisicki.
The Frenchwoman came into the tournament with form having played well at Eastbourne, and continued to show impressive determination and mettle to book her place in the last eight.
I wouldn't say the different way she approaches her tennis is one to copy, but it certainly works for her.
She has unbelievable support from her parents; naturally it caused a stir when she booted them from courtside en route to her third round victory over Flavia Pennetta, but that won't have lessened the respect she has for them.
Now is her chance to step up and claim her first Grand Slam. That said, she's not alone on that score with top seed Caroline Wozniacki also out.
My original pick to win the women's title before Wimbledon began was Petra Kvitova; after reaching the final at Eastbourne, she continues to tick all the right boxes.
The advantage Maria Sharapova has over the remainder of the field is that she knows what it takes to win Wimbledon; it remains to be seen how her rivals deal with the nerves that inevitably come with getting close to victory.
Sharapova is not without her own concerns, though; she has had issues with her serve and will have to prove she can hold her nerve as it comes under greater pressure.
Rallied
In the men's, all eyes will remain on Rafael Nadal. My gut feeling is that the MRI scan on his ankle is just a precaution because it didn't look like he was struggling as he rallied to beat Juan Martin Del Potro in four sets.
At times the quality of play from both players was exceptional. Del Potro stepped up and played great tennis and I've no doubt his season is only going to get better and better if he can stay injury free. I bet right now he can't wait for the US Open.
Although Nadal was clearly injured, I do have an issue with the timeout he took just before the first set tiebreak.
That is not a criticism of the defending champion; I would have done the same thing because it is within the rules.
But the rules need to be looked at because I think it is terrible that you can play for an hour, get to a tiebreak and then take eight or nine minutes out. To me it is wrong.
At that point, I was genuinely worried for Nadal because he hit an unbelievable forehand down the line and showed no reaction; he then went 3-0 down in the tiebreak and was moving with difficulty. To turn the match around from that point was inspirational.
Improved
The same adjective applies to Murray, who is building momentum and getting better and better with every match.
He appears to have matured a lot over the last couple of months. In many ways we can look back now and think that maybe the dip he experienced has helped him move forward.
It has forced him to address certain issues within his game and his form has improved as a result. All in all, it is very encouraging and I am very excited his chances.
Roll on the semi-finals. I would love to see Nadal and Murray in the last four to see if Andy has learnt from the pair's previous encounters.
But that, for the moment, is another day...
Comments (2)
Lynne Underwood says...
barry, why is all the grunting and similar noises allowed . the women are worse . i have watched tennis for nearly 50 yrs now , i am slowly going off the game because of these outrageous noises , i am so glad i can choose which match i want to watch .
Posted 21:21 28th June 2011
John Smith says...
Barry, I know you are not having a go at Rafa, and there has been much talk about changing the medical time out. But surely Nadal twisted his ankle and at the end of the game called for the trainer. Del Potro hurts his hip and then calls the trainer in the middle of a game. Surely both incidents require the same attention, I'm not saying any of them were in the wrong, but at least Nadal finished the game first. Whats the difference between the two incidents?
Posted 11:27 28th June 2011