The 125th Wimbledon Championships is building towards a gripping climax.
Throughout the tournament Sky Sports pundit Barry Cowan is here to answer your questions and reflect on the biggest stories emanating from the All England Club.
Click here to email your question as Andy Murray attempts to become the first British winner of the Men's singles title for 75 years.
Day Nine
Frequent flashes of brilliance are forecast at Wimbledon today as the men's quarter-finals kick into life.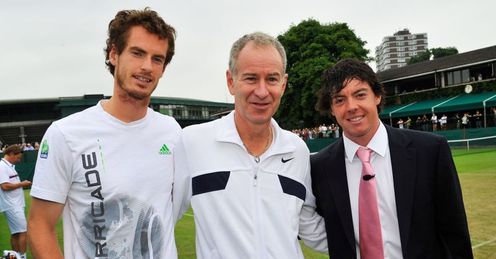 As ever, much is expected of Andy Murray as he prepares to take on Andy Roddick's conqueror, Feliciano Lopez.
You can never rule out someone who has played as well as the Spaniard, particularly when he has hit the most aces in this tournament.
But Murray has yet to lose to Lopez in four meetings and overall has a good record against left-handers; up until this year he had only ever lost to two - Rafa Nadal and Fernando Verdasco.
To be able to correct your errors you've got to be able to admit your faults and I think Murray has done that.
Barry Cowan
Quotes of the week
More recently he has lost to Donald Young and Thomaz Bellucci, of course, but that was when his game was in something of a crisis (not that he'll admit that).
So I expect Murray to make too many balls and progress to the semi-finals in three or four sets.
I'm sure he's even more determined to nail down his first major title after meeting golf's US Open champion Rory McIlroy.
I remember reading a very good article from Rory after his last-round collapse in the Masters, in which he was very open, admitted he got it wrong and that the occasion got the better of him.
To be able to correct your errors you've got to be able to admit your faults and I think Murray has done that. As I mentioned in yesterday's blog, his attitude is better if not perfect for Grand Slam-winning tennis, and I do feel that he is evolving as a person during these Championships.
Rapport
One man who has identified his faults and all but eradicated them in their entirety is Novak Djokovic, who faces Aussie teenager Bernard Tomic.
The pair have hit with each other many times and Tomic, born to Croatian and Bosnian parents, has struck up a good rapport with the World No 2.
Tomic was on the brink of going out in the opening round of qualifying but since then has cruised through the tournament to the extent that he has spent less time on court than any of the other seven quarter-finalists.
However, this will surely be a step too far for him; I simply don't think he has the game at present to trouble Djokovic. There have been a few times when the Serb has got a bit frustrated but I can't see anything other than a very comfortable victory for him today.
That doesn't mean that Tomic isn't one for the future. He's a clever player who almost forces his opponent to play poorly. His challenge now is to climb the rankings; in that sense I'd bracket him in the same category as Grigor Dimitrov and Ryan Harrison.
Closest
Of the four quarter-finals, Nadal's contest with Mardy Fish could be the closest.
Judging by the defending champion's victory over Juan Martin del Potro, the quality of which was exceptional, the swelling in his foot shouldn't be a major concern.
Del Potro was very nearly back to his best but Nadal really stepped up. I thought he was awesome and he will have to be again today because Fish is a dangerous opponent.
He beat Murray last year on the grass at Queen's and he has the ability to beat Nadal because he serves and volleys. He'll serve wide to the Nadal back hand, take the ball early and return well. Plus, he's confident; that's quite some combination.
In contrast, I expect Roger Federer to enjoy a much easier ride against Jo-Wilfried Tsonga, who still suffers from too many dips in concentration. That's shone through in their meetings this year.
Federer will respect his opponent but he won't be worried. Tsonga's only chance is to come out all guns blazing and attack Federer from the start, otherwise it is going to be over very quickly.
With respect to the other players in the quarters, it looks like the top four are heading through to the semi-finals - and what a show that should be.
I can't promise the same when I and my partner Cedric Pioline kick-start our campaign this evening in the Gentlemen's Invitational doubles, but we'll give it a good go.
I'm really looking forward to it, as is Cedric, who hasn't been able to escape me yet!
It's game on in every respect.
Comments (1)
Sai Karthik says...
I can't understand whether it was a case of Jo playing unbelievably well or just another 'Federer never ceases to amaze you(in the wrong way)' moment.
Posted 20:55 29th June 2011