Novak Djokovic took tennis to a new level in an astonishing US Open final that is up there with the best - if not the best - that I have ever seen.
Having seen Roger Federer and Rafael Nadal achieve new heights in the modern era, Djokovic raised the bar still further by playing truly outstanding tennis.
The intensity of his game against Nadal in a final that lasted over four hours was mind-boggling and the headlines and coverage that match alone has generated can only be great for tennis.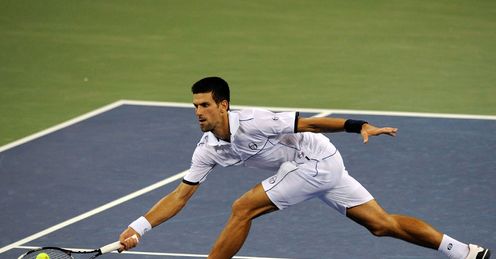 It's a privilege to watch one great player in any era; to see three in competition at once is beyond special. Bring on the next head-to-head.
Tribute
At the start of the tournament there were those who doubted whether Djokovic's workload and a lingering shoulder niggle would hinder his challenge for the title.
Yet out on court he looked relaxed and fresh - a real tribute to his ability to manage the interest and hype that has inevitably surrounded his rise to the top of the world rankings.
Is Murray further away from winning a Grand Slam now than he was last year? In all honesty, I'd have to say yes even though he has improved as a player, such is the extent to which that his main rivals have forged ahead.
Barry Cowan
Quotes of the week
LIVE ON SKY SPORTS
Spain v France
Davis Cup semi-final
12pm, Fri, Sky Sports 4
He has learnt the art of pacing himself and is reaping the benefit of being in control of his emotions, which is something that Federer and Nadal have been good at over the years, much as Pete Sampras was before them.
The Serbian is now part of an elite group who have won three Grand Slam titles in a year and it is only right that he ends 2011 as World No 1.
Consistency
None of that should take away from Andy Murray's performance at Flushing Meadows, where he reached the last four to become one of only seven players to make four Grand Slam semis or better in a single year. His consistency in the majors this year is a real credit to hard work he has put in over a sustained period.
Is he further away from winning a Grand Slam now than he was last year? In all honesty, I'd have to say yes even though he has improved as a player, such is the extent to which that his main rivals have forged ahead.
To be able to beat two of Nadal, Federer and Djokovic back-to-back is as close to impossible as it gets and I do feel for Murray in this respect: when you are in the latter stages and you haven't won a Grand Slam, wouldn't it be nice to play someone who also hasn't won one?
Unfortunately - barring a string of injuries - he is unlikely to have that luxury. All he can do is take it on the chin and work even harder to give himself another chance, which he will do next season.
He has some fine-tuning to do because his frustration levels still get too much. He played very well for the opening six games against Nadal but then his head went down and his thinking became confused. He is still sending out mixed messages rather than adopting one clear game-plan.
Competition
While Murray remains our one hope of success in the men's game, it is really exciting to watch four really good prospects coming up through the junior ranks.
It was great to see new champion Oli Golding step up to the plate and show a real winning attitude - just as Liam Broady did in reaching this year's Wimbledon Junior final and Kyle Edmund (still only 16) did in reaching last week's semi-finals.
For so long we've lacked Juniors capable of pushing each other but now no-one can rest on their laurels because if they do, they will get overtaken. That should help to raise the bar, just as the competition between Djokovic, Nadal, Federer and Murray has in the men's game.
It's still important to keep things in perspective, though. If Oli thinks he has made it, he needs to think again because he couldn't be further from the truth. There is no guarantee anymore that you are going to make it at the highest level just because you are a Junior Grand Slam winner; plenty of work lies ahead.
Nerve
Winning a Grand Slam takes titanic effort as Sam Stosur can now testify.
There has always been a question mark about her nerve after she didn't perform to the best of her ability at the 2010 French Open, her first Grand Slam final.
But she answered those doubts by overcoming Nadia Petrova in an epic third round clash lasting well over three hours before winning the longest tie-break (17-15) ever contested in women's Grand Slam tennis in the next round, where she disposed of Maria Kirilenko.
She did experience a dose of the wobbles in the semi-final against Angelique Kerber but went into the final against short-odds favourite Serena Williams knowing that she had nothing to lose and played great tennis, turning in a truly courageous performance.
The least said about Williams the better. Her outburst towards umpire Eva Asderaki was nothing short of embarrassing; no players should ever treat an official like that. To fine Williams £2,000 was in itself ridiculous and in many ways more of a concern that what Williams did.
People will have their views on whether Asderaki made the right or wrong decision; some will say common sense should prevail in that instant because Williams had hit a winner.
But the fact is that Williams shouted 'Come on' shortly after she struck hit the ball and the rules state that is an infringement.
Such scenes should not be the lasting memory of such an epic US Open, however. Stosur and Djokovic deserve better than that. Not that there is any opportunity to dwell on it too much.
Nadal got a plane last night bound for Spain ahead of the Davis Cup World Group semi-finals - something that helps to underline what phenomenal athletes tennis players have to be these days.